U.S. Housing Market Could Be Going the Wrong Way
There's a perfect storm brewing for the U.S. housing market. Home prices could tumble and home builder stocks could become a losing investment, which could have a negative impact on the overall U.S. economy.
There's one thing investors need to keep in mind: interest rates act as gravity in the U.S. housing market. As interest rates go higher, the demand for housing drops, resulting in dismal activity, lower home prices, and misery for investors.
Advertisement

As it stands, interest rates have been shooting higher for a while. This, in turn, has been causing mortgage rates to soar.
Take a look at the chart below; it plots the average 30-year fixed mortgage rate in the U.S.

(Source: "30-Year Fixed Rate Mortgage Average in the United States," Federal Reserve Bank of St. Louis, last accessed October 17, 2023.)
In mid-2021, the average 30-year fixed mortgage rate was around 2.7%. Now, it's around 7.57%. This represents an increase of more than 180% in a very short period.
What does this seismic increase in mortgage rates mean? For starters, higher rates destroy affordability. With higher interest rates, you need a higher income and a bigger down payment to be able to afford to buy a home.
With an interest rate of 7.57%, a mortgage of $100,000 would mean paying $7,570 in interest alone. Currently, the median home price in the U.S. is about $400,000. So, the average mortgage in the country is much higher than the $100,000 used in my example.
Mortgage rates this high could really reduce the demand side of the U.S. housing market. It could also create a lot of problems for those who are moving and must sell their homes. Won't they need to lower their asking price?
Home Builders Are Extremely Pessimistic
Don't stop there; listen to those who are the closest to the U.S. housing market: home builders. They're extremely pessimistic these days. They've been seeing their business conditions deteriorate—all because of rising interest rates.
The National Association of Home Builders (NAHB)/Wells Fargo Housing Market Index dropped to 40 in October. The index currently sits at its lowest point since January 2023. Note that any reading below 50 means home builders have a pessimistic outlook.
Alicia Huery, the NAHB's chair, explained the current conditions: "Builders have reported lower levels of buyer traffic, as some buyers, particularly younger ones, are priced out of the market because of higher interest rates." (Source: "Mortgage Rates Well Above 7% Continue to Hammer Builder Confidence," National Association of Home Builders, October 17, 2023.)
She added, "Higher rates are also increasing the cost and availability of builder development and construction loans, which harms supply and contributes to lower housing affordability."
What Investors Need to Know
Dear reader, as I mentioned earlier, there's a massive storm brewing for the U.S. housing market.
Over the past year or so, as interest rates have increased, the housing market has remained somewhat stable. That's mainly because there was increased activity prior to the rates moving higher, and those who had already bought homes before the rates increased aren't really looking to sell them yet.
However, one has to wonder how long this can go on until something breaks. If interest rates remain high for a long time, the stress in the U.S. housing market will only increase. This would result in lower home prices.
Here's another chart to look at. It plots the SPDR S&P Homebuilders ETF (NYSEARCA:XHB), an exchange-traded fund (ETF) that holds shares of home builder stocks.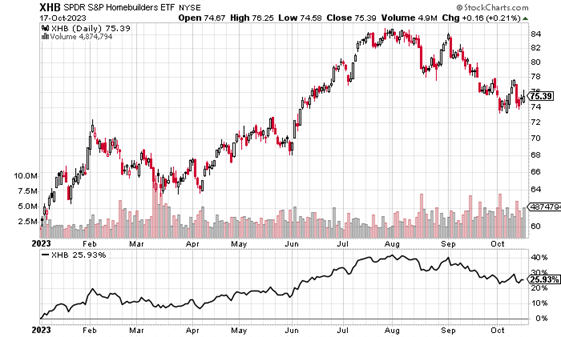 Chart courtesy of StockCharts.com
See some disparity?
There are massive headwinds for the U.S. housing market, and even home builders seem concerned. Despite that, home builder stocks have soared by close to 26% year-to-date (as of this writing). Does this make sense?
These stocks could be walking a very fine line, and they could fall as the housing-market data get dire. So, a lot of caution could be required.
Finally, don't for a second ignore the impact of the housing market on the U.S. economy. It's a big contributor to the U.S. gross domestic product (GDP). If the housing sector suffers, the overall U.S. economic growth will be hurt as well.