Looking for the next big crash trade? Pay attention to the retail stocks. In 2017, American retailers could face troubles, and this could send retail stocks crashing.
Understand this: for retailers to make money, there are two things that must happen. First: customers must come into their stores; second: they must buy things. Sadly, retailers in the U.S. economy are failing at both things.
Target Stock Drops 30%
One of the most recent examples of this was Target Corporation (NYSE:TGT), one of biggest brick-and-mortar retailers in the United States. For 2016, it reported lower revenue and, therefore, lower profits.
Regarding its financial performance, the CEO of Target Corporation, Brian Cornell, said, "Our fourth quarter results reflect the impact of rapidly-changing consumer behavior, which drove very strong digital growth but unexpected softness in our stores." (Source: "Target Reports Fourth Quarter and Full-Year 2016 Earnings," Target Corporation, February 28, 2017.)
Look at the chart below. Target stock dropped 30% since May of last year. It's currently trading at its lowest level since 2014 and, given the sentiment toward the company, I believe it will drop further.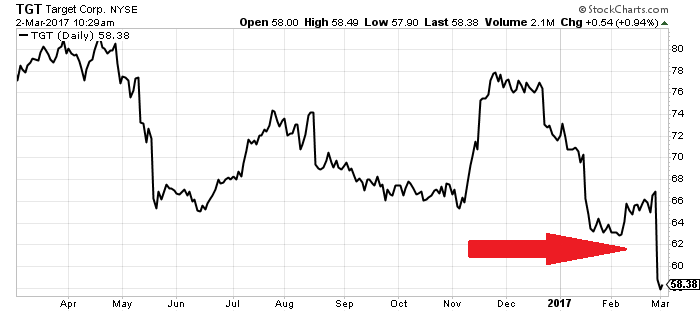 Chart courtesy of StockCharts.com
Moody's Dismal Report on Retail Stocks
Target is not the only retailer facing headwinds. Just recently, Moody's Investor Service, Inc., a major credit rating agency, issued a report on retailers, and it's scary to say the very least.
According to the rating agency, the number of U.S. retailers in distress is the highest since the Great Recession, and increasing!
The vice-president at Moody's Investor Service, Charles O'Shea, said, "Moody's-rated U.S. retailers rated Caa or Ca today make up just over 13% of our total rated retail portfolio, which is the highest level since the Great Recession, when this group comprised 16% of the portfolio." He added, "And the increase comes at the same time as the broader universe of Caa rated companies is likewise growing." (Source: "Moody's: Number of distressed US retailers triples since the Great Depression; debt levels up," Moody's Investors Service, February 27, 2017.)
Putting this in simple words: the number of retailers that have "junk status" assigned to their bonds is increasing.
In the report, Moody's also said, "And as companies under stress continue their downward spiral, liquidation and going-out-of-business sales inevitably follow, putting even more pricing pressure on their healthier competitors." (Source: Ibid.)
Retail Stock Outlook for 2017: Bigger Problems Ahead for Retailers
All the stars are lining up perfectly for a crash in retail stocks. We could see severe losses.
On top of this, here's something not talked about much in the mainstream media. Consumer spending in the U.S. economy, which drives the retail sector, has been very weak. Look at the chart below. It shows the year-over-year percentage change in monthly real personal consumption expenditure.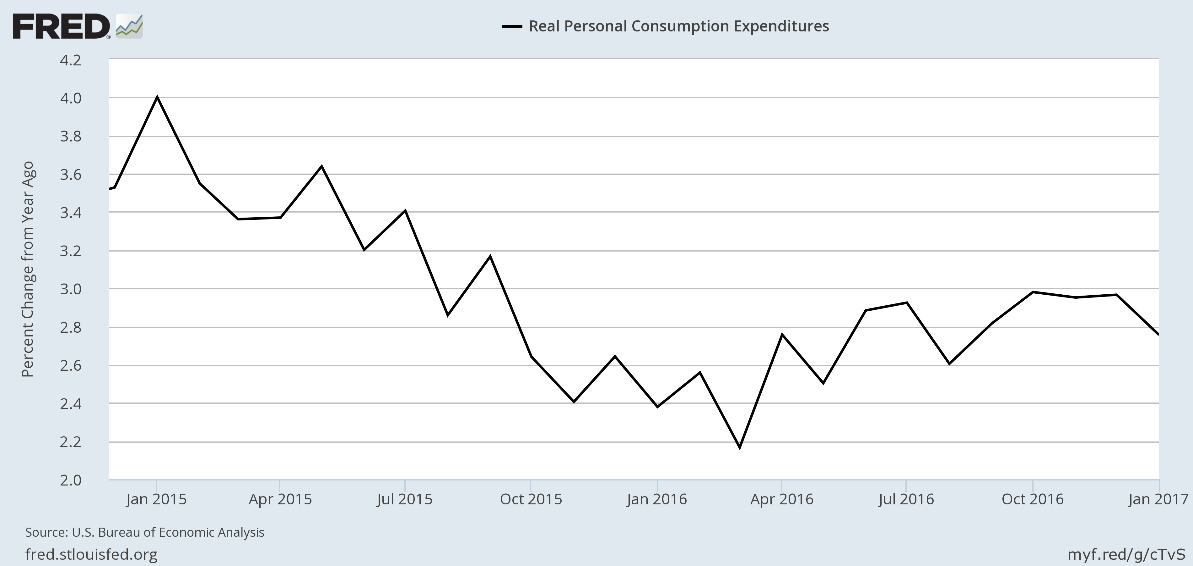 In January of this year, real personal consumption improved 2.8% compared to January of 2016. Great, right? Don't be too quick to celebrate. Go back to January 2015, and this rate was around 4.0%.
Tight consumer spending will have a trickle-down effect on retailers and, ultimately, retail stocks. The only retail that's booming today is online retail…and it will likely continue that way for a long time to come. For a traditional brick-and-mortar retail company to survive, it needs to achieve significant headway on the Internet selling its goods; otherwise it's in the poorhouse.