Painful Returns on the Stock Market
As it stands, the stock market seems to be in very rough shape. Investors are ditching stocks like they haven't done in years. Could we see even more selling ahead?
Just look at the major stock indices. The S&P 500 made an all-time high early in 2022. Now the index trades roughly 20% below that high. Painful.
Advertisement

The Dow Jones Industrial Average peaked around 36,952 early this year. At the time of this writing, it's 5,678 points below that high, meaning it has dropped by more than 15%. Gruesome.
The Nasdaq Composite has seen the biggest decline of all the major U.S. stock market indices. It peaked in November 2021 around 16,212 and now trades around 11,153. This represents a decline of more than 31%. The last time the Nasdaq Composite made a downward move like this was during the financial crisis of 2008–2009.
In simple words, the stock market is crashing.
Investor Sentiment Is Pessimistic
Investor sentiment these days is pretty dismal.
Consider the chart below, which plots the National Association of Active Investment Managers Exposure Index. This index tells us what portion of active investors' portfolios is in stocks. A reading of 100 would mean that, collectively, their entire portfolio is in stocks.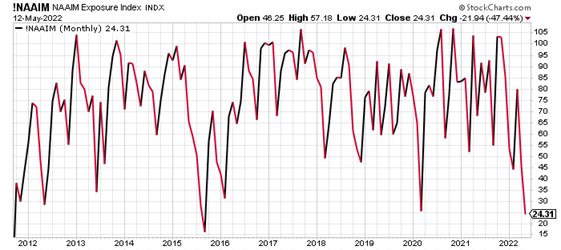 Chart courtesy of StockCharts.com
Currently, active money managers hold the lowest portion of stocks in their portfolios since around 2015. They own a lower percentage in stocks than they did during the stock market crash of 2020. Just a few months ago, their entire portfolio consisted of stocks.
But it's not just active money managers who look concerned. Look at the chart below. It plots the American Association of Individual Investors Sentiment Survey. This survey asks individual investors each week how they think the stock market will perform in the next six months.
Over the past few weeks, individual investors have been more bearish than they were even during the 2008–2009 period.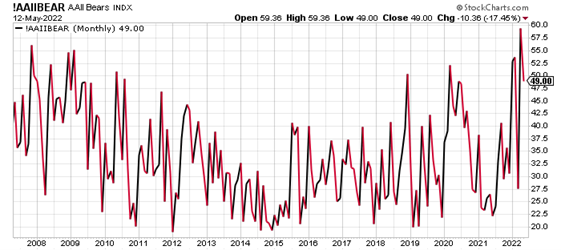 Chart courtesy of StockCharts.com
Stock Market Outlook for Rest of 2022
So, what's ahead for the stock market? Could the selling continue?
I've extensively studied previous stock market crashes. I've seen at least three major recent stock market crashes and numerous market corrections. Here's what I've noticed every single time: in periods of the most uncertainty, the greatest opportunities arise. When investor sentiment is the most anemic and the stock gurus are saying we should close stock trading to control the losses, that's the time to look at investing.
Given the current investor sentiment and how the major stock market indices have been doing lately, it wouldn't be shocking if it turns out the stock market is getting close to a bottom. Mind you, no one can predict the exact top or bottom. But, from experience and reading about crashes, it's usually close by when you don't see many bullish arguments but investor sentiment is bullish.
I think it's possible the stock market will rally in the summer months.
Make no mistake, this isn't a recommendation to buy everything and anything in sight. The past two years have been absolutely insane for the stock market. Valuations were stretched and low interest rates made everything seem rosier than they were. Investors are now coming to their senses and realizing what they did. They've been selling, but might buy on the slightest good news.
Don't forget, there are bigger economic problems ahead. Inflation has taken control of the economy and it's now a major problem. The Federal Reserve has been raising interest rates at a time when consumers and businesses are leveraged. They have too much debt, and incomes aren't increasing.
This is a recipe for disaster. The stock market might find a bottom in the near term, but I wouldn't be surprised if we see rigorous selling again by the fall.
In times like this, the best strategy for investors could be to focus on capital preservation. Placing stops, being selective when picking stocks, and managing allocations could do wonders.