Falling Currencies Could Send Gold Prices Higher
One catalyst for higher gold prices that investors must look out for is falling currencies. And as it stands, we are seeing rigorous selling in a lot of them.
Why should "gold bugs" care? Because the countries whose currencies are where we see the most selling generally have an appetite for gold. As a result, falling currency values could boost demand for the precious metal in those countries, which in turn could send gold prices soaring.
Euro Drop Could Continue
Take a look at the chart below, which shows the performance of the euro relative to other major currencies.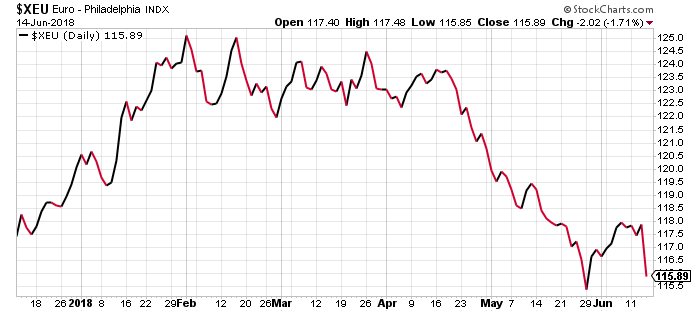 Chart courtesy of StockCharts.com
Since February, the euro has tumbled by close to 7.5%. Mind you, there's growing gold demand in the common currency region.
Take Germany, the biggest economy in the region, for example. In 2017, gold bar and coin demand in the country amounted to 106.3 tonnes. Between 2010 and 2017, coin and bars in the country added up to over 941 tonnes. (Source: "Gold Demand Trends Full Year 2017," World Gold Council, February 6, 2018.)
Assuming the euro goes down further. It's very possible.
Assuming the euro goes down further. It's very possible.
Not too long ago, the European Central Bank  (ECB) said that it would end its bond-buying program soon, but that it would keep its interest rates low for a while. The ECB also lowered growth rates for the common currency region. (Source: "ECB to keep rates at record lows until summer 2019, cuts economic outlook," Raidió Teilifís Éireann, June 14, 2018.)
This spooked investors, who began to ditch the euro. We could see the downtrend continue and eurozone investors rushing toward gold instead.
Emerging Market Currencies Tumbling Lower
Don't ignore the emerging markets, either. Their currencies are facing the worst selling.
The Turkish lira has tumbled by close to 20% year-to-date. But note that Turkey buys a lot of gold. In 2017, the country's gold bar and coin purchases amounted to 52.4 tonnes; this was 78% higher than in 2016. With a lower lira, we could see this figure soar in 2018.
The Brazilian real is dropping, too. The Argentinean peso is stumbling. The Mexican peso, against the U.S. dollar, looks like it's in a freefall. The Pakistani rupee stands at an all-time low relative to the U.S. dollar. The list goes on.
Gold Prices Outlook: Precious Metal Could Be Setting Up to Soar
Dear reader, understand that gold is a global phenomenon. When currencies fall, investors rush toward the yellow precious metal. It's one of the best hedges against currency depreciation.
Also remember that, in the currency markets, trends tend to continue for a while. What we see now could continue to be the case for the coming months and quarters.
So, as I said earlier, if currencies continue to fall, we could be seeing a lot of gold buyers all of a sudden in the market. This is good news for gold prices and keeps me bullish.
Beyond all this, I have been noticing something these days that hints toward bullish sentiment building up in the gold market: gold prices are finding a lot of strength, holding strong near $1,300, despite the U.S. dollar surging.
I am keeping a very close watch on this development. For a while, a rising dollar was causing nervousness in the gold market. This could be changing, and we could be setting up for higher gold prices.