Technology Stocks Could See a Sell-Off: Investors Beware
Call me an alarmist, but I believe that technology stocks could be worth watching closely. They might be setting up to disappoint. If investors have bought them, it might be time to step back a little.
Over the years, there's one thing I have learned very clearly: assets that increase in value almost vertically/exponentially don't remain that way forever. A massive sell-off eventually follows.
The steeper the move to the upside, the more severe the sell-off tends to be.
Why is there a severe sell-off after a rapid move to the upside?
As I have learned, when an asset is witnessing an exponential increase, it means there's a lot of optimism and excited buying. Also, a lot of so-called "FOMO investors" are jumping to get a piece of the action (FOMO means "fear of missing out").
The FOMO investors tend to be jumpy. They sell at the slightest news. When this happens, you see a snowball effect. All of a sudden, optimistic sentiment turns and excited buying turns into panicked selling.
One of the most recent and best examples of this was with Bitcoin and other cryptocurrencies. Cryptocurrency prices went up way too quickly. Everyone thought that they could continue to go higher.
After a rapid move to the upside in Bitcoin prices, we saw panic kick in and a massive sell-off follow.
The Last 2-3 Years Were the Best Time to Buy Amazon Stock
A few of the biggest technology stocks are witnessing exponential moves to the upside. If an investor is becoming complacent about them, they could be making a big mistake.
It really has to be questioned whether a sell-off is looming for technology stocks sooner rather than later.
Consider the stock chart below of Amazon.com, Inc. (NASDAQ:AMZN). The exponential move in AMZN stock began two to three years ago.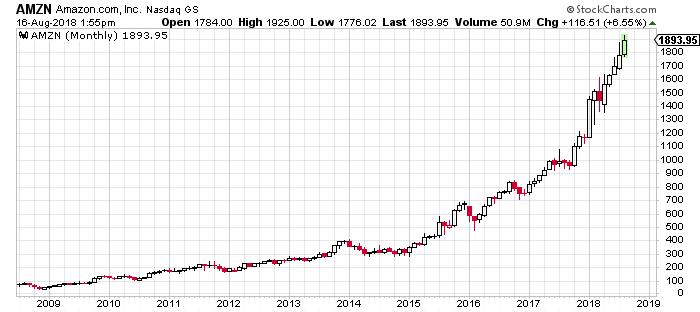 Chart courtesy of StockCharts.com
Since the beginning of 2016, there have been just 11 months when the AMZN stock price declined. It has been about 31 months since January 2016, so the AMZN stock price declined in about 35% of those 31 months.
Fast forward to January 2017.
Since then, AMZN stock has declined for just five months, and these declines were relatively small. It has been 19 months since January 2017. So, AMZN stock has declined in only 26% of those 19 months.
Here's the thing: if you look at other technology stocks, there's something similar happening.
While we are at it, know this: for a lot of major technology stocks, the last two to three years have been the best time to hold them, better than any time since those stocks went public.
With AMZN stock, it was trading at $650.00 in January 2016. Now it's at $1,900. By holding AMZN stock, an investor would have netted about $1,250. There has never been a time in Amazon's history when investors made this much money per share.
So, Short Technology Stocks?
Before going into any details, I want to make three things very clear.
First, I am not saying that technology stocks are a short opportunity at the current price. Exponential moves could go on for a while. Trying to predict tops and bottoms could cause a lot of pain for a portfolio.
Second, I am not saying that technology companies are bad. I see the sector as a sort of revolutionary one. Technology companies have cash on hand, and they could be using a lot of it to acquire new companies or invest in research and development.
Third, if the technology stocks do witness a sell-off, they could present a great opportunity.
Dear reader, I see the technology sector as a place where there's too much optimism. There's excited buying and there's a lot of FOMO. As all this is happening, technology stocks are moving exponentially.
I will repeat what I said earlier: if you hold technology stocks, don't get too complacent. Exponential moves don't last forever.