Signs of a Stock Market Crash Are in the Air
Don't rule out a stock market crash in 2017 just yet. While the economic fundamentals have been screaming for a while that we are in trouble, the technicals for the stock market have become stretched too.
The newest poor economic data to come is the struggling housing market. In July, new home sales came in at a seasonally adjusted annual pace of 571,000, which is 9.4% lower than June's revised rate of 630,000—and 8.9% lower than in the same period a year ago. (Source: "Monthly New Residential Sales, July 2017," U.S. Census Bureau, August 23, 2017.)
I write daily on how poorly the U.S. economy is doing, with the weakening housing market being only part of the problem. The bottom line is that you can't have a stock market rally if the economy is deteriorating.
The fundamentals for the stock market have been bad all year. Now the technicals are majorly negative.
Please look at the chart below of the S&P 500 and pay close attention to the lines and arrows drawn on it.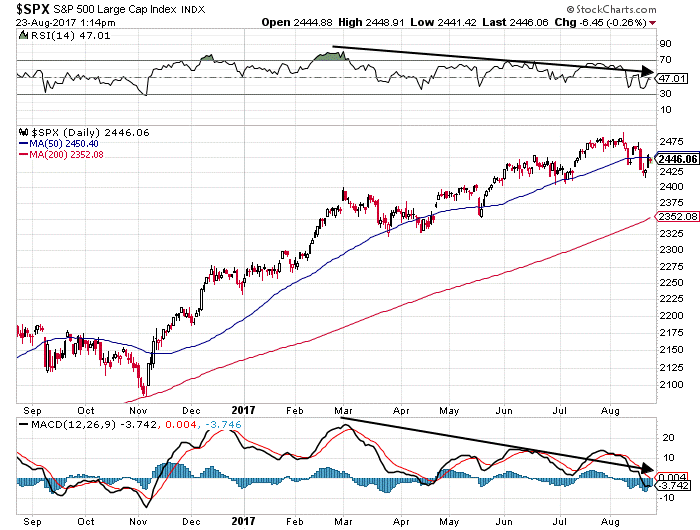 Chart courtesy of StockCharts.com
Since March, something very interesting has been happening; the direction of the S&P 500 has generally been to the upside. We've been seeing higher highs.
But, as this was happening, we saw the momentum indicators trending downward. Those indicators are at the bottom and the top of the chart: the moving average convergence/divergence (MACD) and the relative strength index (RSI), respectively.
When momentum indicators trend lower, it suggests that sellers are starting to take over. From past experience, this sort of behavior is indicative of lower stock prices ahead.
In 2007, when key stock indices were forming tops, we saw something very similar. A few months later, the sell-off began. Go back to 1999–2000, just before the tech stock market crash, and you'll see that the momentum indicators were declining while the markets were moving higher—the same as what is happening today.
Dear reader, the current stock market reminds me very much of the 2007 stock market. Final highs for that market were made in October before all hell broke loose. Be careful.