October Was Bad for the Stock Market
In October, the stock market had a really rough time. With all the selling and volatility, one could be asking: What's next?
Before going into any details, it's important to know a few things.
This year, October was one of the worst months for the stock market since 2008.
We saw key stock indices like the S&P 500, Dow Jones Industrial Average, Nasdaq Composite Index, and Russell 2000 Small-Cap Index drop to correction territory—dropping over 10% from their recent highs.
We also saw a spike in volatility in the market. The CBOE Volatility Index (VIX), often referred to as the "Fear Index," surged higher. At the beginning of October, it stood at around 12. By the end of October, it had reached close to 29. This represents an increase of over 140% in a matter of a month.
At its core, in October, the VIX said that investors were nervous.
What's Ahead?
Historically speaking, November and December tend to be good months for the stock market. Rarely, we see a sell-off in these months.
Look at the S&P 500, for example. Since 2009, there have been only two instances when the index declined in November (in 2010 and 2011), and two instances when the S&P 500 declined in December (in 2014 and 2015.) (Source: "S&P 500," Morningstar, last accessed November 7, 2018.)
Mind you, for all these instances where the S&P 500 dropped, the declines were small.
So, it's possible that stocks find some support in the coming months.
However, be very careful ahead.
Please look at the chart below. It plots the put/call ratio. This chart may not look exciting to the untrained eye, but it's saying a lot about investor sentiment and where the stock market could be headed next. Look closely.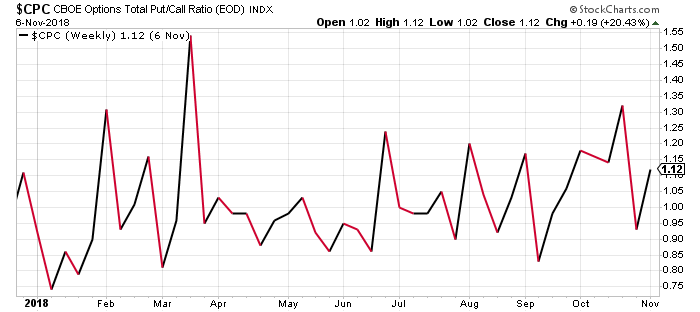 Chart courtesy of StockCharts.com
The put/call ratio is essentially a ratio that is calculated by dividing the total number of put options by the total number of call options.
When this ratio reaches 0.70, it means that investor sentiment could be turning. When it is over 1.00, it means that investors are buying more put options (betting against the stock market) and their sentiment is bearish.
In early 2018, the put/call ratio stood at 0.75. Since then, this ratio has been elevated and currently remains above 1.00.
This is saying that investors are bearish and don't have much faith in the stock market. They are betting against it.
Stock Market Outlook: Short-Term Relief, Long-Term Pain
Dear reader, after the sell-off in October, as said earlier, it wouldn't be shocking to see the stock market find some buyers in November and December.
But I have doubts about the rally we see.
I am really worried, going into 2019. There are a lot of factors that could send stocks tumbling very quickly; rising interest rates, global trade wars, a slowing global economy, and the list goes on. Sentiment indicators like the put/call ratio also suggest that bets against the stock market are growing.
I will repeat what I have been saying for the past few months: capital preservation is key. It could be a great time for investors to evaluate and adjust (if needed) their long-term portfolio.