Don't Rule Out a Massive Stock Market Sell-Off Just Yet
Stock markets could be taking a turn for the worse. Don't rule out a massive sell-off just yet. Even if markets stabilize a little in the next little while, early 2019 doesn't look great for stocks.
Understand that investor sentiment is everything. If that sentiment turns bearish, investors panic and sell.
As it stands, it looks like investors aren't liking the stock market these days. They are turning bearish, and this is not good.
Russell 2000 Breaking Below Long-Term Trend
Look at the Russell 2000 index. Essentially, this index tracks the performance of small-cap companies on the stock market. Pay close attention to the blue line on the chart below.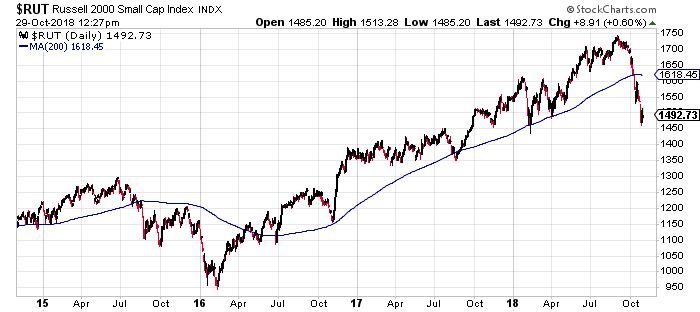 Chart courtesy of StockCharts.com
The blue line on the chart above represents the 200-day moving average of the Russell 2000. The index is dropping below that average for the first time since 2015. This shouldn't be taken lightly; the last time this happened, we saw the Russell 2000 drop by well over 20%.
The Russell 2000 looks like it's diving off a cliff. From its high in mid-July, the index has dropped by over 14%.
Why does this index matter? If small-cap stocks are dropping, it means investors really dislike risk. At its core, it's a sign that sentiment is turning.
Keep in mind, technical analysts regard the 200-day moving average as a long-term trend indicator. If the price breaks below this average, it means the long-term trend is broken and that bearish sentiment prevails.
Fear Index Suggests That Investors Are Getting Scared
Next, look at the Chicago Board Options Exchange (CBOE) Volatility Index (VIX). It's often referred to as the "Fear Index."
If the VIX surges quickly, it's not good. It says that a lot of selling and volatility could be ahead.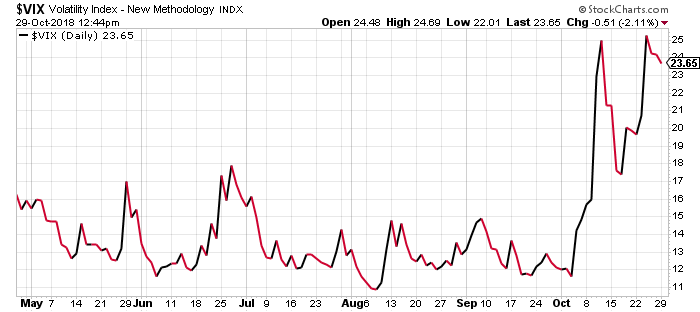 Chart courtesy of StockCharts.com
Between early October and now, the VIX has more than doubled. This is saying that investors are nervous and scared.
Mind you, whenever the VIX remains above the 20 mark, it's perceived as the stock market "getting sick."
Sentiment Indicators Suggest That Bullish Investors Are Diminishing
Lastly, look at the chart below of the American Association of Individual Investors' sentiment survey. It's essentially a weekly survey that asks investors about their take on the stock market. The percentage of investors who are bullish is plotted on the chart.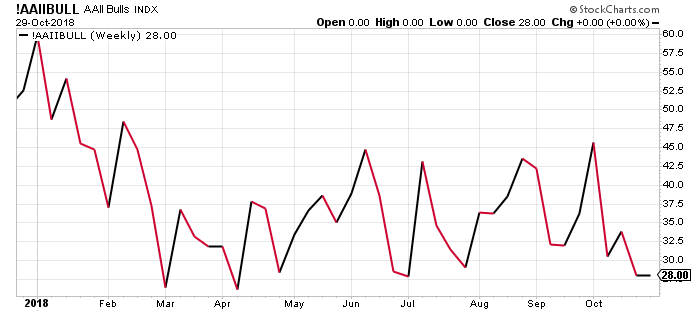 Chart courtesy of StockCharts.com
See something?
At the beginning of 2018, about 60% of the individual investors surveyed were bullish about the stock market. This figure has been slashed in half since then. Only 28% of the investors are currently bullish.
If this doesn't say that investors are getting nervous and scared, then what will?
Stock Market Outlook: Stage Is Set for Disappointment
As I mentioned earlier, investor sentiment is everything, and the sentiment right now says that investors don't like stocks.
October tends to be a volatile month on the stock market. In November and December, indices do fairly well.
In the next few months, I wouldn't be shocked if markets find some support and we see them move a little higher. But early 2019 may not be good. I see the stage as being set for a lot of disappointment on the stock market. Investors could be in for a lot of surprises.