Is the Stock Market Making a Top?
Stock markets have seen wild swings in the last little while. If you are a stock investor, you could be questioning where the stock market is headed next. Over the last few days, the swings have really taken a toll on investor sentiment.
Going forward, investors need to pay attention to a few things…
First, there's a lot of noise that says we could be making a top on the stock market.
Is this true?
It's very possible, but keep in mind that tops and bottoms are very difficult to predict. We only know them once they are in place.
Why could we be seeing a top?
You see, market tops are usually made at the time of peak prosperity, just before the economy is about to enter a slowdown.
Consider the stock market top of 2007. The Dow Jones Industrial Average was forming a top between July and October 2007. At that time, we were seeing solid numbers about the economy. The recession began near the end of that year.
If we assume that the U.S. economy could be slowing down in the coming quarters, then the recent price action on the stock market is saying that we could be forming a top. Obviously, with time, we will know more.
Those With Money Ditching the Stock Market
Second, know that those with money are ditching the stock market.
Please look at the chart below of the National Association of Active Investment Managers (NAAIM) Exposure Index. This index essentially tells us what percentage of active managers' portfolios consists of stocks.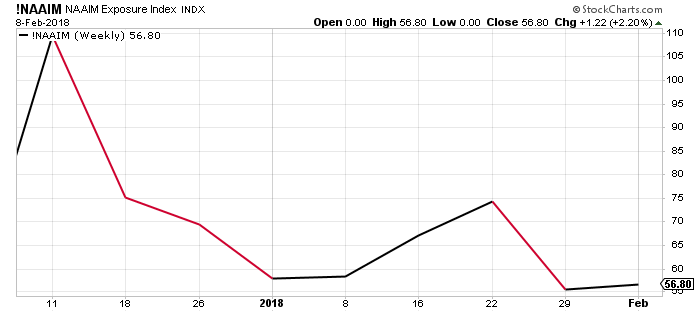 Chart courtesy of StockCharts.com
In mid-December 2017, active managers' portfolios were 109% stocks. This means they borrowed money to buy stocks.
Now, their portfolios are 56.8% stocks. In other words, money managers have reduced their stock exposure by over 50%.
At its core, active managers ditching stocks says that they are nervous and don't expect much from stocks. This is a warning sign that shouldn't be ignored.
S&P 500 Companies Breaking Below Uptrend
Third, look at another chart.
It shows the number of stocks on the S&P 500 trading above their 200-day moving average. You see, the 200-day moving average is essentially a trend indicator. If a stock is trading above its 200-day moving average, it means it's in an uptrend.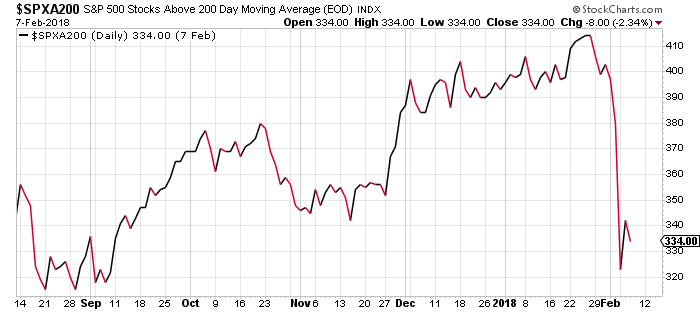 Chart courtesy of StockCharts.com
Notice the nose dive on the chart?
The number of companies on the S&P 500 trading above their 200-day moving average continues to decline. In late January, 410 of the 500 companies were trading above this moving average. Now, this number is just 334.
In simple words, the chart is saying that more and more stocks on the S&P 500 are breaking below their uptrend. This is not good, no matter how you look at it. Remember, the trend is your friend until it's broken.
Stock Market Outlook: We Could Be in for a Rough Ride
Dear reader, the stock markets don't look good.
Remember, investors have made a lot of money over the past few years. Now, indices like the Dow Jones Industrial Average and the S&P 500 have declined 10% from their highs—they are in correction mode. So investors could be looking to take some profits off the table, and this could create a much bigger decline.
It can't be stressed enough: capital preservation could be a great strategy for investors these days, or else they could be in for a rough ride.