Valuation of Stocks Compared to Earnings
All the stars are lining up for a rigorous stock market crash ahead. In fact, in my lifetime, I have never seen a stock market so overpriced.
The cyclically adjusted price-to-earnings (CAPE) ratio for the S&P 500 (essentially the price-to-earnings multiple adjusted for inflation and economic cycles) currently sits at an unprecedented 29.19. That means investors are willing to pay $29.19 for every dollar of earnings. (Source: "U.S. Stock Markets 1871-Present and CAPE Ratio," Yale University, last accessed May 9, 2017.)
Historically (based on more than 100 years of data), the CAPE ratio has been 16.75. Today's CAPE ratio is 74% above the norm.
But it's not just the extreme valuations of stocks compared to their earnings that concern me; it's the lack of fear among investors that is an even bigger warning sign that a stock market crash is ahead.
Fear Index Extremely Low
The chart below is of the Chicago Board Options Exchange Volatility Index (VIX), often called the "Fear Index."
The VIX currently stands at 9.77. This is the lowest level since 2007, just before a historical stock market crash kicked in. The VIX is saying that investors are not fearful of stock prices falling…that they are extremely optimistic about stocks. And, whenever we have experienced such a fearless/optimistic scenario among investors, stock prices have crashed.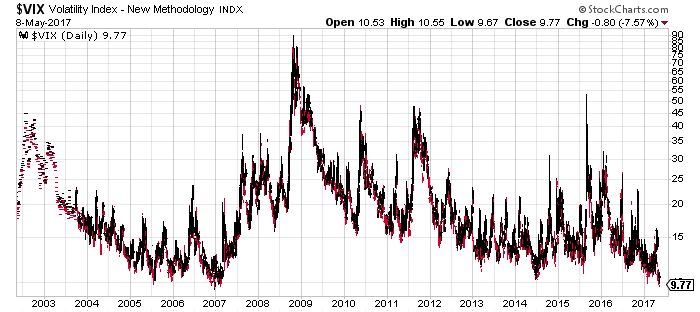 Chart courtesy of StockCharts.com
Stock Market Crash: History to Repeat Itself?
Dear reader; stock bear markets are born at the peak of severe optimism, and that's why I'm preaching caution to investors.
Just look at the fundamentals: stock prices are at historic highs, valuations are off the Richter scale, optimism is soaring, institutional investors have turned sour on stocks, U.S. economic growth has flattened, and world economic growth is stagnant at best.
I feel that things are more out of control today than they were in 2007 before stocks crashed. And I believe that history will repeat itself very soon, as the stock market crashes amidst all this overvaluation and optimism.