Charts Foretell a Stock Market Crash in 2019
A stock market crash could become reality in 2019. If you thought 2018 was bad, a lot of losses could be ahead in 2019 for those who hold stocks.
Why such a gloomy outlook for the stock market in 2019? Just look at the charts. They make a very strong case for a stock market crash in 2019.
Before going into any details, investors need to know two basic rules of technical analysis:
The trend is your friend until it is broken. In simpler terms, if a trend breaks, it is not good.
When a support level breaks (the area where buyers were present previously and prices turned around), it becomes a level of resistance and the price tends to fall to the nearest major support level before finding any relief.
With these two rules out of the way, look at the chart below of the S&P 500 and pay close attention to the black lines drawn on the chart.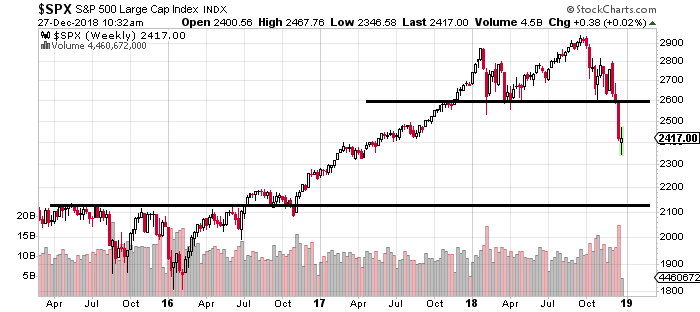 Chart courtesy of StockCharts.com
In early 2018, we had some support build up on the S&P 500 around the 2,600 level in April and May. Stocks turned around then and rallied all the way to the 2,900 level.
In October, things turned again and we started to see sellers enter in large numbers. This was confirmed by the trading volume; as stock prices dropped, trading volume spiked.
Just recently, the S&P 500 broke below the support level that was set in early 2018.
Where Does the S&P 500 Go Next?
You see, the next support level for the S&P 500 isn't until around 2,175.
Simple math here: 2,175 is 10% below where the S&P 500 currently trades. If we assume that's where it goes next, we could be looking at a drop of 25% from the highs made in 2018. This puts the S&P 500 deep in bear market territory.
But don't stop there; at 2,175, all the long-term uptrends on the S&P 500 would be broken.
As it stands, we already see the uptrend that began in 2016 broken, and we are really close to breaking below the 50-week moving average on the index.
This is not good. Bearish sentiment could come in very quickly.
Don't Disregard Investor Psychology
Now, let's talk about investor psychology a little.
Understand that investors tend to panic and sell when asset prices fall. A 25% decline in stock prices could really take a toll on investors' minds.
Over the past few years, investors haven't really seen anything like this, so it wouldn't be shocking to see them panic and sell.
Mind you, the S&P 500 moving below 2,175 would mean that all the investors who bought in 2016, 2017, and 2018 would be experiencing deep losses.
Dear reader, on top of all this, add all the worries about rising interest rates, a global economic slowdown, political deadlock in the U.S., and so on and so forth.
As I see it, a stock market crash in 2019 could become a real possibility. I wouldn't be shocked if the losses become massive and investors face a lot of misery. If the trading in 2018 was any indicator of what's ahead, I am really concerned.