Stock Market Crash 2017? This Could Trigger a Stock Market Collapse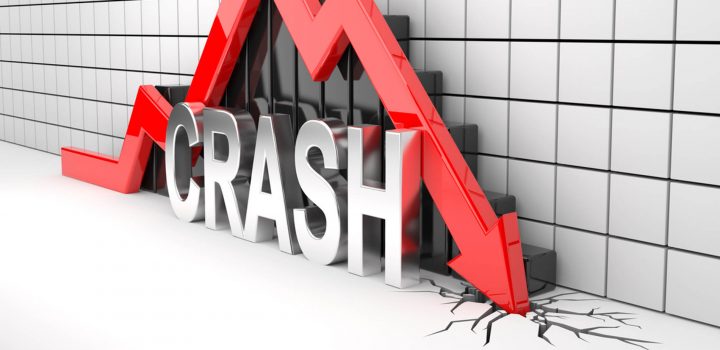 Donald Trump Predicts U.S. Stock Market Crash
Will the stock market crash in 2017? It seems quite unlikely that the largest economy in the world will slip into a recession in 2017 and the U.S. stock market will crash. After all, the broader stock exchanges are—even after minor pullbacks—near record levels.
Since Donald Trump was officially sworn in as our 45th president, Wall Street and investors seem even more optimistic that his economic policies will ignite the economy.
While the unbridled optimism about a still-untested president and soaring stock prices are certainly real, what's supporting this sentiment is not. Stocks are overvalued, and the U.S. and global economies remain fragile.
This is not the foundation upon which you build further momentum on an aging bull market, which even Donald Trump said, during the first presidential debate, was "in a big fat ugly bubble."
This wasn't the first time President Trump questioned the health of U.S. stocks. In April 2016, Trump said he didn't have much faith in the stock market outlook, and that it was a terrible time to invest because a huge recession was coming. (Source: "In a revealing interview, Trump predicts a 'massive recession' but intends to eliminate the national debt in 8 years," The Washington Post, April 2, 2016.)
Stock have soared a whole lot higher since those early warnings. Since Trump said he had lost faith in stocks and that a recession was coming, the major indices have extended their gains and remain near record territory. The Dow Jones Industrial Average (DJIA) has advanced 12.0%, the S&P 500 is up 10.3%, the NASDAQ is up 14.6%, and the NYSE is up 10.3%.
Since the first presidential debate on September 26, 2016, the DOW is up 8.6%, the S&P 500 is up 5.0%, the NASDAQ is up 5.2%, and the NYSE is up 4.7%.
Suffice it to say, if Trump said stocks were in a bubble back in April and September, he'd say, if it were politically appropriate, that stocks were in an even bigger bubble now.
Keep in mind, Donald Trump sold off his entire $91.0-million-plus stock portfolio back in June 2016. Sure, some have said it was to avoid a conflict of interest. But recall, if you will, Trump has said on numerous occasions: "The law's totally on my side, the president can't have a conflict of interest." And Trump's right, from a legal standpoint, there can be no conflict of interest. (Source: "Trump shrugs off concerns: 'The president can't have a conflict of interest'," CNBC, November 23, 2016.)
Still, one has to wonder if Donald Trump sold his stocks because he wanted to avoid the appearance of a conflict of interest, because his dislike for Wall Street is well known, or because he also believes that the markets are overvalued.
The same Wall Street analysts who failed to make stock market crash predictions before the stock market collapse in 2008 are ignoring the same warning signs today. The economy remains fragile, and the outlook for the stock market remains extremely volatile.
Sponsored Advertising Content: The Great Crash of 2017
U.S. Stock Valuations in Nosebleed Territory: Where Is the Stock Market Headed?
Stock market crashes happen because stocks are in a bubble. Stock prices are higher than what the stocks are worth, and stocks eventually crash, bringing valuations more in line.
What leads to a stock market collapse? Ultimately, it's panic. Whether it's precipitated by an economic crisis, geopolitical event, or black swan event, investors panic and run for the exits. Judging by the stratospheric valuations these days, there are more than enough signs that point to a stock market crash in 2017.
How do we know stocks are overvalued? Because two of the most trusted stock market valuation ratios say they are.
First, the Case-Shiller cyclically adjusted price-to-earnings (CAPE) ratio suggests that the S&P 500 is overvalued by an eye-watering 75%. The 100-year average is around 16; today the ratio is at 29.19. There are two ways to approach that number: 1) for every $1.00 of earnings a company makes, investors are happy to fork over $29.19, and 2) it will take more than 29 years for the earnings of the average stock on the S&P 500 to equal its share price. (Source: "Online Data Robert Shiller," Yale University, last accessed May 23, 2017.)
The ratio, for which Robert Shiller won the Nobel Prize in economics, has only been higher twice, for longer: in 2000 and 2007. Each time it was followed by a stock market collapse, a stock market crash that Wall Street and the major news sources said would never happen.
This does not mean that U.S. stocks are going to crash in the coming weeks or even months. There is too much euphoria in the markets since Trump won the election. And the Case-Shiller ratio is not as dramatic as it was in 2000, when it stood near 45 (it was only at 30 in 1929).
But, according to Shiller, the stock market euphoria and irrationality will eventually hit a ceiling and could send stocks plummeting in a rerun of the 1929 stock market collapse. (Source: "Trump Setting Up Repeat Of '29 Market Crash," The Huffington Post, January 19, 2017.)
The market-cap-to-gross-domestic-product (GDP) ratio, also known as the "Warren Buffett Indicator" is considered one of the best single measures of where stock market valuations stand at any given moment.
The market-cap-to-GDP ratio compares the total price of all publicly traded companies to GDP. A reading of 100% suggests that U.S. stocks are fairly valued. The higher that the ratio is over 100%, the more overvalued that stocks are. The market cap to GDP ratio is currently at 127.3%.
To put that into perspective, the market-cap-to-GDP ratio has only been higher twice since 1950. In 1999, it was at 153.6% and in late 2015, it was at 129.7%. What about the 2008 financial crisis? The ratio was only at 108% before stocks crashed in 2008.
Record Stock Levels a Result of Financial Engineering
The major indices are near record highs, not because investors are excited about strong corporate earnings and revenue growth though. Stock valuations are at dangerous levels because of years of artificially low interest rates and financial engineering.
Artificially low interest rates were supposed to make it cheap to borrow money. The only thing we know for certain is that artificially low interest rates gutted retirement portfolios that relied on fixed income investments like bonds, CDs, and Treasuries. Income-starved investors and retirees were forced to put their money in risky investments like the stock market.
As for financial engineering, companies propped up their corporate earnings by announcing severe cost-cutting measures and record share buyback programs. In fact, buyback programs helped propel the S&P 500 into record territory at a time when corporate earnings were contracting. The S&P only recently ended its longest earnings recession on record, but you'd never know that Wall Street was even in one if you looked at the major stock indices.
You can only rely on this trick for so long. Eventually investors will want to know that earnings per share (EPS) growth is coming from increased earnings, not financial engineering. They may have a while to wait before that sinks in though.
After stock repurchases hit a record level in 2015, they slowed in the June–September period of 2016. But stock repurchases have spiked since then. The interest in corporate buybacks is back in fashion again after Trump won the election. Wall Street expects that his promised tax cuts will put more money back into company coffers. (Source: "Surging Buybacks Say Stock Boom Isn't Over," The Wall Street Journal, December 26, 2016.)
Moreover, Trump has said he wants to introduce a tax holiday, one that would see Wall Street bring some of the $2.6 trillion in corporate overseas profits back to the U.S., where it would be subject to more favorable U.S. taxes.
Companies are supposed to use the influx of cash for development and hiring. But history has shown us that repatriated money from tax holidays tends to go to dividends and share repurchase programs, both of which have the added effect of inflating stock valuations even higher, and stretching the stock market bubble even thinner. That is a bubble that President Trump has said is already fat and ugly.
Sponsored Advertising Content: You'll Never Guess Which BIG American Bank is Going Bankrupt NEXT
U.S. Economy Remains Fragile: What Is the Stock Market Outlook?
Does the U.S. and global economy suggest the markets are going to crash in 2017? Remember, the stock market outlook is only as strong as the underlying stocks, and those stocks are only as strong as the economies that need them. By all accounts, the U.S. and global economies are not as strong as we're being led to believe.
In December, the U.S. unemployment rate increased slightly to 4.7% as the U.S. economy added a modest 156,000 jobs. One of the reasons why the U.S. continues to report decent jobs data is that the labor participation rate is near historic lows. A record 95.10 million Americans left the labor force in December, up from the November 2016 record of 95.08 million. In April 2017, the number of Americans not in the workforce was 94.7 million. (Source: "Employment Situation Summary," Bureau of Labor Statistics, May 23, 2017.)
The types of jobs being created are underwhelming, and wage growth is lagging. The biggest area of growth was the service industry, with 132,000 jobs added. Leisure and hospitality, aka low-paying, part-time server jobs, added 30,000 positions in December. It added 55,000 in April 2017. In 2016, manufacturing employment fell by 45,000.
Not everyone is happy with where they're at. Roughly 5.6 million Americans work part time but want to work full time. The pre-recession level was 4.4 million. Many Americans, it seems, are not even aware the U.S. is in a recovery. The underemployment rate is struggling at 9.3%.
The U.S. is faced with a lack of decent, well-paying secure jobs, glacial wage growth, and increasing household debt levels. Moreover, almost half of all Americans (47%) would have to borrow money to pay for an emergency expense of just $400.00. (Source: "66 million Americans have no emergency savings," CNBC, June 21, 2016.)
With the Fed raising its key lending rate and inflation expected to rise in 2017, it's going to be a lot harder for the average American to make ends meet, and to help carry the U.S. economy. Keep in mind, the U.S. gets more than 70% of its GDP from consumer spending.
This will weigh heavily on corporate America.
Global Economy Remains Weak: When Will the Next Stock Market Crash Happen?
The global economic outlook also remains muted. With almost half of all S&P 500 companies relying on foreign sales, it looks like U.S. companies will no longer be able to rely on exports to help prop up revenue and earnings.
Economic conditions in China, the world's second-biggest economy; Europe, the world's biggest economic region; and Japan, the third-largest economy in the world, are all underperforming.
In 2016, China's economy expanded 6.7%, the slowest in 26 years. Japan's economy remains staid, and uncertainty around Brexit and other issues could weigh down Europe's barely-there growth even more.
Prepping for a Stock Market Crash in 2017
The U.S. and global economies remain weak, and U.S. stocks are significantly overvalued. The current bull market may be the second longest in history, but that doesn't mean the momentum is going to continue. And it certainly doesn't mean that Wall Street knows what the stock market outlook is.
A U.S. stock market crash is coming, but there is still time for investors to take advantage of market opportunities. In anticipation of the well-deserved downtrend, correction, and crash, investors can hold physical gold, gold mining shares, or gold (mining, physical) exchange-traded funds (ETFs).
A stock market collapse also means it could be a good time to buy. As Warren Buffett, one of the world's greatest investors has said, "be greedy when others are fearful and fearful when others are greedy."
Market crashes are a great time to pick up amazing companies' stocks at bargain prices.