3 Factors Suggest Stock Market Crash Could Be Ahead
Why talk about a potential stock market crash in 2017 when key stock indices are at their all-time highs? Because the fundamentals suggests this could happen.
It can't really be stressed enough; for stock markets to go above their all-time highs, you need fundamentals moving in the same direction. If you don't see it happening, run away; the upside could be very limited.
When I say fundamentals, I means earnings, economic data, and general valuation ratios. Right now, they are tormented and suggest that a stock market crash in 2017 could be a real possibility.
Don't just take my word; look at the figures yourself.  See the chart below of quarterly earnings of S&P 500 companies. They have crashed roughly 20% from their highs in  late 2014!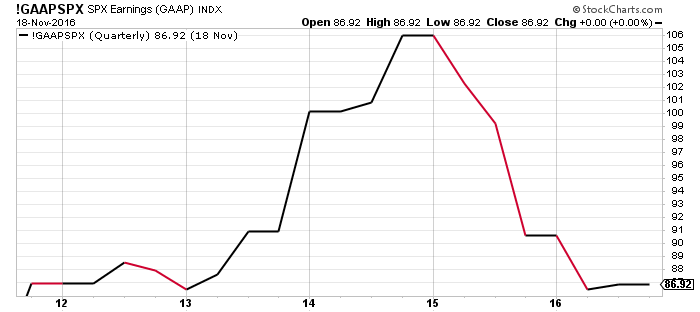 Chart Courtesy of StockCharts.com
No matter how you look at this, it's not good. When earnings collapse, stock markets crash. Simple. Look at any previous stock market crash; you will see this pattern occur over and over again.
When you look at the valuations of stock markets, they are really stretched.
Recently, my colleague John Whitefoot wrote about this, saying: "According to the Case Shiller cyclically adjusted P/E (CAPE) ratio, the S&P 500 is overvalued by 69%. The ratio is currently at 27.05. The average is 16."
Economic data is bleak, to say the very least. Almost all the lagging and leading economic indicators I follow closely suggest that the U.S. economy is stalling, and a recession could be a likely scenario sooner, rather than later. With this, remember: the stock market and economy move closely together. A recession would be detrimental for the direction of key stock indices.
Also, you shouldn't be ignoring the Federal Reserve. In fact, the Federal Reserve was one of the biggest reasons for this huge rise in the stock market. It could also be the biggest reason for a stock market crash in 2017.
You see, the Federal Reserve lowered interest rates and printed money after the financial crisis. Investors searched for yields, and the stock market was the place where they found refuge.
Now, the Fed is on track to implement the opposite monetary policy. It will be raising rates in December, and the Fed is expected to raise rates a few times in 2017. This should make investors think, and it could lead them to readjust their portfolios. In the midst of this, we could see a stock market crash.
How Much Could The Stock Market Crash In 2017?
Dear reader, let's be very clear: you have to be skeptical here. You have to question the rise in the stock market. Fundamentals are weak, to say the very least. The disparity between fundamentals and the stock market's price action doesn't end well. Ever.
Why do I believe 2017 could be the year when the stock market crashes? Investors have been too complacent. They knew the Federal Reserve was on their side since 2009. This isn't the case anymore. Going into the New Year, they could be questioning a lot of factors, and panic when they are faced with reality.
They could sell and run for the exit.
Don't be shocked if we see a rigorous stock market in 2017 that takes key stock indices like the S&P 500 to their 2013 highs, about 30% lower from where it currently stands.