Stock Market Drops, Time To Buy Again?
Stock markets recently witnessed a sizable sell-off. Key stock indices dropped by more than 12%, entering correction territory in a matter of days.
Volatility spiked higher and there was panic across the board.
Why? Investors were worried that the outbreak of the coronavirus could turn into something big and create a lot of financial damage. They were fearful that it could have severe economic and social impacts.
As expected, to calm the situation, President Donald Trump tweeted to say that stocks were a great buy as indices were dropping. Furthermore, the Federal Reserve came out to say that it will do whatever it takes to improve the situation.
With all this, one could be wondering if the worst is over and if it's time to jump back in and buy stocks again. Shouldn't savvy investors be buying when there's panic?
I can't stress this enough: don't be too quick to judge. It's very likely that stock markets could drop a lot more. At the moment, no one really knows how this will play out. There's really no clear direction on what is happening, even from organizations like the World Health Organization (WHO).
Could the coronavirus turn into a pandemic? Moody's Corporation (NYSE:MCO) says the odds of this turning into a pandemic is around 40%. (Source: "Odds of a Coronavirus Pandemic Have Doubled to 40%, Says Moody's Analytics," CNBC, February 27, 2020.)
Governments around the world are still trying to figure how to contain the virus. Clearly, they have failed at it so far. There are now coronavirus cases in 60 countries and the list is growing.
The Bigger Problem
This is all still a developing story. If anyone claims to know exactly how long the coronavirus crisis will last, it might be a good idea to run away from them.
So far, only a few companies have come out and said that their earnings are going to be impacted by the coronavirus issue. But it might be naive to think they are the only companies that will be affected.
As it starts to become clear that the coronavirus outbreak is creating headwinds, a lot more companies could come out to say that their earnings will fall.
With this, do you really think their stock prices will continue to go higher?
Stock Market Outlook: How Low Could the Stock Market Go?
Dear reader, over the years I have learned that, when there's panic and uncertainty, nothing goes by the books when it comes to the stock market. One day you might see intense selling and the next day you will see all the losses get recovered. Then everything will go back down again.
I continue to watch the markets very closely.
Don't forget, right now, investors are worried about the coronavirus, but there are other problems that were already in the making prior to the outbreak: the global economy was already slowing down and the U.S. economy wasn't doing too well either.
Now, as investors start to assess their portfolios, they may look to sell shares and raise cash. This could take the stock market much lower.
How low could the stock market go? Look at the following chart of the S&P 500.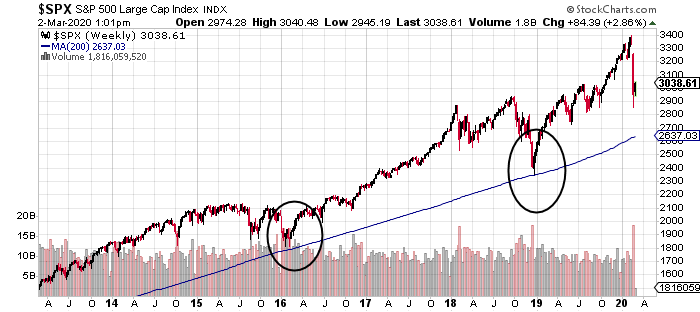 Chart courtesy of StockCharts.com
Over the past few years, whenever we have seen some sort of shock, the S&P 500 tended to fall back to its 200-week moving average.
If we see the S&P 500 drop to that level again, it would mean a decline of a little more than 13% from the current price and 22% from the highs made in early February. This would put the S&P 500 in bear-market territory.
Therefore, I will end with this: be very careful.