Silver Prices Drop, But Is This a Blessing in Disguise?
Silver prices seem severely undervalued. If you are not looking at silver now, you could be kicking yourself later. It could be a no-brainer, 10-bagger trade.
Right now, investors are in panic mode. No matter where you look, there's pessimism. Investors are selling everything and anything in sight.
No surprise, there's been a lot of selling in the silver market as well. As of this writing, silver prices have come down roughly 32% year-to-date, to around $12.20 an ounce.
If you look at the silver price chart, you might see trends pointing lower and momentum suggesting that things could get a lot worse. But in the midst of all this, there's one thing that investors really need to pay attention to.
They should also ignore a lot of the noise that's out there.
Once-in-a-Lifetime Event Just Happened in the Silver Market
Look at the chart below. It plots the gold-to-silver ratio. For long-term readers of Lombardi Letter, this chart shouldn't be something new. It has been mentioned here several times.
At its core, this ratio tells us how many ounces of silver it takes to purchase one ounce of gold. It is one of the best measures of silver valuations. When the gold-to-silver ratio is low, it means silver is overvalued. If the ratio is high, it means silver prices are low.
Now, you see, this ratio has done something extraordinary recently.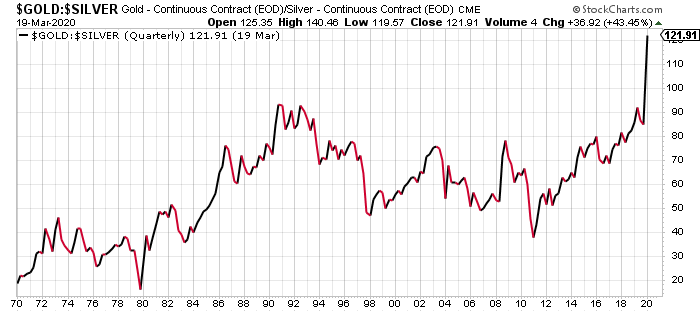 Chart courtesy of StockCharts.com
As of this writing, the gold-to-silver ratio stands at 121.91. This means it takes 121.91 ounces of silver to buy one ounce of gold. We have not seen the ratio this high in recent history. In fact, it wouldn't be wrong to call this a once-in-a-lifetime event.
What does it mean? The gold-to-silver ratio says we could be seeing a great opportunity. The price of silver is severely suppressed, and it could be foolish to overlook the gray precious metal.
Here's some more perspective on where silver prices could go.
Since the precious metal started to trade on the markets, the average gold-to-silver ratio has been about 45.
Assuming the ratio moves toward its long-term average and gold prices remain at $1,550, the price of silver would have to go to around $34.40 for the gold-to-silver ratio to reach 45. That's about 180% above the current price!
But know this: in unprecedented times, we have seen this ratio as low as 20. Assuming we are headed toward one of those times, and assuming gold prices don't change, then silver prices would have to surge to $77.50 an ounce for the gold-to-silver ratio to reach 45. That's 535% above the current price!
If You Ignore Silver, You Could Be Kicking Yourself Later
Dear reader, I have been following silver prices for several years now, and I have not seen any opportunity like the one that silver is presenting at the moment.
I have been bullish on the gray precious metal for a while already. The recent surge in the gold-to-silver ratio has made my convictions even more strong. As I see it, the recent sell-off has been nothing but a blessing in disguise for those who are looking for the next big trade.
Here's what I think: right now, the price of silver is down, but when it starts to move higher, we could see a violent move to the upside. When that happens, it won't be just those who own bullion who will see immense returns; mining stocks could provide leveraged gains.