Over the past several weeks, silver prices have slightly declined. Don't let this discourage you. Silver prices could go much higher.
Like stocks, commodities, and futures, silver prices fluctuate, too. You should only be worried when you see the major trends breaking in silver prices. As we see it, this isn't happening.
Advertisement

Look at the chart below, and pay close attention to the circled areas.
The key is to watch the 200-day moving average here; the blue line on the chart. Until early 2016, silver prices were finding resistance at their 200-day moving average—silver prices refused to break above the level. In other words, this meant that a strong downtrend was in play.
In March of 2016, silver prices moved above their 200-day moving average, and remain above it. This says the long-term trend has turned to the upside. So to reiterate; the trend remains in place.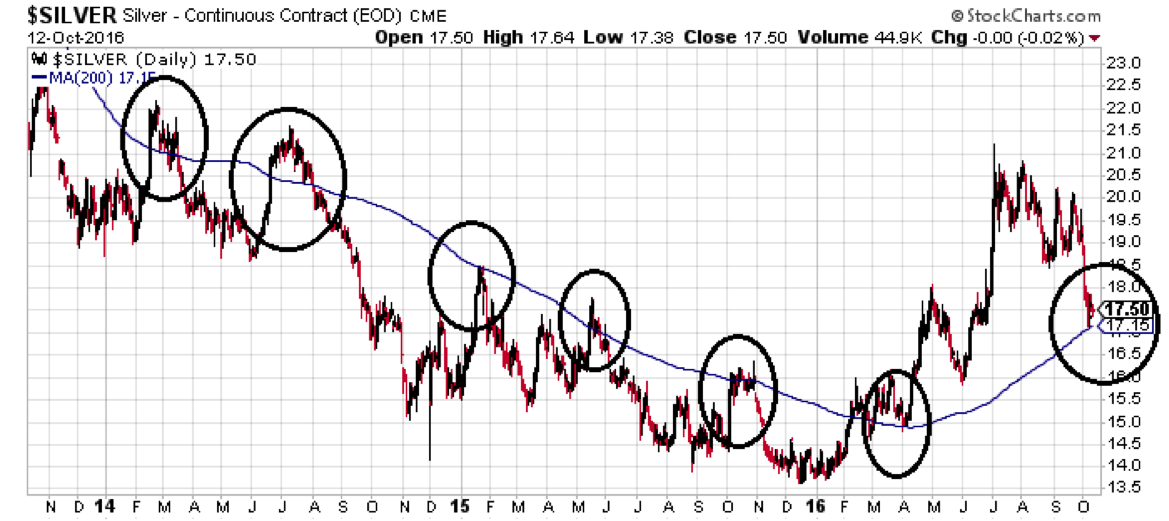 Chart courtesy of www.StockCharts.com
But, there are other reasons to remain bullish on silver prices. One of the biggest factors that investors should keep a close eye on is the gold-to-silver multiple.
At the very core, the gold-to-silver multiple says how many ounces of silver it takes to buy an ounce of gold. Please look at the chart below of the gold-to-silver multiple and pay close attention to the lines drawn.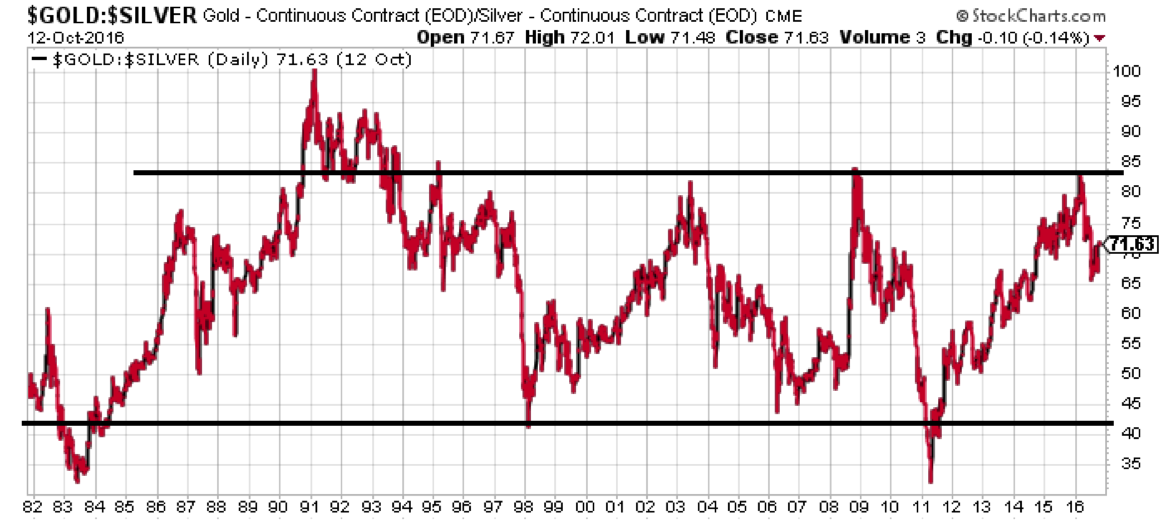 Chart courtesy of www.StockCharts.com
The black lines are drawn just above the numbers 40 and 80. The gold-to-silver multiple has been in this range for over 35 years now. It touches the top of the range, and then eventually drops below. Currently, it looks as if this ratio is making a move towards the 40 level. If this happens, and we assume gold prices remain the same around $1,250, silver prices will have to increase to beyond $31.00 an ounce. This will mean a move of over 78% from where silver prices stand today.
My public prediction is that gold prices could go to $2,500 an ounce in the next few years. If this happens, it could be great for those who own silver.
Lastly—and it can't be stressed enough—silver demand remains strong. If you look at silver sales data at mints around the world, it's simply astonishing. One would assume with silver prices suppressed, there isn't demand. This is definitely not the case. We see investors rushing to buy more of the precious metal.
In the month of October so far—as of Wednesday, October 12—the U.S. Mint has sold 1.95 million ounces of silver in American Eagle coins. In the entire month of September, the mint sold 1.67 million ounces of silver in American Eagle coins. (Source: "Bullion Sales," U.S. Mint, last accessed October 13, 2016.) This means, demand for silver at the U.S. Mint is already running 16.7% higher in October than in September. Mind you; we are not even halfway through the month just yet.
Where's the Opportunity?
As silver prices continue to trend higher, silver mining companies could provide investors the biggest gains. They rise much more than the silver prices.
Look at Hecla Mining Co. (NYSE:HL), for example. As silver prices are up about 26% year-to-day, HL stock has soared over 170%. So, for every one percent increase in silver prices, Hecla Mining's has increased 6.5%. Other senior silver mining companies offer similar opportunities.