Inflation to Send Silver Prices Soaring
If there's one thing investors should be paying close attention to, it's silver prices. The gray precious metal is severely undervalued, and could skyrocket in 2017.
Let me explain…
You see, silver is one of the best things to have if you expect inflation in the long term; silver prices increase when inflation rises. In fact, if you look from a historical perspective, for every one-percent increase in inflation, silver prices rise by two percent.
Look at the chart below showing this. At the top, it shows the consumer prices index (CPI)—a government measure of inflation—and silver prices. At the bottom, it shows the percentage change in in both over the last 46 years. This chart should make you think at the very least.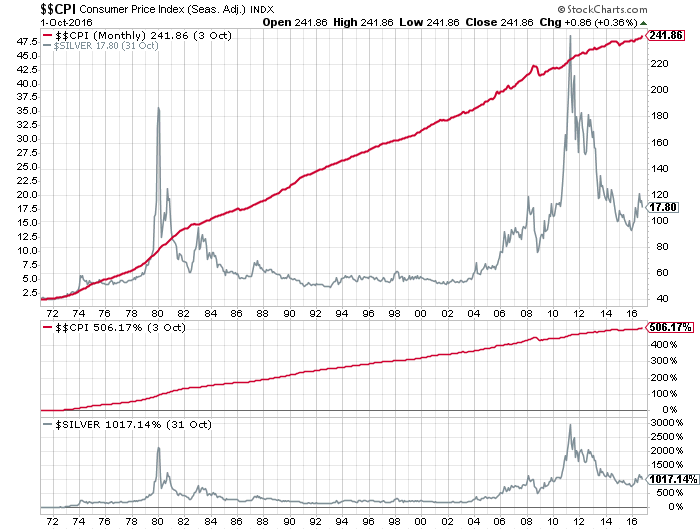 Chart courtesy of StockCharts.com
Despite witnessing wild fluctuations, silver prices are up over 1000% in the last 46 years, as inflation has caused prices to increase by 500%.
With this said, in contrast, silver is also one of the worst things to hold in times of deflation. Why? Because in periods of deflation, cash has higher value.
Now, look at another chart below. It essentially shows the expectation for inflation going forward.

(Source: "5-Year, 5-Year Forward Inflation Expectation Rate," Federal Reserve Bank of St. Louis, last accessed November 23, 2016.)
There's something interesting happening on the chart that investors shouldn't ignore whatsoever.
Since 2013, inflation expectations five years out were continuously falling. So, it made sense why investors were spooked and ran away from the silver market.
In early 2016, this trend changed. Now, we see inflation expectations are increasing very fast. In early 2016, five-year forward inflation expectation was around 1.40%. Now, its close to 2.10%. If you look at the percentage change, this is huge!
With this said, you must question: are investors not seeing this, and shouldn't silver prices be shooting through the roof?
Silver Price Outlook for 2017
Here's what you must understand: over the past several years, silver investors have had a very rough time. If they held bullion, it's down roughly 65% from its highs in 2011. If they held silver mining stocks, they are down significantly as well, and some are not even around anymore.
Saying the very least, investors' confidence is very low towards silver.
But, as silver prices have held relatively strong throughout 2016, it should give some hope to those who have ditched the market for better opportunities elsewhere. They could come back and buy.
If inflation is higher in 2017 and inflation expectations continue to increase, don't be shocked to see silver prices surging very quickly. We could even break above the $30.00 level. Obviously, time will tell more.
If investors are looking for leveraged gains to silver prices, the best place to look would be silver mining companies. Mind you, not all mining companies are great. As silver prices move higher, yes, you will see even mediocre companies rise in value as well, but the rewards won't be as immense. For the best possible returns, investors should look for companies with solid grades in the ground, increasing silver production, declining costs, and cash on hand.