One Key Ratio Says Price of Silver Could Be Setting Up to Surge
Looking for the next big trade? Look at silver. Don't be shocked if silver prices make a strong headway toward $50.00 in the coming months. The gray precious metal could be one of the most undervalued assets out there at the moment.
Why have such a bullish take on silver?
Silver has been disregarded by investors for several years, but the valuations of the metal are getting better. It's presenting an opportunity like back in 1993. At that time, silver was trading around just $3.50 an ounce—one of the lowest levels since silver began trading in the 1970s.
Mind you, it was also in 1993 when the bull market in silver began.
Digging into the details…
It's important that investors pay close attention to the gold-to-silver ratio.
What is the gold-to-silver ratio? It essentially tells us how many ounces of silver are needed to buy one ounce of gold.
This ratio is a very powerful tool. Whenever the gold-to-silver ratio crosses above 70, silver prices start to become attractive; the metal is deemed to be undervalued.
If the ratio moves above 80, silver is considered to be severely undervalued. In the case that the gold-to-silver ratio goes even higher than 80, silver is said to be trading at rock-bottom prices.
Look at the chart below to get some perspective.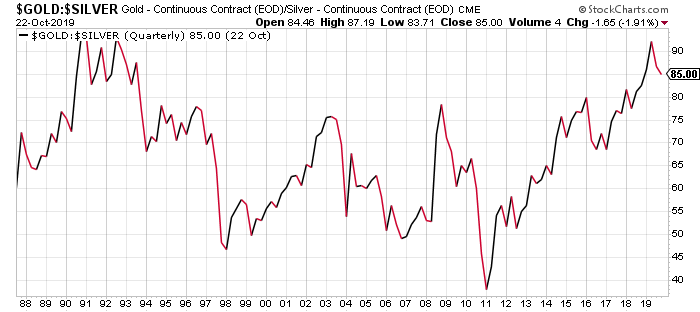 Chart courtesy of StockCharts.com
Currently, the gold-to-silver ratio stands at 85. Not too long ago, it went as high as 91. The last time the gold-to-silver ratio was this high was in 1993.
You don't have to look at anything else; this chart alone is saying that silver could be trading at dirt cheap valuations. Note: the higher this ratio goes, the more suppressed the price of silver looks.
How High Could Silver Prices Go?
Dear reader, as I said earlier, the gold-to-silver ratio is a very powerful indicator in forecasting silver prices.
Almost always, whenever this ratio surges above 80, it eventually drops to around 45. You can see the chart above for proof of that.
If we assume that this ratio comes back down to 45 and we assume that gold prices don't change at all (currently priced around $1,500), silver would have to soar to about $33.50 an ounce. That's 91% above the current price.
Keep in mind, I am being really conservative here with these numbers. I believe that gold prices could easily hit $2,000 in the coming years. If we look at the gold-to-silver ratio using that price, silver would have to surge to around $44.50 (154% above the current price).
If silver prices soar like the gold-to-silver ratio says they could, investors might do very well just by owning silver bullion.
For those looking for even higher returns, silver mining companies could be the place to be. As silver is disregarded, shares of silver miners have been punished by investors a lot. Silver mining stocks are selling for pennies on the dollar. If silver makes a run toward $44.50, I fully expect a lot of these stocks to double, triple, or even more in value.