Silver Prices Could Soar 1,300%, Silver Miners Could Be the Next Millionaire Makers
Silver prices could really be setting up to surprise investors in a very big way. The gray precious metal could soar 1,300%, if not more. Silver mining stocks could become the next "millionaire makers."
This prediction is not based on gut feeling; there are actual reasons to be bullish on the metal. It's important that silver bulls pay attention to the correlation between silver prices and the S&P 500.
Please look at the chart below and pay close attention to the circled areas. The 60-month (five-year) correlation between silver and the S&P 500 is plotted at the bottom of the chart.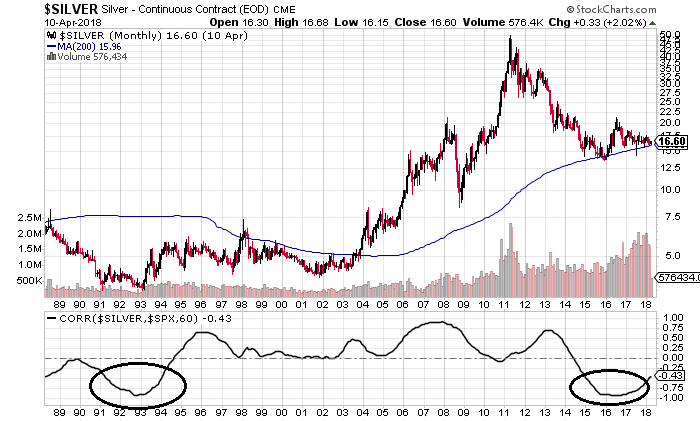 Chart courtesy of StockCharts.com
You see, whenever the correlation between the gray precious metal and the S&P 500 becomes almost negative, we see a major bottom form in silver prices.
Between 1991 and 1993, we saw this correlation reach almost negative. In the midst of this, we saw silver prices form a bottom. The price has never gone down to those levels again; one could say it was an absolute bottom.
In the next 18 years, the gray precious metal soared. In 1993, it bottomed around $3.50 and, by 2011, it reached as high as $49.82. This represents an increase of 1,323%.
The exact same thing that happened back then happened again between 2015 and 2017—after 25 years! The correlation between silver and the S&P 500 became almost negative.
Did we see a bottom in silver prices then?
Here's the thing: it's completely impossible to predict tops and bottoms, but there's a high chance that the worst could be over for the precious metal.
Two More Things Worth Watching
There are two other things that readers need to pay attention to. They also tell us that we may be close to a bottom in the price of silver.
First, the 200-month moving average (the blue line drawn on the above chart) is a trend indicator. Since 2015, silver prices have been finding a lot of support at this moving average. This says that bullish sentiment prevails.
Second, pay attention to the volume plotted behind the price. Since late 2015, we have seen the volume in the silver market significantly increase as the price has stabilized. This says there are buyers coming in and sellers aren't able to take the prices lower.
Silver Prices Outlook: An Ounce of Silver Could Reach $215.80
Keeping all this in mind, it's very hard to not be bullish on silver.
Dear reader, I truly believe that silver has been one of the "forgotten assets" in the past few years.
The precious metal could really be setting up to make a lot of money for investors. If we assume that silver prices do what they did after 1993 and increase 1,300%, they could soar as high as $215.80 an ounce.
Mind you, this number may be hard to digest. But remember, if you said in 1993 that silver would go to $50.00 in the next 18 years, you would have gotten laughs as well.
In the meantime, it's important that investors closely look at silver mining companies. While silver was a forgotten asset in the past few years, silver mining companies were punished severely. Their stocks are currently selling for pennies on the dollar.
I will repeat what I said earlier: silver miners could be the next "millionaire makers." In other words, they could make investors a lot of money.