Silver Price Outlook 2017
What is the silver price forecast for the rest of 2017? Most analysts seem to have taken a dim view of precious metals like silver and gold in 2017. In particular, most believe that silver prices will face headwinds because of a stronger U.S. dollar, an inflated stock market, encouraging U.S. economic data, and unbridled optimism that President Donald Trump's policies will be good for corporate America.
Silver faced some hurdles in the first half of 2017 as investors took a wait-and-see approach about the new Trump presidency. By early April, silver prices had advanced almost 17% to $18.66. But, by the end of June, silver was trading at just $16.63, for a year-to-date gain of 4.1%. Not spectacular.
But, when it comes to the longer silver price trends in 2017 and 2018, there are a lot of reasons why investors should be bullish about silver prices. In fact, because of these factors, silver prices could very easily double in 2017 to more than $34.00 per ounce.
This might be a bold prediction, especially when you consider that silver prices have fallen more than 13% since Trump won the U.S. presidential election last November. The prices have also fallen more than 20% since hitting multi-year highs in August 2016.
Will These 5 Factors Send Silver Prices Soaring in 2017?
The silver price forecast for 2017 remains bullish because the U.S. economy remains fragile. Investors flock to precious metals like silver and gold to hedge against political and economic uncertainty. Silver can protect your assets and is a great hedge against inflation. Investors flocked to silver during the Great Recession and in the beginning of 2016 when the markets started to tumble.
Silver will continue to be attractive to investors because the U.S. economy remains extremely fragile. Investors and consumers are optimistic that the U.S. economy is on the right track, but most of the U.S. economic data rolling in suggests otherwise.
1. U.S. Economy Remains Fragile
While U.S. unemployment remains low, at 4.4%, with many employers saying they're finding it difficult to fill positions, the fact is, the U.S. economy remains as fragile now as it was during the Barack Obama administration. (Source: "Labor Force Statistics from the Current Population Survey," Bureau of Labor Statistics, last accessed July 26, 2017.)
The current U.S. economic recovery began in 2009, but few Americans are even aware that we're in an economic recovery (that is, if steady jobs and wage growth are important). The fact is, the U.S. economy is advancing at its slowest pace since World War II.
During Obama's reign in Washington, annual GDP growth averaged a paltry two percent. In the 10 previous expansions, GDP advanced, on average, 4.3%. In 2016, Obama's last year in office, U.S. GDP growth was a princely 1.6%.
Not surprisingly, the Obama inertia has carried over into 2017. In the first quarter of the year, U.S. GDP increased at a 0.7% annual rate; the weakest pace in three years. And the second quarter looks equally as abysmal.
The New York Fed has revised its second-quarter GDP outlook downward, on the heels of weak economic data. It now sees second-quarter GDP coming in at 1.9%. While still solid, it's a far cry from the lofty 2.6% projections announced in April.
The Atlanta Fed is also becoming a little less optimistic about the U.S. economy. It has lowered its guidance for the second quarter to 2.5%, from 4.3% in May.
What does this show us? You can rely on the Federal Reserve to be consistently optimistic about the U.S. economy at the beginning of the quarter. But, as the weak economic data rolls in, their optimism wanes.
Weak GDP numbers will also (eventually) put a damper on investor euphoria. Stocks continue to enjoy the "Trump Bump" and trade in record territory. This can only be sustained if corporate America churns out strong revenue and earnings growth, which can only happen if President Trump can boost annual U.S. GDP by three percent, which is what he promised on the campaign trail. If this fails to materialize, that euphoria will turn to despair and investors will run for the exits.
While this is terrible news for the U.S. economy and the stock market, it's bullish for silver prices.
2. Additional Rate Hikes to Send Silver Prices Higher
Make no mistake, the U.S. economy is extremely fragile right now, and additional interest rate hikes could push the economy off a cliff. This runs counter to what rate hikes are supposed to do, of course. A rate hike shows that the Federal Reserve has confidence that the U.S. economy is strong enough to withstand a hike. It isn't.
Don't get me wrong; the Fed should have been raising rates slowly for years now. But it waited too long. Now it needs to raise rates in quicker succession, and this will hurt the average American.
In December 2015, the Fed raised its key lending rate for the first time in a decade. It was a small hike, but it showed consumers how even a small increase affects mortgages, car loans, savings rates, and other forms of interest-sensitive credit.
In December 2016, the Fed raised interest rates again, by a quarter of a percentage point, to a range of between 0.5% and 0.75%. Fed Chair Janet Yellen said the economy has proven to be remarkably resilient, and that the hike is a vote of confidence in the economy. (Source: "Federal Reserve Press Release," Board of Governors of the Federal Reserve System, December 14, 2016.)
In the first half of 2017, the Fed has raised rates twice; the new range is one percent to 1.25%.
Amid questionable U.S. economic news, the Fed might be a little premature in raising rates this time around too. (Source: "FOMC's target federal funds rate or range, change (basis points) and level," Board of Governors of the Federal Reserve System, last accessed July 26, 2017.)
The U.S. economy continues to face headwinds, including high household debt, high underemployment, a lack of secure, well-paying jobs, and wage growth. The U.S. only needs so many waiters and waitresses with university degrees.
It's going to be hard for Trump to get the U.S. economy moving in the right direction, no matter how hard he tries.
The Fed sees it otherwise. At a time when GDP growth continues to underwhelm and organizations like the International Monetary Fund (IMF) are downgrading their outlooks for the U.S. economy, the Fed has raised its GDP outlook in 2017 to 2.2% from the 2.1% in March.
Yes, Trump has big plans for reigniting the U.S. economy, but it's going to be tough; the country has about $20.0 trillion in debt and a deficit of more than $600.0 billion. Remember, Trump's plan for economic growth lies in cutting taxes and increased spending.
Weak economic growth and rising interest rates could further impede the U.S. economy and send silver prices higher.
3. U.S. Stocks Significantly Overvalued
Stock markets are only as strong as the underlying stocks. The markets may be at record levels, but the stocks supporting the nine-year bull market are more than a little sickly. Thanks to years of artificially-low interest rates, investors have seen their once-reliable fixed-income investments decimated. Where should those looking to boost their retirement savings park their money in a low-growth environment? Riskier investment like the stock market!
And that's the fuel that has been propelling the stock market higher: low interest rates, not strong fundamentals. And stocks are seriously overvalued. How overvalued?
According to the Case-Shiller cyclically adjusted price-to-earnings (CAPE) ratio, which is based on average inflation-adjusted earnings from the previous 10 years, the S&P 500 is overvalued by 87.5%. The CAPE ratio is currently at 30.5, while the 100-year median is around 16. This means that for every $1.00 of earnings a company makes, investors are willing to spend $30.50. The ratio has only been higher twice. In September 1929, the ratio was 32.56; in December 1999, it was 44.2. (Source: "U.S. Stock Markets 1871-Present and CAPE Ratio," Yale University, last accessed July 25, 2017.)
Regardless, it never ends well for stocks when valuations get this high. In fact, it only ever ends in a crash.
This is not the only ratio to suggest that stocks are significantly overvalued. The market-cap-to-GDP ratio, which compares the total price of all publicly traded companies to GDP, also shows that stock valuations are in nosebleed territory.
A reading of 100% suggests that U.S. stocks are valued fairly. The higher the ratio over 100%, the more overvalued the stock market. The market-cap-to-GDP ratio is currently at 135.1%. That ratio has only been higher twice since 1950: in 1999 (151.3%) and in late 2015 (129.7%). It was only at 108% before the 2008 financial crisis. (Source: "US Total Market Capitalization," YCharts, last accessed July 25, 2017.)
Should the U.S. economy not respond to Trump's economic vision, or should the U.S. economy simply start to slow down even further, overvalued stocks will suffer. The U.S. could slip back into a recession and stocks could crash or experience a major correction. Either event would send investors running to precious metals like silver and gold.
4. Global Economic Conditions Deteriorating
The U.S. is not an economic island. Nor is the stock market. U.S. companies will not be able to rely on foreign sales to help prop up revenue and earnings. Unfortunately, more and more U.S. companies are relying on foreign sales for growth. In fact, it now looks like S&P 500 companies will soon rely on foreign sales for most of their revenue.
The percentage of sales in foreign countries for S&P 500 companies has increased for the last seven years, from 46% in 2009 to around 48.0in 2016. That's good news if the global economy is firing on all cylinders, but it isn't. China is underperforming, as is Japan.
The European economy is doing better than before, which is good—since it has been on the verge of a recession for years—but the world's biggest economic region isn't out of the woods. Investors are increasingly worried that the growth spurt that the European economy enjoyed in the first half of 2017 is already running out of steam.
One country has been left out of any gains though: Britain. Fears about the country's exit from the European Union (EU) is taking a heavy toll on business and consumer confidence. Moreover, the June 2017 election result has not helped improve confidence in British assets.
British Prime Minister Theresa May triggered Article 50 of the Treaty of Lisbon in March, starting the two-year countdown for the U.K. to leave the EU. Exiting the EU in March 2019 (when the Article 50 process ends) without first striking an agreement would impact everything.
While Theresa May has said that "no deal is better than a bad deal" when it comes to leaving the EU, one study suggests that doing so would have "widespread, damaging, and pervasive" effects on Britain's economy.
An increasingly large number of American companies get almost half of their sales from outside the United States. If the anemic European economy has already peaked and fears of an economic disaster in Britain grow, companies will not be able to rely on foreign sales as much as before.
Moreover, it doesn't look like American companies will be able to safely rely on U.S. sales either.
All of these factors point to silver prices trending significantly higher in 2017 and 2018.
5. Black Swan Events
By definition, you can't predict black swan events. That's the joy about them; black swan events are something you can wax eloquently about in hindsight and remind people how much they could have made if they had made some astute investments.
What we learned in 2016 though is that black swan events can help send silver prices higher and lower. Brexit was widely expected to end up with the U.K. voting to stay in the EU. This didn't happen. The unexpected vote to leave the EU shook the markets and sent silver prices soaring.
Many mainstream media sites declared a Trump election victory impossible. Pundits predicted that, if hell froze over and Trump won the election, financial carnage would follow: stocks would slide, and silver and gold prices would soar. This didn't happen either. Wall Street digested the Trump victory, decided it would be good for the U.S. economy, and stocks soared. Now stocks continue to climb while precious metals like silver and gold tumble.
Not all black swan events are good for silver, but there could be some events this year that help send silver prices soaring, even if just in the short term. That's the joy of investing; taking advantage of opportunity.
Aside from the French elections that were in May, and the British election that was in June, there are several other elections in 2017, any number of which could produce surprising results. One of the major elections to watch in 2017 is Germany's federal election on October 22.
There are also a lot of geopolitical unknowns. America's relationship with Russia and China is strained. North Korea launched an intercontinental ballistic missile capable of hitting Alaska. President Trump responded by saying the U.S. is fully prepared to use "the full range of capabilities at our disposal against the growing threat from North Korea." (Source: "Pentagon says it is ready to defend against growing North Korea threat," Reuters, July 4, 2017.)
There are also ongoing concerns about tensions in the Middle East and terrorist attacks in many areas of the world. Further, Venezuela could default on its debt obligations and Russia could push further into Ukraine.
Technical Indicators Suggest Silver Prices Will Soar
Wall Street is optimistic and the U.S. dollar is strong but, because of economic weakness, silver prices will climb over the coming months. The initial rise in the silver price trends will not be random.
1. Gold-to-Silver Ratio
To understand how high silver prices will climb in 2017, investors should pay attention to the gold-to-silver ratio. The ratio shows how many ounces of silver are needed to buy one ounce of gold.
The gold-to-silver ratio is important because silver has a strong historical relationship with gold. According to the gold-to-silver ratio, silver is seriously undervalued right now. As of this writing, silver is trading near $16.50 per ounce while gold is trading hands at $1,258.50 per ounce.
The gold-to-silver ratio is currently at 76. This means it will take roughly 76 ounces of silver to buy one ounce of gold. Five years ago, the ratio was at 55. This suggests that silver is undervalued. For the ratio to recalibrate to historical norms, gold prices either need to fall or silver prices need to climb.
Because of all the reasons mentioned, it seems more likely that the silver price trends will be for the price to rise in the coming months. Silver has even greater growth potential than gold. For silver to return to its long-term ratio average of 55, it would need to climb 35% to around $22.00 per ounce.
2. Correlation Between Silver Prices and the S&P 500
Another indicator also suggests that silver prices are undervalued. Silver has a tight correlation with the S&P 500; when the correlation between silver and the S&P 500 gets extremely negative, a bottom falls into place. Conversely, when the correlation becomes extremely positive, tops are made in silver prices.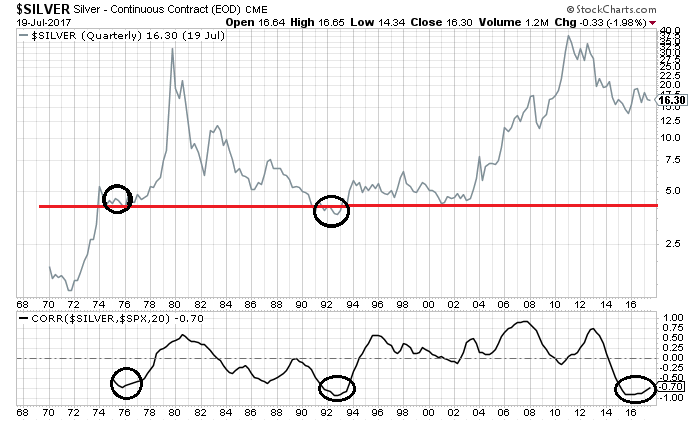 Chart courtesy of StockCharts.com
In 1976, the five-year correlation between silver prices and the S&P 500 hit -0.90. This is near to where a bottom in silver prices was formed. A few years later, the silver price increased by close to 1,000%.
The same thing occurred in 1992. The correlation between silver and the S&P 500 again was close to -0.90. Another bottom formed. Silver prices climbed over the coming years, and silver bulls realized gains in excess of 1,000%.
Third time's a charm? The correlation between silver prices and the S&P 500 is again near -0.90. It's never an overnight jump but, if history is any indicator, silver prices could climb more than 1,000% in the coming years.