Look at These Charts: They Make a Bullish Case for Silver Prices
Want to know where silver prices are headed next? Then you must pay attention to a few charts. Two of them currently suggest that the price of silver could be setting up to surge.
How high could silver prices go?
Don't be shocked if silver makes a solid move toward $50.00 this year and the next.
Bullish Breakout in the Making?
With this said, look at the first chart below. It plots the price of silver over the past four years.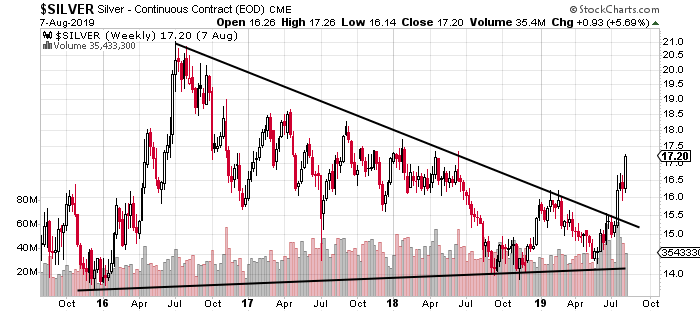 Chart courtesy of StockCharts.com
You see, over the past few years, a symmetrical triangle was forming on the silver chart. That kind of pattern is formed when there's a preceding downtrend and an uptrend, and when trading ranges are consolidating.
Symmetrical triangles aren't bullish or bearish patterns until the price gets out of them. If the price breaks to the upside, it's a bullish sign; if the price breaks to the downside, it's bearish.
We just saw silver prices break to the upside not too long ago. With this, one has to wonder how high the price of silver can go.
To set targets, technical analysts usually take the widest part of the symmetrical triangle on the price chart and add it to the breakout point. It gives them a rough idea of how high the price could reach.
In this case, the widest part of the triangle is the trading range between January and July 2016. It's roughly $7.00 wide. The breakout point in this case is around $15.50.
If we add $7.00 and $15.50, we find that the price of silver could reach as high as $22.50. That's about 30% above the current price.
This Valuation Measure Says a 95% Move to the Upside Could Be Possible
But don't just stop at the previous chart.
Look at the chart below, which plots the gold-to-silver ratio. That ratio is a silver valuation measure used by traders and investors. At its core, it essentially tells us how many ounces of silver it takes to buy one ounce of gold.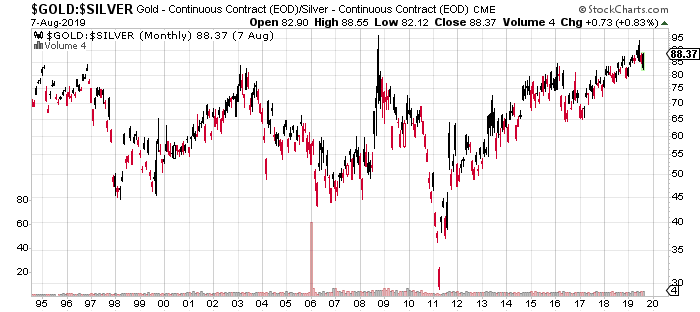 Chart courtesy of StockCharts.com
Here's something interesting about this chart: whenever the gold-to-silver ratio reaches 80, silver is deemed to be undervalued and its price starts to increase. Over the past 25 years, this has been the case.
Also, whenever this ratio hits 80, it makes its way down toward 45.
If we assume that something like that will happen again and we assume that gold prices will remain at their current level around $1,510, silver could surpass $33.55 an ounce. This is about 95% above the current price of silver.
Silver Price Outlook Is Bullish
Dear reader, looking at the above two charts, I can't help but be bullish on silver.
Let me tell you this: in terms of price, silver tends to play catch-up with gold. As gold prices move higher and become expensive, silver starts to shine and investors rush to buy it.
Year-to-date, silver prices are up by a little over 10% while gold prices have surged 18.6%.
Over the past few weeks, silver has been a weak relative to gold. But this could change very quickly.
In the long term, I expect silver to beat gold percentage-wise. The idea of the price of gold doubling to $3,000 may be very hard for a lot of investors to digest. For the price of silver to double, however, it would only have to go to $34.00. That would be nothing new for silver; we have seen its price there before.
In the meantime, I am keeping close watch on silver mining companies. They continue to present a great investment opportunity. If the silver price jumps, silver mining stocks could skyrocket.