Outlook for Silver Prices Is Rosy; Bull Market Continues
Silver isn't something that gets mentioned much in the financial press. But the gray precious metal could provide immense returns to investors in the coming quarters and years. The current silver price of $23.00 an ounce looks awfully undervalued. It could double, if not more, although patience is required.
Here's something worth noting before going into any details: silver is one of those assets that has a history of providing the biggest gains in the later stages of a bull market, rather than the earlier stages. Initially, the price of silver tends to run up slowly, and then it eventually surges. Mind you, this takes years to play out; it's not an overnight phenomenon.
Advertisement

Investors who get in early make the biggest gains. Those who get in late can receive decent returns too, but their returns are nothing compared to the ones received by investors who had been waiting all along.
Now, digging into what stage of the silver bull market we're currently in and how high silver prices could run:
As it stands, silver seems to be in the early stages of a bull market.
The initial run-up began in late 2015 and early 2016 after the silver price collapsed from its highs made in 2011. Then, in 2020, there was a retest. Silver prices dropped below $15.00 an ounce, made a low of $11.64, and remained below $15.00 for just a few weeks. The price of silver recovered extremely quickly. This was a sign that investors were willing to buy the gray precious metal.
With this, it looks like the level around $15.00 is a strong support level.
Since 2020, the silver price has had one higher high and one higher low. The higher high, which was made in early 2021, was around $30.35. The higher low, which was made in mid-2022, was around $17.40.
Great.
What's Ahead for Silver Prices?
The recent silver price action suggests that bullish sentiment prevails. In fact, the recent selling of silver could be a blessing in disguise.
I've been keeping a close watch on the 50-week and 200-week moving averages. Both of these trend indicators are currently below the price of silver. This suggests that the intermediate-term and long-term trends are pointing upward.
Moreover, silver prices recently touched the 50-week and 200-week moving averages and bounced higher. This tells us that investors could be using these moving averages as buying points.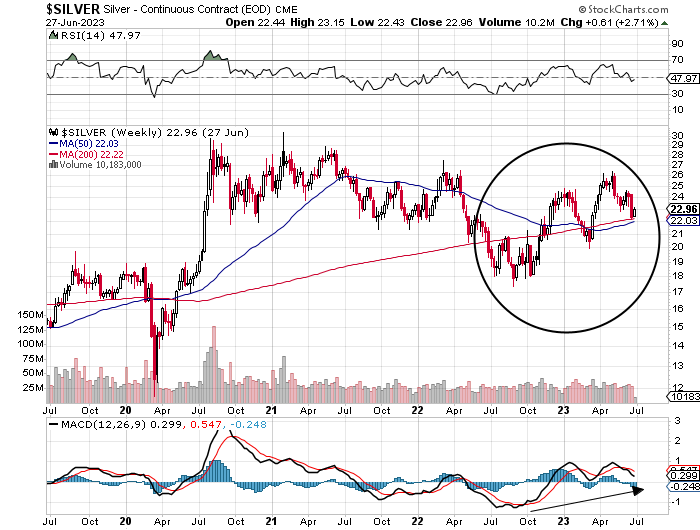 Chart courtesy of StockCharts.com
Lastly, silver's moving average convergence/divergence (MACD), which is a momentum indicator, has been trending higher and is in positive territory.
This suggests that investors have been buying the precious metal, and that they could take the price of silver higher.
Silver Price Target: Look at This Ratio
So far, so good, but now the big question is: How high could silver prices fly?
To help answer that, look at the gold-to-silver ratio. This shouldn't be a new concept for long-term readers of Lombardi Letter. Essentially, this ratio tells us how many ounces of silver it takes to buy one ounce of gold. Investors use this as a way to figure out the silver price valuation.
How do investors look at the gold-to-silver ratio? Whenever this ratio goes above 80, it means silver is getting into undervalued territory. Whenever the ratio goes below 40, it means silver is overvalued.
With that said, look at the following chart:
Chart courtesy of StockCharts.com
Over the past few decades, whenever the gold-to-silver ratio rose above 80, it almost always then came back down to about 40.
Assuming that gold prices remain around $1,950 an ounce, for the gold-to-silver ratio to drop to 40, silver prices would have to surge to $48.75 an ounce. That represents an increase of 112% from the current price!
Dear reader, I remain bullish on the price of silver. I see the precious metal as currently selling for pennies on the dollar. I also see silver as one of the few assets currently offering an excellent risk-reward ratio. The downside might not be a lot, and the upside could be immense.
While the investing world has been chasing trends like artificial intelligence (AI) stocks, it's never a bad idea to look at "boring" assets like silver. Sometimes the ignored and boring investments return the biggest profits.