Trend for Silver Prices Looks Promising
Demand for silver is soaring, and I expect this to lead to much higher silver prices ahead. While I'm on record predicting that gold is headed to $2,500–$3,000 an ounce, I'm also forecasting $50.00/ounce silver as demand for silver continues to outstrip supply.
This past July, Australia's Perth Mint, one of the biggest mints in the world, reported that its silver bullion sales amounted to nearly 1.17 million ounces—68.4% higher than July 2016! (Source: "Perth Mint Silver Bullion Sales Quicken in July," CoinNews.net, August 18, 2017.)
Also this past July, India imported $175.83 million worth of silver—up 222% from the $54.58 million worth of silver that India imported in July 2016. (Source: "Quick Estimate For Selected Major Commodities For July 2017," Ministry of Commerce and Industry, last accessed September 7, 2017.)
Dear reader, over my investing career, I have learned one thing: the best opportunities are in seeking assets when they are low-priced, compared to their historical averages, and when they are ignored.
Silver and gold, as they stand, are two of the few assets that are outright ignored. Let me ask you this: When was the last time you heard someone on the radio or TV talk about silver prices? Or have you come across many articles in the major newspapers talking about the booming demand for silver?
The fundamentals for silver prices have improved significantly and continue to improve on a backdrop of severe pessimism toward precious metals, making silver and gold excellent contrarian plays.
The chart below of silver prices is what I refer to as "screaming bullish."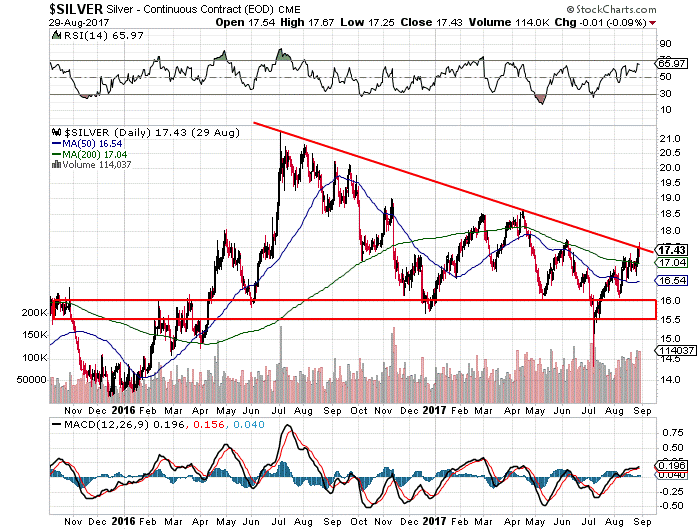 Chart courtesy of StockCharts.com
I am watching a few levels on the silver chart.
On the downside, I am paying close attention to the area between $15.50 and $16.00. This area has acted as a very strong support level in the past two years. Every time silver prices declined to this level, we saw a rally afterwards.
On the upside, while the above chart shows silver at $17.43 an ounce (I am showing this specific chart on purpose), silver has now broken through on the upside of the descending triangle that I have drawn, to $18.00 an ounce—which is extremely bullish.
The lower silver prices of the past few years have forced silver miners to pull back on their exploration of future minable silver. With demand for silver now booming and silver production contracting, you can see why I'm so bullish on silver prices.