Investor Appetite for Bitcoin and Other Cryptocurrencies Has Faded
Bitcoin (BTC) fever is all but over. And for that matter, sentiment has also cooled on just about every other cryptocurrency.
It was a bubble and it has burst.
A Bitcoin collapse is underway. As the chart below shows, the first and most famous cryptocurrency has lost some five percent of its value in a matter of days.
And it's unlikely that other cryptocurrencies, like Ethereum (ETH) for example, will survive the onslaught of reality that's hitting this so-called "market."
Consider that other cryptocurrencies such as Bitcoin Cash (BCH) or Ripple (XRP) have also dropped from their highs without signs of recovery. Indeed, cryptomania 2018 is over.
Cryptocurrencies reached their peak popularity and value at the start of 2018.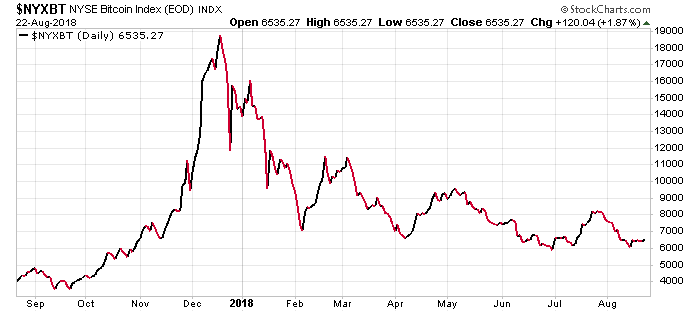 Chart courtesy of StockCharts.com
Those who thought—or better, gambled—they were going to become millionaires by the time the Times Square ball drops again should prepare to be disappointed.
If You Bought Bitcoin at $20,000…
Those who bought Bitcoin at just under $20,000 at the end of December 2017 should pull out their hankies, shed a few tears, and prepare to wave goodbye to ever seeing that money again.
For those who cannot shake off the fear of missing out (FOMO), which is what ultimately pushed Bitcoin and others to their fantastical valuations, there's always Bitmain Technologies Ltd.
Better a Bitmain in the Hand Than a Bitcoin in the Bank
Bitmain supplies the virtual tools for crypto mining. The tools are known as Application-Specific Integrated Circuit (ASIC) chips. Crypto miners have grown to find them essential. (Source: "All You Need To Know About Crypto Mining Phenom Bitmain," Forbes, August 17, 2018.)
Bitmain is rumored to be preparing to go public with an $18.0-billion initial public offering (IPO). Even the seemingly sensible idea of investing in the technology that surrounds cryptocurrencies might be a bad idea.
Investment banks rumored to be working with Bitmain have been keen to deny any involvement in the forthcoming IPO. (Source: "The Bitmain Ipo: A risky bet on mining and Bitcoin Cash," Brave New Coin, August 22, 2018.)
Perhaps Bitmain should it fulfill its IPO expectations at the end of 2018 or early 2019 on the Hing Kong Stock Exchange—and raise its $18.0-billion target—may infuse some confidence throughout the crypto world. After all, that amount would make it one of the most successful tech IPOs ever.
To add legitimacy, Bitmain's potential partners include CoinDesk, Tencent (the seventh-largest company in the world by market capitalization), and Japan's Softbank.
But even such an IPO won't shake off fundamental problems with the very concept of cryptocurrencies.
We may have, indeed, reached the end of the cryptocurrency era. The eager bulls that still hoped, if not outright expected, for Bitcoin to return to the record-high prices recorded in December 2017 are having to make room for the bears.
When Will Bitcoin Reach Its Bottom?
The only valid question left to ask about Bitcoin and other cryptocurrencies is: When will it reach rock bottom?
Alternatively, given gold and silver prices' timid performance, investors in countries under pressure from sanctions and currency bears like Turkey and Russia might turn to Bitcoin as a safe-haven commodity instead of precious metals. (Source: "Turks eye-up cryptocurrencies as lira loses value," Ahval, August 21, 2018.)
During the course of the Turkish lira's devaluation against the U.S. dollar throughout the course of 2018, Turks have become the biggest buyers of Bitcoin in Europe. Some 18% of them own the cryptocurrency.
But Turkey represents an unusual scenario, the outcome of which cannot be predicted yet. Still, the way some investors are reacting to the crisis shows why Bitcoin and other cryptocurrencies have become so popular: distrust.
Is Bitcoin the New Gold?
Turks distrust the government and fear the local currency's weakness. Thus, they shift their gaze toward cryptocurrencies, which might be described as "digital gold."
The mystery remains why investors bother with the virtual and highly volatile version of gold, rather than simply buy the real thing. Indeed, the signal that Bitcoin is about to get a fatal blow will come when gold prices break the current stall.
Similarly, just as the high dollar has hurt gold prices, cryptocurrencies will remain under pressure so long as the Federal Reserve continues to raise interest rates. There may have been hints of a rally, as Bitcoin returned to the $6,000 level in mid-August.
Yet, even at that price, Bitcoin has dropped compared to July and hovers at a third of its record valuation from January 2018.
A similar fate has befallen the other cryptocurrencies. They're down well over 50% from the start of the year.
The Psychology of Bitcoin
Cryptocurrencies, like the Tulips of the 18th century (Tulipmania was the first official market bubble) are a product of euphoria. Or, rather, the intensity of their success relies on enthusiasm and then euphoria.
People simply fear missing out on a big opportunity. Nobody wants to end up asking themselves, what if? The real fuel for Bitcoin, then, has been described as FOMO: Fear of Missing Out.
That's what drove Bitcoin to $19,000 and beyond.
Now, the reverse is about to happen. FOMO will give way to fear of staying in (FOSI). Panic will replace euphoria and the crypto bubble will burst. As the price drops beyond a threshold—as yet to be determined, but we're probably close to it now—holders become more alarmed, wanting to sell.
Cryptocurrencies are about to suffer a bad moment. While some observers expect a soft landing through a series of small corrections, cryptocurrencies' dynamics point downwards.