"White-Collar" Labor Being Displaced by a Robotic Revolution
The robotic revolution has displaced millions of blue-collar factory jobs. Now it appears that white-collar workers could be next.
According to a recently-issued press release by Fukoku Mutual Life Insurance Company of Japan, the company will slash 34 human underwriters in January this year. The artificial intelligence technology "IBM Watson Explorer" has the ability to scan hospital records to determine precise insurance payouts to claimants. It is also advanced enough to recognize names on injured parties, identify pertinent keywords, and learn histories of past assessments well enough to produce accurate claims. (Source: "Japanese insurance firm replaces 34 staff with AI," BBC, January 5, 2017.)
Once instituted, Fukoku Mutual expects to improve productivity by 30%, saving approximately $1.1 million per year on employee salaries. With a CAPEX of US$1.7 million (¥200.0 million) to install the system, the company should see a complete return on investment within two years. Far from being an isolated case, The Mainichi reports three other Japanese insurance companies are testing or implementing AI systems with similar use cases.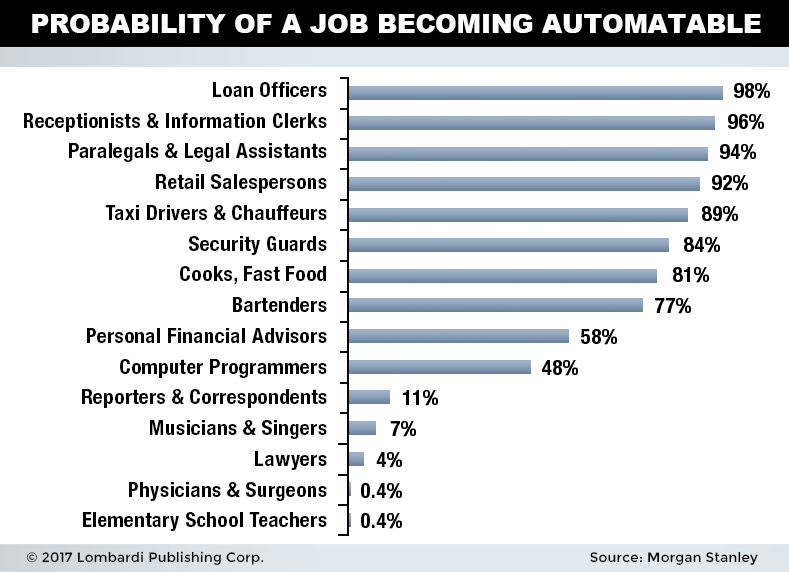 Quite obviously, these types of productivity and savings benefits are too tempting to pass up.
For example, Lemonade recently raised $60.0 million to finance development of its P2P insurance platform powered by artificial intelligence. Lemonade uses bots to deliver insurance to consumers through a proprietary app and website. Says CEO Daniel Schreiber: "We believe in replacing brokers and paperwork with bots and machine learning, and we now have the backing to unleash this formula across new products and geographies. The response from consumers has been overwhelming." (Source: "Lemonade Closes $34 Million Round and is Poised for Growth as Company Files in California," PR Newswire, December 5, 2016.)
Lemonade is not alone in this regard.
Companies like SigFig and WealthFront are doing away with the need for human financial advisors, creating do-it-yourself portfolios that bypass potential errors caused by human emotions (specifically, the misallocating capital). Law firm BakerHostetler condoned the robotic revolution back in May with its decision to use "AI Lawyer" ROSS, based on IBM Watson technology, as a resource for 50 in-house lawyers in its bankruptcy division. It is envisioned ROSS will act as an advanced research tool, at least initially. (Source: "A Major Law Firm Will Soon Be Using A Robotic Lawyer," Gizmodo, May 5, 2016.)
While previous technological advancements helped humans become more efficient, thus boosting productivity, human brains were still critical to the decision-making processes. Now, however, robotics (or "AI," if you prefer) has the ability to "understand" processes and make accurate determinations intrinsically dominated by humans in years past. This is what's making a large portion of the labor force potentially expendable over the course of the next generation.
While we suspect vocations involving significant complex, creative, abstract or non-linear operations will be safe for the foreseeable future, process-laden labor yielding methodical conclusions may not be so lucky. In today's world, this doesn't just mean factory workers, forklift drivers, or warehouse personnel. Like it or not, the robotic revolution is migrating to the office, once the bastion of the vanishing white collar worker.
Prepare accordingly.