Know This If You're Bullish on Gold Prices
Gold prices have increased over 4.5% since the beginning of 2017. It wouldn't be shocking if the gains in the precious metal continue to grow through the year.
Remember, 2016 was a key year; gold prices increased for the first time since 2012. This was possibly one of the worst things that could have happened for gold bears and an amazing thing for gold bulls.
Why? Because a rise in prices will make those who are short nervous.
They could be closing their positions and running for the exits, while causing a "short squeeze" in gold prices. A term that refers to when a commodity or stock moves higher and forces short sellers to close their position, this simply adds to the upside.
At the same time, it must be questioned; Wouldn't those who have been on the sidelines and watching the gold prices closely want in before the price gets too far away from them? It's very possible. Keep in mind, the so-called "fear of missing out," could motivate them to buy much more.
But don't for a second think that's all working in favor of higher gold prices.
It's important for investors to pay attention to gold in global currency terms and not limit it to the U.S. dollar.
When you do just that, the future of the yellow metal looks bright.
You see, currencies around the world are witnessing wild swings.
Consider the British pound for example. It continues to tumble lower. Please look at the chart below of the British pound's index. It tracks the performance of the currency compared to other major currencies in the world.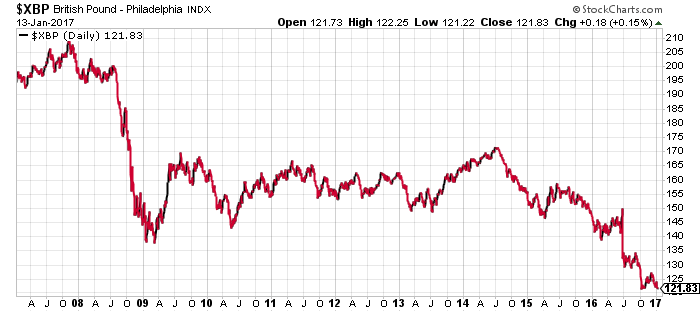 Chart courtesy of StockCharts.com
The pound currently trades at the lowest level in several decades. If you look at the price action of the currency, it's acting like an emerging market currency—where wild swings are common.
Looking at this, wouldn't those who have an ample amount of assets in British pound terms seek safety? It's possible, and gold could be one of the places they run to instantly as the currency deteriorates.
The Japanese yen is in a very similar situation. It continues to deteriorate against major global currencies. Japanese investors could be running to get the precious metal as the currency tumbles.
Gold Prices Outlook: Mining Companies Remain Compelling
No matter how you look at it, there are more reasons to be bullish on gold prices than be pessimistic.
The decline in gold prices between 2013 and 2015 took a major toll on investors' appetite for gold. As said earlier, with higher gold prices in 2016, we could see investors' confidence come back, and this sparks buying.
Dear reader, time will certainly tell more. But, ignoring gold mining companies could be a big mistake as it stands. Despite seeing a solid run, some great companies are selling for pennies on the dollar. As gold prices rise, these mining companies could generate killer profits.