The Two Steps  to Look at Mining Penny Stocks for 2017
Let's say you had just $1,000 to invest this year. How would you proceed to ensure that you maximized your profits? In simpler terms, how would you get the most bang for your buck? Evidently, the financial markets might be one of the easiest and most straightforward platforms. But, if you only have $1,000, you may want to consider mining penny stocks in 2017 (and beyond).
Certainly, there are penny stocks to watch in 2017 that have nothing to do with mining, but 2017 might be a good year for the mineral sector, building on the momentum of 2016.
Now, this article is not meant as a specific guide, but it will suggest two steps you must take before you evaluate mining penny stocks. The two steps are straightforward. There are risks and opportunities.
The mining sector presents its own specific sets of risks and opportunities that you, as an investor, should understand. These mining risks and opportunities go beyond the ones already associated with penny stocks in general, anytime, not just in 2017.
Step 1. Understand the Risks of the Mining Industry
If you have decided to invest in mining, presumably you have at least a minimum understanding of what mining entails. Before investing in a mining company, you must understand the nature and risks of this sector. The risks apply whether you are considering junior or major mining companies. But, they are even more important when it comes to mining penny stocks, because of the inherent risks of penny stocks themselves.
First, it's important to understand what is meant by the term "penny stock" and some of the risks they invite. Penny stocks might be described as those that are priced between zero and $10.00/share. But, more often than not, penny stocks tend to trade below $5.00/share. They are typically companies with little liquidity. In other words, they have little cash, and they are very speculative.
As for mining penny stocks specifically, and sometimes the resource industry as a whole, they always experience highs and lows. The gains can be significant, but the risks are high. In the past few years, the returns have suffered considerably, given the low commodity prices.
As an investor, you could earn money whether the company you have chosen operates its own mine or whether it is acquired by another company. Indeed, that is one of the desired outcomes of investing in a mining penny stock. Still, it's important to understand that, depending on the evolution of the project and the economic context, you may also lose your investment in whole or in part.
Few sectors are prone to that kind of risk than mining. Such risks become even greater in the case of penny stocks because they are usually new companies exploring a new area. The very term "exploring" is key. Exploring involves educated guesswork; determination and hard work will not alter what the geology might fail to deliver.
The research and the steps that mining engineers and geologists take to explore and develop a mine are long and costly. Even when the preliminary results are promising, a mining company must take many steps to determine whether the operation of the mine will be profitable.
Not all minerals are the same. Gold, for example, is relatively easy. But, if you're considering a rare earth resource, for example—which almost always features either uranium or thorium in the mineral base—the processes involved might take years to complete, given the environmental concerns.
In 2010–2013, there was a boom in rare earth mining penny stocks. Miners and investors were mesmerized by the profit prospects of rare earths, used in electronics, clean energy, and weapon systems. But they forgot about the many risks; many lost all their investments.
Indeed, the rare earth case showed like few others that very few mines become operational after a new discovery. This is a rather rare occurrence in 2017 or any other year. More often than not, after the resource is discovered, follow-up assessment work suggests that the operation would not be profitable. Thus, the project is abandoned and your penny stock falls apart.
Even when, a miner demonstrates that profitability is possible, it may take more than 10 years between the initial discovery and the operation of the mine.
Beware the Press Release 
Penny mining stocks, in particular, have another characteristic. Penny mining companies thrive on the press release as their main source of communication and advertisement. Announcements are usually related to a major discovery. More importantly, the approval of preliminary economic assessments (PEA) are key events that can drive the value of a mining penny stock higher or lower.
The mining press release has become a key aspect of the speculation that surrounds the industry. Public relations and investor relations firms are paid a pretty penny to process and convey the information to present a most flattering picture of an emerging mining company's potential. The promise of excellent grades and low production costs in a low-risk regulatory environment is the stuff that can add much trading volume to a penny stock.
Penny stocks can trade flat for weeks. They can see sudden breakouts and even more sudden collapses, based on how a press release is perceived.
For example, in the realm of mining penny stocks, when the Russian potash company Uralkali, along with North American counterpart Canpotex Limited, quit the Russian-Belorussian (BPC) cartel that helped sustain high potash prices in 2013, the prices collapsed. The potash majors such as Potash Corporation of Saskatchewan (NYSE:POT) also collapsed in the markets.
In turn, even potash projects that addressed specific regional needs like Allana Potash Corp (no longer trading)—one of the hottest penny mining stocks in 2011–2013—suffered. No press release could mitigate the shock to the potash market caused by the breakup of the BPC cartel. The point, for those with the stomach to try investing in mining penny stocks, is that it requires considerable attention to the sector.
Step 2: There Are Mining Penny Stock Opportunities; How Can You Spot Them?
While it's always important to consider the mining penny stock risks—regardless of year—the opportunities are different. Mining penny stock opportunities do depend on the year, because they have a narrow band of favorable conditions. For starters, the regulatory and political environment must be right.
As governments pay more attention to the environment, they have become more inclined to restrict mining operations, especially in North America. So, one of the key aspects of a mining penny stock consideration is the question of whether the mining will take place. Some areas—like Quebec in Canada, or Texas and Alaska in the United States—have made it easier for miners to set up shop in their jurisdictions.
So, be aware of the location of the mine and the related politics. That said, 2017 presents a special opportunity. International tensions boost the value of resources. Rising international tensions over Syria and President Donald Trump's apparent 180-degree foreign policy turn alone could give mining a bullish boost this year.
Mining is an easy sector for investors to get into, even if you have just $1,000 to invest when the conditions are right. The conditions are shaping up the right way for the mining industry in 2017. from a handful of large-cap players, most mineral resource companies start their lives in the markets as penny mining companies. You see, the mining industry had one of its best years of the decade in 2016.
The industry in general has seen higher earnings and cash flows. This should translate into better performance in the markets and higher returns for shareholders. The signal for industrial demand for minerals comes from copper. Copper could look forward to some of its highest gains in years, after a long stagnation. (Source: "2017 to be a positive year for mining sector following strong 2016: Citi analysts," Financial Post, January 9, 2017.)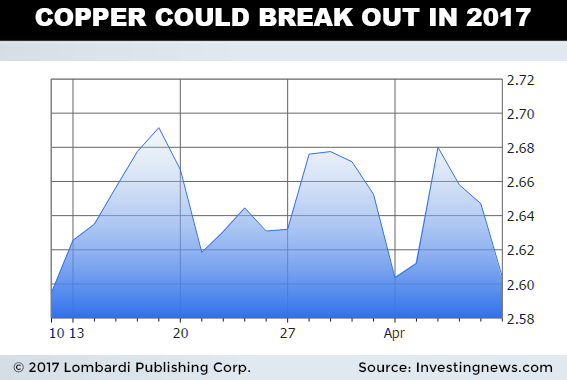 If you chose the stock market and penny mining stocks, the question then becomes: how should you invest your $1,000? Before we begin, a note of caution is warranted. Here are some ideas to consider when picking the best mining stocks for 2017, given the political climate.
The first hint is to consider gold. Gold prices have suffered for the past couple of years but, given that many analysts believe they have hit rock bottom, there's only one direction they can go: up. Investing in a gold mining company could be an excellent idea.
Gold stocks don't have to have high prices; there are many proven gold stocks to choose from that fall into the penny mining stock category. Some have moved beyond the exploration stage and are well into production. Do your research and look for companies that have already overcome important obstacles.
The obstacles are not merely technical, geological or financial. Mining penny stocks face considerable geopolitical risks. Geopolitical uncertainty is rising fast. Rather than easing tensions between Russia and the United States, President Trump has doubled down, going where Barack Obama never dared. As the military stakes rise, so does the price of gold.
Another mineral to consider is iron. After suffering for much of 2016, iron production and demand have gained momentum in the past six months. Iron (and coal, which is needed to produce iron) has responded favorably to the election of President Trump, who has promised major investments to renew the country's infrastructure. This has no doubt benefited commodity companies involved in iron production.
The above brief list should help guide the savvy penny stock investor toward the kinds of companies to consider and the trends to follow. That said, a resource to watch in 2017 is lithium. There are several lithium penny stocks on the move. Take a look here for more ideas.
Having already mentioned some of the advantages, read below for more tips and risks associated with investing in mining penny stocks.
Research Is Key to Success with Mining Penny Stocks
It's not just a matter of watching charts. More than regular stocks, penny mining stocks require dedication and a willingness to learn. A regular stock is sustained by large market caps and trading volumes. Bad news hurts, but the companies have a certain liquidity and assets, which can be deployed in a number of ways to avert the kind of crash that can destroy a junior mining company.
That's why most penny stocks, mining or otherwise, trade on the over-the-counter (OTC) market rather than the established exchanges like the New York Stock Exchange (NYSE) or the NASDAQ. That said, when you have only $1,000 to invest, or when you set your limit to a reasonable amount that you could lose without crying, investing in mining penny stocks gives you far better odds than the craps table, or even poker.
If you use due diligence and research all aspects related to a mining penny stock, some success can be achieved. For instance, the above cited Allana Potash was bought out by one of the potash majors, Israel Chemicals Ltd. (NYSE:ICL). That gave a boost to Allana, evidently.
The company was trading at $0.30/share for months, until rumors sent it to above $0.50. However, Allana was trading much higher in 2011, when the overall resource sector companies—potash, in particular—were at record market valuations. The years 2011–2014 were filled with potash mining juniors. Potash was one of the big penny mining stock sectors.
Those who did their research and followed the politics and economics of the potash sector probably took home some handsome profits on minimal investments. But they had needed to understand the value of the resource, the market, and the geopolitics of the market in order to pick winners. Chart-watching and technical analysis with illiquid and low-volume stocks would not have helped.
Thus, if you plan to take a leap into mining penny stocks, you must be prepared to read and research extensively about all aspects related to your resource of choice. Silver, platinum, copper, and gold have specialized markets. Gold, in particular, has more predictable trading patterns that are tied to monetary policy, equity performance, and Federal Reserve interest rates.
Gold is a refuge investment. When a country's debt reaches for the stars, savvy investors begin to consider parking their money in gold or other precious metals for safety. There are various ways of investing in gold. You can actually buy some gold bars for yourself. You could buy gold jewelry or you could buy gold bars. You can also buy gold exchange-traded funds (ETFs) and shares in gold companies.