U.S. Dollar Continues to Defy Economics 101
A U.S. dollar collapse is a real possibility. And don't take it lightly. If the Greenback actually falls in value relative to other currencies, it's going to have dire consequences across the board.
First of all, one has to question: Why could the U.S. dollar collapse?
As has been mentioned before, the U.S. dollar is defying basic economics in a very wrong way.
Economics 101 suggests that when interest rates go up in a country, its currency increases in value relative to others.
The Federal Reserve has raised rates three times since the end of 2016 and has made it very clear that more hikes could be ahead.
With that said, look at the chart of the U.S. dollar index, the index tracking the value of the U.S. dollar relative to other major currencies. The performance is plotted at the bottom as well. Since the beginning of the year, the U.S. dollar has declined 6.62% in value.
Also Read:
Will the U.S. Dollar Collapse in 2017?
While we are at it, know this; the U.S. dollar is one of the worst-performing assets: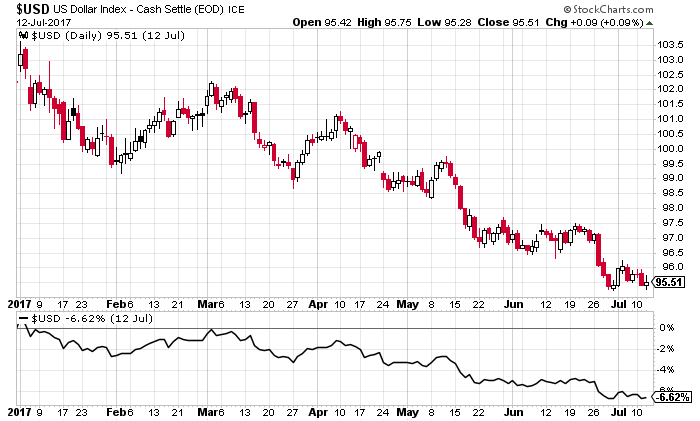 Chart courtesy of StockCharts.com
To give you some perspective that what's happening with the U.S. dollar is not normal, look at the chart below of the Canadian dollar index. The Bank of Canada raised its benchmark interest rates recently, and is expected to raise them further; the Canadian dollar is appreciating.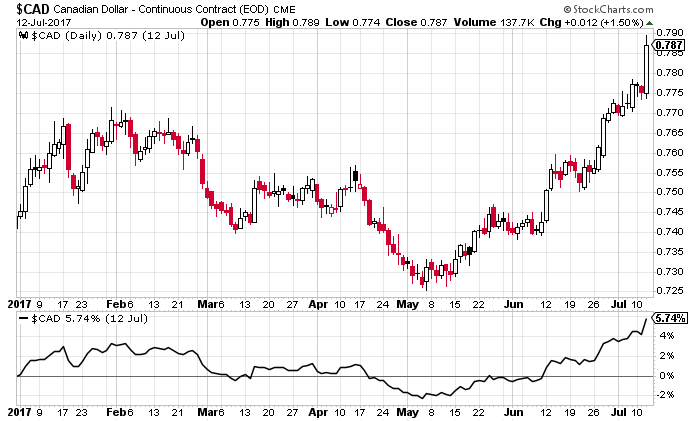 Chart courtesy of StockCharts.com
See the difference?
Dear reader, there are other reasons for a U.S. dollar collapse as well. For instance, the political uncertainty in the U.S. continues to get worse. Sadly, there's no sign of this ending anytime soon. Know this; political uncertainty tends to take a severe toll on currencies.
Mind you, when I say "U.S. dollar collapse," I don't mean an outright collapse of the currency. I mean a major decline relative to major global currencies.
Why a U.S. Dollar Collapse Could Have Dire Consequences
You see, it has to be understood that the U.S. dollar is one of the most dominant currencies in the world. If the greenback declines in value, countries around the world may be forced to lower their currencies as well. This happened after the financial crisis, too.
So this would cause a lot of volatility in the currency markets. Don't forget that the currency market is massive. It has $5.7 trillion's worth of trading volume each day.
There's more. If the U.S. dollar declines or becomes more volatile than it currently is, it will start impacting revenue and earnings of American companies doing business elsewhere in the global economy. This is already a problem.
Consider this: the second-quarter earnings season just began. As of July 11, 23 S&P 500 companies have rerouted their financial results. Guess how many of them have mentioned currency fluctuations as one of their concerns? 14. Yes, that's over 60% of companies saying currency fluctuation is a concern for them. (Source: "Strong U.S. Dollar Still a Concern for S&P 500 Companies in Q2'17," FactSet, July 11, 2017.)
Lastly, average Americans could become victims of a U.S. dollar collapse as well. Understand that the U.S. imports a  significant amount of good from elsewhere. If the dollar declines in value, all of a sudden, these imports are going to costs more.
Let me get this straight: the higher costs won't be absorbed by the businesses. They will be passed on to the customers.