An oil price crash could be ahead, and it will be deadly for the U.S. economy and energy stocks.
Oil Headed Back to $26 a Barrel?
Please look at the chart below of daily oil prices and pay close attention to the lines drawn. Over the past two years, oil prices formed a chart pattern called a "symmetrical triangle." This pattern occurs when trading ranges become narrower over time while there are prevailing trends.
Once the price breaks above or below the triangle (the black lines on the chart), you can get an idea of the direction, and expect the price to go that way.
A few days ago, oil prices broke out of the triangle—to the downside. And I believe that prices could be headed back to the $26.05 per barrel that oil traded at in the beginning of 2016.
While I have given you the technical picture for oil, the fundamentals confirm my forecast of an oil price crash.
We currently have an ample supply of oil in the world, and demand is falling.
And then there is the value of the U.S. dollar. As the Federal Reserve keeps hiking interest rates, the U.S. dollar could move much higher in value against other world currencies. Because oil is traded in U.S. dollars, a higher greenback results in lower oil prices.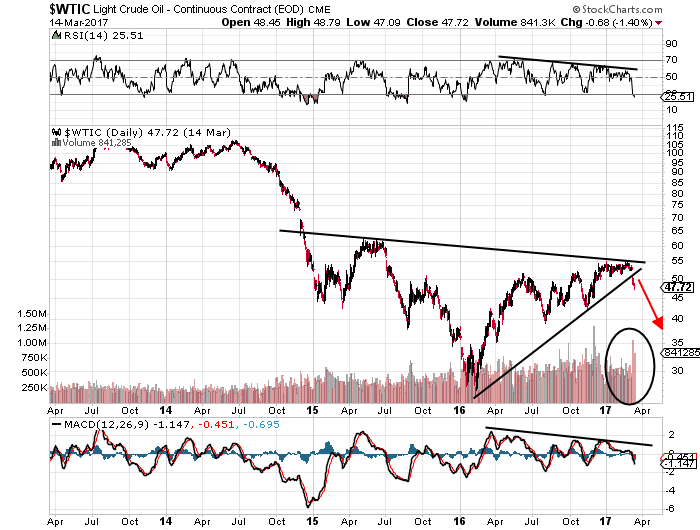 Chart Courtesy of StockCharts.com
What the Coming Crash in Oil Prices Means for the Economy
What could an oil price crash mean for the U.S. economy?
For this answer, we look at this chart.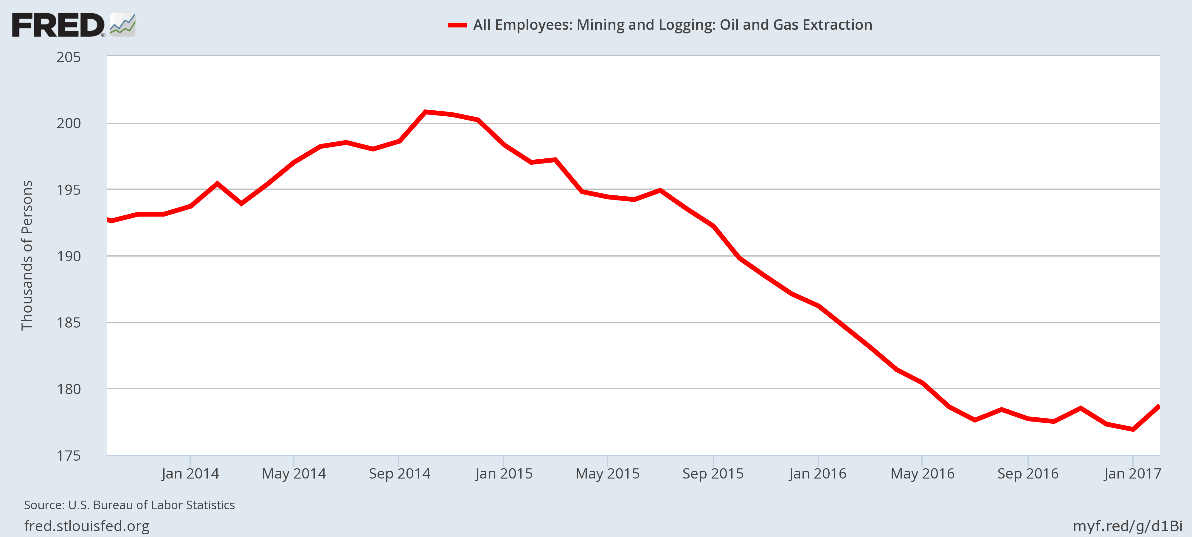 The chart above shows Americans working in the oil and gas extraction industry. Since the oil price crash that began in mid-2014 and ended in early 2016, the number of employees working in the industry has declined by 11%. Today it sits at its lowest level since late 2011.
This chart shows Americans engaged in oil and gas extraction only. Know that there are other sectors and industries that are heavily impacted by oil prices as well. For example, transportation, pipeline companies, utilities companies, and firms that provide services to them.
If oil prices crash to $26.00 again, as I'm predicting, there will be a lot of misery in the energy sector of the U.S. economy. We could see a spike in unemployment, lack of investments in that sector, and dismal business spending.
As oil prices decline, the profitability of oil companies will come into question again. And, of course, this will impact their stock prices.
The bottom line is that oil prices look like they are on their way down again. This will be a big negative for the economy and, of course, oil and gas stocks.