Oil Prices Make a Major Comeback at Multi-Year Highs
In April 2020, the price of oil plunged. A barrel of West Texas Intermediate (WTI) crude oil traded at levels lower than ever seen before. In certain instances, spot oil prices were deep into negative territory.
Now the oil market looks completely different. As of this writing, WTI crude oil trades around $108.00 per barrel, and not too long ago, oil prices made highs of about $130.00, their highest since 2008.
Advertisement

The price of oil has been soaring because of a few catalysts.
The period between 2013 and 2018 was rough for the oil industry. Then, in 2019 and early 2020, things just got worse. Oil prices collapsed. With this, not much investment went into oil projects. Plus, investors who were focused on environmental, social, and governance (ESG) investing frowned upon oil. This caused even lower investment in oil projects.
Then, after the COVID-19-related supply chain issues got bigger and consumer spending grew, demand for oil grew by a lot. But the supply was nowhere close to meeting the demand. Basic economics played out and oil prices jumped.
Furthermore, this year, Russia invaded Ukraine. Since Russia is a major oil-producing nation and there are significant economic sanctions on the country, it's becoming difficult to get oil from there. The invasion and the sanctions created an even bigger oil supply crunch.
In the near term, due to the aforementioned socioeconomic factors, it's likely that oil prices will move higher. It's not an out-of-this-world idea that we'll even see oil at $150.0 per barrel in the near term.
The following WTI crude oil price chart shows that the short-term trend continues. The 50-day moving average and the 200-day moving average suggest that bullish sentiment for oil persists. Also, momentum indicators suggest that buyers could take oil prices much higher.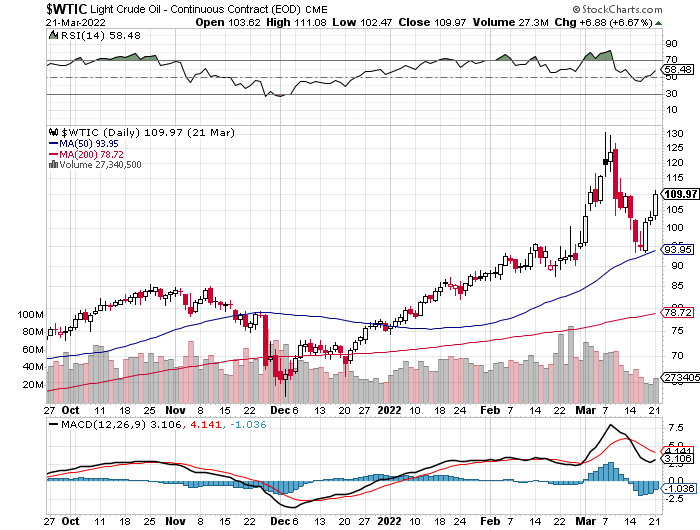 Chart courtesy of StockCharts.com
However, keep in mind that the U.S. is currently in the midst of talking to Iran. There's a chance that the U.S. and Iran could strike some sort of nuclear deal and that Iranian oil could be allowed to float in the global economy. This could ease the oil supply crunch a bit, although it could take a few months.
Be Careful What You Wish For
For some investors, $150.00/barrel oil could create fortunes. As oil prices go higher, oil-related investments will increase in value.
But be very careful what you wish for. The higher the price of oil goes, the bigger the problems will be for the U.S. economy.
Here's the thing: oil prices are an economic indicator. Go look at previous economic slowdowns in the U.S. and see what happened just before the problems began. You might notice that the price of oil was either skyrocketing or at very high levels just before a recession was triggered. Considering this correlation, it wouldn't be wrong to say that whenever the price of oil surges, a recession follows.
I'm sitting back and watching how it all plays out. Higher oil prices have caused soaring gasoline prices in the U.S. This will have an impact on consumers' pockets. Consumer sentiment is already dismal, so this isn't good.
In the short term, higher oil prices could be great for oil stock investors. But remember, if there's even the slightest noise about an economic slowdown, oil could crash, and with it, oil-related stocks. As such, it might not be a bad time to place stops in your stock portfolio.