Think Interest Rate Cuts Are Good? Think Again
Interest rates in the U.S. could be much lower in the coming quarters. Mark my words: the next wave of interest rate cuts could cause a lot of volatility and put a major dent in the wealth of many Americans.
These days, we are hearing a lot of talk about the Federal Reserve cutting interest rates, and the bond market is buying into it.
The chart below plots the yields on 10-year U.S. bonds. Remember that the bond market tends to move ahead of the Federal Reserve: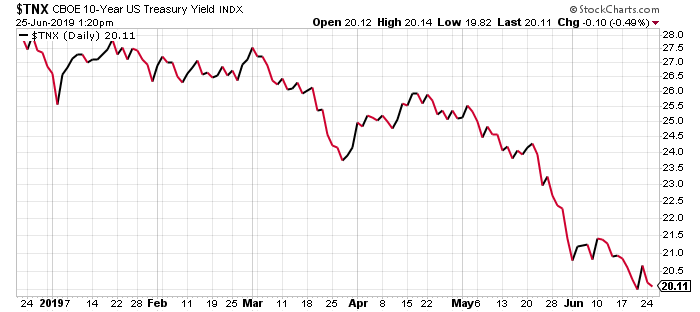 Chart courtesy of StockCharts.com
Since the beginning of 2019, yields on 10-year U.S. bonds have tumbled from about 2.8% to around two percent. This represents a decline of 30% in matter of about six months.
In October 2018, yields on these bonds were around 3.2%. So since then, yields have collapsed nearly 40%.
If you look at other bonds, there's something similar happening. Yields are tumbling across the market.
Also consider the CME FedWatch Tool, which indicates the probability of interest rate hikes or cuts based on current market sentiment. A month ago, the CME FedWatch Tool gave a probability of a Fed benchmark rate cut in July of just 18%; now, there's a probability of 73%. (Source: "CME FedWatch Tool," CME Group Inc, last accessed June 26, 2019.)
Rate Cuts Will Not End Well
The problem is that as we are hearing about interest rate cuts, investors are starting to believe that cuts would be a good thing. This leads to talk about how the stock market could soar.
But the truth is that interest rate cuts are not good for the stock market. If there are cuts, a lot of selling could follow.
The chart below depicts the Fed's benchmark interest rates (blue line) and the performance of the stock (red line). Pay close attention to the circled areas: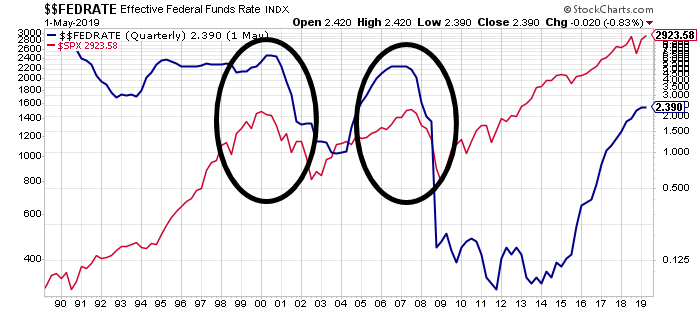 Chart courtesy of StockCharts.com
Notice something interesting?
As soon as the Fed starts to cut interest rates, the stock market falls.
We have seen something like this during the last two rate cut cycles. For example, look at what happened between 2000 and 2003: at the time, the Federal Reserve was cutting rates. And yet look what happened to the S&P 500.
We saw a repeat of that between 2007 and 2009. The Fed was cutting interest rates, and stocks fell off a cliff.
Be careful of what you wish for. I would not be surprised if the Fed cutting rates leads to a stock market crash.