Big Money Management Firms, Fund Managers, & Former Fed Chair Make Bearish Case for Stock Market
This is the first time in a while that we are seeing those with influence on the stock market come out and say that stocks may not be the best place to put your money.
Richard Turnill, the global chief investment strategist at BlackRock, Inc. (NYSE:BLK), said in a note to clients that "we see the correlation between equity and bond returns remaining significantly negative in 2019 as the economic cycle enters its latter stages."
"Bonds may offer a more formidable ballast to equity exposures," he added. (Source: "BlackRock Sees Stock-Bond Correlation Deeply Negative This Year," Bloomberg, January 14, 2019.)
In simple words, BlackRock, a global investment management company with over $6.0 trillion under administration, is saying that the stock market could register dismal returns in 2019.
We hear something similar from former Federal Reserve chairman, Alan Greenspan.
In an interview not too long ago, he said that the market could go up but the correction would be bad. He said, "At the end of that run, run for cover." (Source: "Alan Greenspan: Investors should prepare for the worst," CNN, December 18, 2018.)
CEO of DoubleLine Capital, Jeffrey Gundlach, said 2019 will be a volatile year for the stock market. He said bonds yields will hurt stocks in a "tug of war." (Source: "Gundlach sees rising yields hitting stocks, trouble in junk bonds and a possible bitcoin bounce," CNBC, January 8, 2019.)
In case you didn't know, Jeffrey Gundlach has about $200.0 billion under management.
Where's the Stock Market Headed Next?
Dear reader, the calls for the stock market facing headwinds continue to increase each day. We are seeing big banks and influencer personalities coming out against stocks. Don't ignore it whatsoever. We haven't seen this sort of thing in a while.
Don't forget, big banks and massive institutions have a lot of influence over investors. If they turn bearish, at times, investors follow their advice.
If this noise gets louder, don't be shocked if investors rush for the exit and sell. This could create a major sell-off on the stock market—much worse than what we saw in November and December of 2018.
I also want readers to look at the chart below and pay close attention to the drawn lines.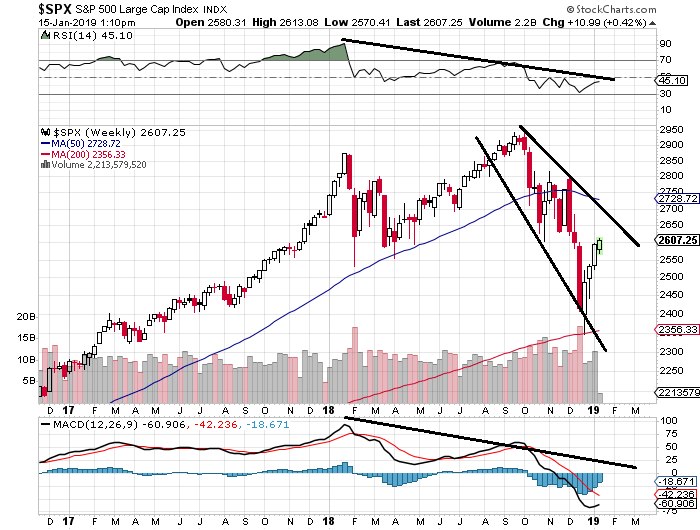 Chart courtesy of StockCharts.com
We currently have a downtrend emerging on the S&P 500; it's making consistently lower lows and lower highs. Also, the momentum indicators are suggesting that sellers are still in control of the price and could take the stock market much lower.
The rallies we have seen over the past few weeks have been based on low volume. This tells us that buyers are not that excited or that the rally could be based on short covering rather than excited buying.
Stock investors, beware.
I will end with a few quotes from Alan Greenspan's interview mentioned earlier…
"Leverage is a disaster for markets — and we try to avoid it, but we fail every time."
"There are always toxic assets, you just never know, which ones are viable. Right now… it's hard to tell what the toxic asset is." (Source: CNN, op cit.)