As Investors Anticipate a Recession, They Sell Luxury Stocks
There's something broken in the U.S. economy. A recession could be nearing. Certainly, the economic data isn't showing this yet, but investors are getting ready for it.
Know that as a recession nears, investors turn bearish and sell stocks of companies that sell high-end/high-priced consumer goods and services. These are also known as luxury stocks.
The idea behind this is very simple: In times of economic slowdown, consumers have less money, so they don't buy expensive goods as often. This leads to lower sales at companies selling high-priced goods. As a result, their profitability tumbles.
Over the past few months, investors have really turned bearish on luxury names. Mark these words: it's a sign that a recession could be nearing.
Luxury Brand Stocks Selling Off Immensely
To give you some perspective, look at the chart below of Tapestry Inc (NYSE:TPR). This company owns brands like "Coach," "Kate Spade," and "Stuart Weitzman."
Since mid-August, TPR stock has tumbled close to 30%—from around $53.00 to $38.00 now. All of this happened on slightly heavier-than-normal volume as well. This says the selling wasn't a result of profit-taking but was more like nervous selling.
Chart courtesy of StockCharts.com
But, Tapestry isn't the only high-end stock facing headwinds.
Look at Sothebys (NYSE:BID). It's a high-end auction house. Chances are, you have heard this name. If there's been an auction for a well-known piece of art recently, it's possible that Sothebys was behind it.
In a recession, auctions don't generate as much attention as they do when there's economic growth.
BID stock traded as high as $60.00 in June 2018. Now, it sits at $40.00. If you do simple math, Sothebys stock has dropped 33% in a matter of a few months. One could even say that BID stock is in a bear market.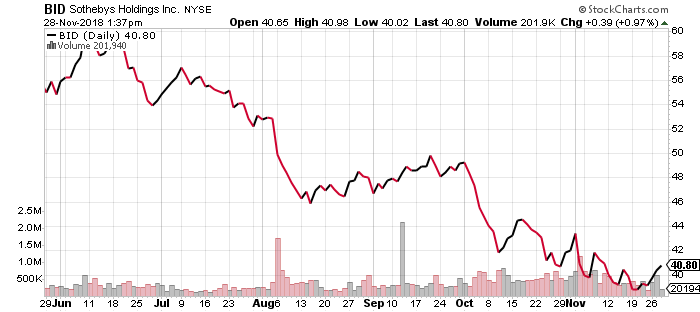 Chart courtesy of StockCharts.com
Last but not least, look at Tiffany & Co. (NYSE:TIF). It's a well-known pricey jewelry and accessories retailer.
A decent-looking engagement ring from Tiffany could set you back $5,000–$7,000 easily.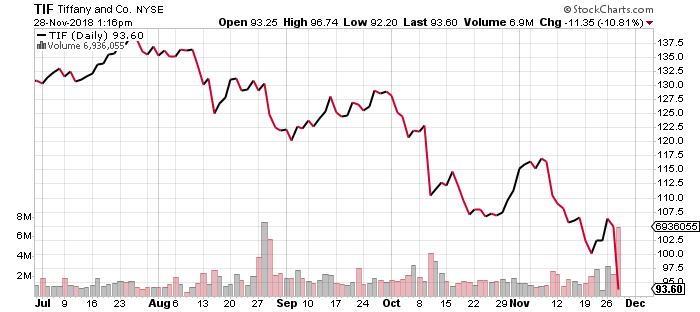 Chart courtesy of StockCharts.com
TIF stock was trading at around $140.00 not too long ago. Now, it trades near $93.00. In just a few months, the stock price has declined over 33%. It doesn't look like it will stop any time soon.
Why? Because the company reported its financial results recently and it is failing to bring customers through its doors.
Plummeting High-End Stocks Are Making the Case for a Recession Stronger
Don't for a second think that these are the only stocks facing headwinds. The entire high-end sector is showing a horrible performance over the past few months. Even companies remotely considered high-end are being frowned upon.
Dear reader, that fact luxury stocks are declining shouldn't be taken lightly at all.
It's one of the surest signs that an economic slowdown could be fast approaching for the U.S. economy.
As I see it, it's just a matter of time at this point. The U.S. economy has had a solid run over the past few years, all thanks to low interest rates and easy money. Now, this may not be the case as interest rates are moving higher.
I expect 2019 and 2020 to be bad for the U.S. economy.
Investors, beware. Luxury stocks are being sold these days because investors could be anticipating a recession. Once the data starts to show a recession, consumer discretionary stocks could come under fire as well.