Gold Prices Remain Undervalued, Presenting a Great Opportunity
Gold prices are worth watching closely. The yellow metal could be presenting a great opportunity. It could make patient investors very happy in the coming months and quarters.
These days, there's a lot of noise about why gold isn't worth the investment. It can't be stressed enough: don't ignore the developments that could send gold prices soaring immensely. Gold prices could have a stellar 2018 and beyond.
3 Reasons Why Gold Prices Could Surge
There are three major reasons why gold prices could soar.
First, central banks are continuing to buy gold. In 2017, they purchased 371.4 tonnes of the precious metal. In 2016, they bought 389.8 tonnes. (Source: "Gold Demand Trends Full Year 2017," World Gold Council, February 6, 2018.)
Mind you, central banks have been buying gold for eight consecutive years. Gold prices don't matter to them, and it doesn't look like they are stopping anytime soon.
Second, those who ditched the precious metal when gold prices were tumbling between 2013 and 2015 are coming back. The data backs this up. The biggest source of selling in that sell-off was gold-backed exchange-traded funds (ETFs). Between 2016 and 2017, gold-backed ETFs bought 749.6 tonnes of the precious metal.
In 2018, investors have been flocking to buy gold-backed ETFs. In fact, gold-backed ETFs are now more popular than they were in 2013. To give you an example, iShares Gold Trust ETF's (NYSEARCA:IAU) gold holdings have increased by almost $1.5 billion so far in 2018. Gold ETFs in Europe and China have been buying as well. (Source: "Fearful Investors Are Creating A Rush On Gold ETFs," Kitco News, April 10, 2018.)
Third, the United States could be entering another war, this time in Syria. Keep in mind that  Syria has been getting a lot of support from Russia, so an attack on the former could indirectly mean an attack on the latter. This could be really big. Don't be shocked if this sends waves of uncertainty across the globe. We are talking about a World War III kind of scenario here.
What happens when uncertainty increases? Investors tend to run toward safety. Gold has a very long track record of providing safety in times of uncertainty.
Gold Prices Outlook: If You Ignore Gold Now, You Could End Up Kicking Yourself Later
Dear reader, notice how in the headline I said there "at least" three reasons why gold prices could soar. In truth, the list of reasons why the yellow precious metal could surge in value is much longer.
I can't stress this enough: the fundamentals of the gold market are now much better than they were back in 2013. I believe that all the signs are pointing to a massive move to the upside on gold prices.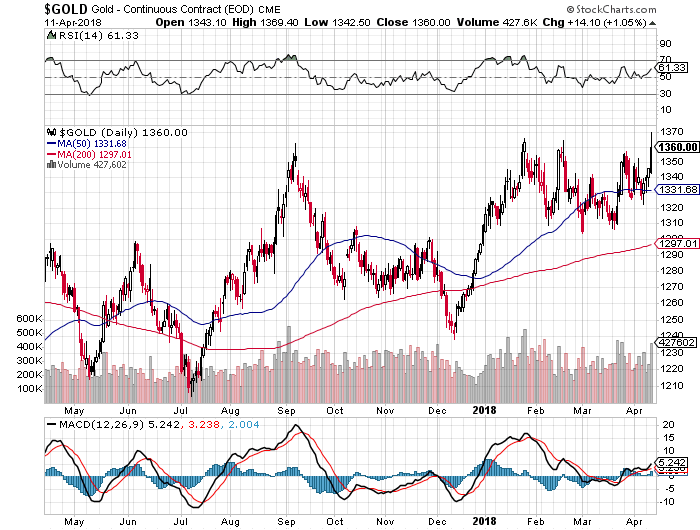 Chart courtesy of StockCharts.com
For the short term, I am keeping a close eye on the $1,375 level for the precious metal. This level has acted as a support level over the past two years. If gold prices take out this level, we could see a rapid move to the upside. The next big resistance level isn't until $1,550.
For the long term, I continue to keep the stance that we could see gold prices shooting to $2,000. The yellow metal is trading at valuations too low to ignore.