Silver Prices Could Soar This Year & Go Beyond $50 in the Coming Years
Silver prices have seen a solid move to the upside so far in 2020, but this may not be all. Don't be shocked to see the gray precious metal make a solid run toward $50.00 this year and go even beyond that level in the coming years.
In early 2020, silver traded around $18.00 an ounce. Now it trades around $27.00. This represents an increase of about 50%. It has been one of the best-performing assets, and this sort of performance hasn't been seen in a while.
Two Charts Painting Bullish Outlook for Silver
So, how high could the gray precious metal go? Take a look at the following two charts.
First, look at the short-term chart: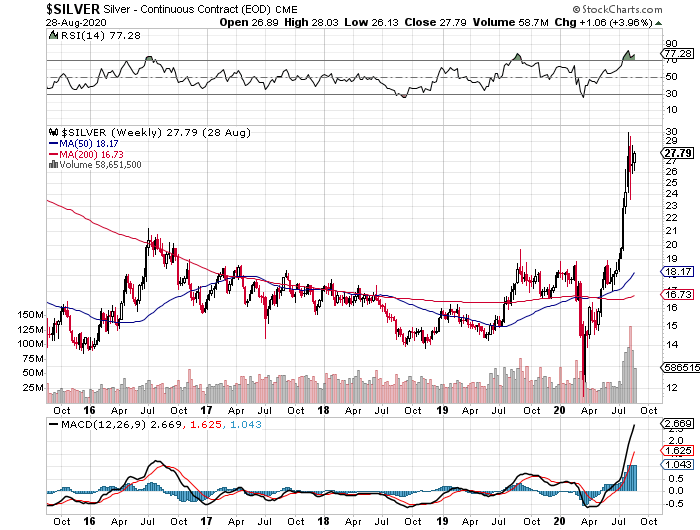 Chart courtesy of StockCharts.com
In the short term, we are seeing a breakout in the silver market. In simple terms, a breakout is when a price breaks above a major resistance level. After this happens, usually investors who are short cover their positions and buyers jump in.
The silver price level between $18.00 and $21.00 was acting as a major resistance level.
Know this: whenever there's a breakout, the price tends to reach toward the closest big resistance level. For silver prices, the next big resistance level isn't until around $35.00. Assuming the price goes to that level, it would be roughly 25% above the current price.
Now look at the long-term chart: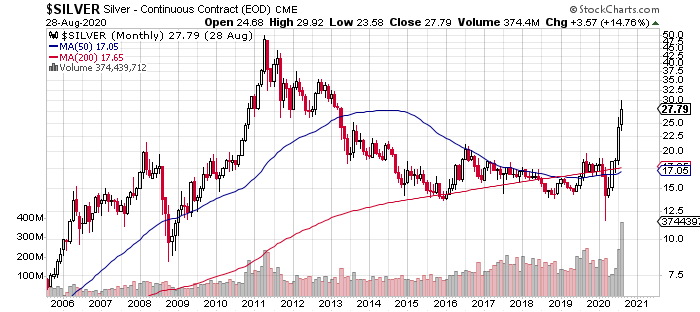 Chart courtesy of StockCharts.com
On the long-term chart, there are three things to keep in mind.
Notice the 50-month moving average. In 2013, the silver price broke below this moving average and remained below it until mid-2019. Here's the thing: whenever this precious metal's price breaks above this moving average, you see a significant rally. The last time this happened, silver went from $12.50 to close to $50.00, increasing 300%.
In 2018, silver prices broke below their 200-month moving average. This was bearish. Now the price is back above this moving average. At its core, this says the long-term trend in the silver market remains intact.
Pay close attention to the volume traded in the silver market. Notice something interesting in recent months? We have seen an immense increase in trading volume. Mind you, the volume increased as the price increased. This says there are excited buyers.
Where to Find the Opportunity?
Dear reader, I remain bullish on silver. The charts are just making my convictions stronger.
I will say this too: if silver prices drop, it's possible we will see a slight move down due to profit taking. Then the gray precious metal could become an even better buying opportunity. At $28.00, it's undervalued. The lower it goes, the better the opportunity becomes.
Also, if you think you have missed out on this bull market in silver, you haven't.
Furthermore, I am paying a lot of attention to small silver mining companies. Their shares are presenting a lot of value, but they are being disregarded by investors. I am looking at companies that are located in safe geopolitical areas and have decent properties with some gold deposits as well. These companies will be the best-performing stocks in this bull market in precious metals.