Gold-to Silver Ratio Says Silver Prices Are at Rock-Bottom Levels
If you are looking for an opportunity that could reward you immensely, then don't ignore silver prices. The gray precious metal could be selling for pennies on the dollar.
You see, one way to value silver prices is by looking at how the gray precious metal is doing relative to gold prices.
How do you compare the two? You look at the gold-to-silver ratio. At its core, this ratio tells us how many ounces of silver are required to buy one ounce of gold.
The higher this ratio, the more undervalued silver prices could be.
With that said, look at the chart below. It plots the gold-to-silver ratio since 1989.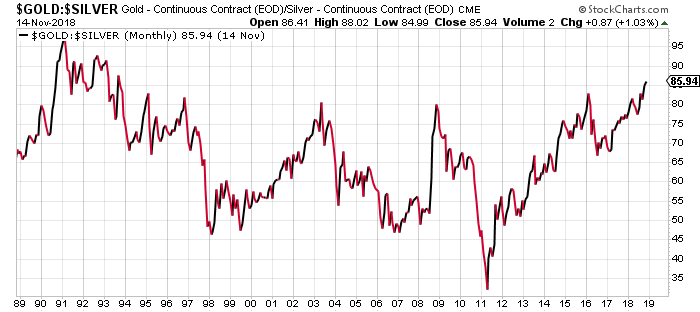 Chart courtesy of StockCharts.com
This Ratio Says Silver Prices Are Undervalued And Could Surge Over 90%
As it stands, the gold-to-silver ratio is at 85.94. This means it takes 85.94 ounces of silver to buy one ounce of gold.
Notice something else on the chart?
This is the highest this ratio has been since 1993!
You know what happened then? Silver prices hit rock-bottom levels and began their move to the upside. Silver hasn't been that low since.
But, don't just stop there…
This ratio is screaming that silver prices are undervalued.
Look at the historical average of the gold-to-silver ratio since the 1970s; it's around 56. If we assume this ratio drops to that level and we also assume that gold prices don't change at all from $1,210, then silver prices would have to increase to over $21.60. That's 53% above where the price currently stands at around $14.08 an ounce.
However, keep in mind that 56 may be a long-term average. Over the years, we have noticed that this ratio tends to move toward the 45 level. You will see it in the chart above as well; after reaching the low 80s, this ratio drops back to around 45.
If we assume that's the case, keeping gold prices the same, silver prices would have to increase to over $26.88. This is 90% above where it currently stands.
Where's the Next Big Opportunity?
Dear reader, I can't stress this enough: there's a perfect storm brewing in the silver market. I will not be shocked if, in the next few years, silver prices are surging and we are looking back and saying, "Wow, $14.00 silver was cheap!"
Know that it's not just the gold-to-silver ratio suggesting that silver prices are trading at rock-bottom levels. Fundamentals are suggesting the same thing.
Over the past few years, precious metals have been ignored because stock markets were doing stellar. Once investors cover for safety and fundamentals start to matter again, we could see a lot of buying in the silver market.
In the meantime, I believe silver mining companies could really be worth watching. They have been beaten severely as silver prices have remained suppressed.
Consider the Global X Silver Miners (NYSEARCA:SIL)—an exchange-traded fund (ETF) that tracks the performance of silver miners. It has dropped 34% in value over the past two years as silver prices have dropped 17%.
I believe silver miners are trading for pennies on the dollar these days. Once silver prices bounce, miners could really provide stellar returns. If we assume the gold-to-silver ratio drops to its historical average and silver surges 53%, it would not be shocking to see a large number of silver miner stocks doubling or even tripling in value in no time.