If You Are Ignoring Silver Prices Now, You Could Be Making a Big Mistake
The price of silver could be setting up to rally big-time. As it sets up to move higher, keep a close watch on silver mining stocks. They could see amplified moves to the upside.
You see, these days, not much attention is given to silver. But the gray precious metal is currently presenting a great opportunity.
Don't be shocked to see silver prices doubling or even more in the coming months and quarters.
Why be so bullish on silver? The charts paint a very bullish outlook for the metal.
One Chart Silver Bulls Shouldn't Ignore
There's one chart in particular that every silver bull must look at.
See the long-term chart of silver prices below and pay close attention to the blue line drawn on it. That line is the 50-month moving average of the price of silver. This moving average has been very interesting.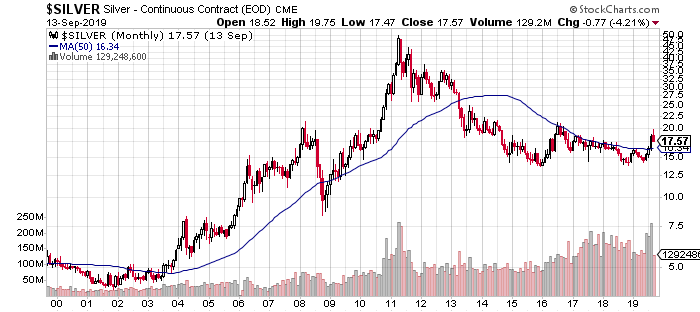 Chart courtesy of StockCharts.com
Whenever silver prices jump above their 50-month moving average after remaining below it for an extended period, you usually see a massive rally.
Go back to the period between 2000 and 2003; during this time, silver was trading below this moving average. Later in 2003, the silver price broke above the moving average, at around $5.00 per ounce.
After the price broke above this level, a massive rally followed for several years. The price of silver increased about 320% during this time, from around $5.00 to $21.00.
Fast forward to late 2008: silver broke below its 50-month moving average and remained below it for a few months. It eventually bounced higher in early 2009 and started a massive run until 2011.
The rally began when silver was trading around $12.00 and it peaked around $49.00. That's a move of more than 308%.
In 2013, the silver price broke below the 50-month moving average and remained below it until August 2019.
Looking at this situation, one must wonder if another 300% move could be in the making. We have seen something similar happen twice in the past 19 years.
If this is actually the case, based on today's price, we could be looking at a price of silver higher than $70.00.
Why Bother Looking at Silver Miners?
Dear reader, if the gray precious metal price jumps 300% and you own bullion, your gains would just be that much.
Know this, however: the biggest gains could come from owning shares of silver miners. They tend to increase in value immensely as the price of silver moves up. Investors can get leveraged gains from them.
Here's one example: between May and August 2019, silver prices jumped 22%. At the same time, First Majestic Silver Corp. (NYSE:AG), a well-known silver mining stock jumped 77% in value.
So, for every one percent increase in the silver price, AG stock jumped 3.5%.
Now imagine we see silver move up 300%; what would happen to the price of AG stock and other silver mining companies? Assuming that similar gains follow, they could surge immensely.
Mind you, First Majestic Silver Corp. isn't a "buy" recommendation; it's just an example of how silver mining stocks could move.
I am paying extra attention to established silver miners for now, but as the gray precious metal price increases, I will be switching my focus to small mining companies. They could get a lot of attention near the end of the run in silver prices.