Junior Gold Mining Stock List 2017
With gold bullion entering a bull market in 2017, it has been a great time to invest in gold mining stocks. While many investors prefer the relative safety of intermediate and large-cap gold mining companies, there are a lot of precious metal investors who like the speculative nature of junior mining stocks. With the outlook for gold bullion prices expected to remain robust, now is the perfect time to take a look at junior gold mining companies.
Here's a list of junior gold mining stocks that you can pick and choose from in order for you to do further research.
| | |
| --- | --- |
| Junior Gold Miners | Ticker |
| B2Gold Corp. | TSE:BTO |
| Pershing Gold Corp | NASDAQ:PGLC |
| Endeavour Mining Corp | TSE:EDV |
| Secova Metals Corp. | CVE:SEK |
| Broadway Gold Mining Ltd | CVE:BRD |
| Midas Gold Corp | TSE:MAX |
| Kerr Mines Inc | TSE:KER |
| Cordoba Minerals Corp | CVE:CDB |
| Red Eagle Mining Corp | CVE:RD |
| Balmoral Resources Ltd | CVE:BAR, TSE:BAR |
| Continental Gold Inc | TSE:CNL |
| Condor Gold PLC | LON:CNR |
| Golden Queen Mining Co. | TSE:GQM |
| Satori Resources Inc | CVE:BUD |
| Nexus Gold Corp | CVE:NXS |
| GoGold Resources Inc. | CVEE:GGD, TSE:GGD |
| Pilot Gold Inc | TSE:LGD |
| Lydian International Ltd. | TSE:LYD |
| Lumina Gold Corp | CVE:LUM |
| Premier Gold Mines Ltd. | TSE:PG |
| Rupert Resources Ltd | CVE:RUP |
| Colorado Resources Ltd | CVE:CXO |
| Silver Bear Resources Inc. | TSE:SBR |
| Gran Columbia Gold Corp | TSE:GCM |
| Teranga Gold Corp | TSE:TGZ |
| Argonaut Gold Inc | TSE:AR |
| Alamos Gold Inc | TSE:AGI |
| Asanko Gold Inc | NYSEMKT:AKG |
| Banro Corporation | NYSEMKT:BAA |
| Harmony Gold Mining Co. (ADR) | NYSE:HMY |
| Kirkland Lake Gold Inc. | TSE:KLG |
| Pretium Resources Inc | NYSE:PVG |
| Torex Gold Resources Inc | TSE:TXG |
| Centerra Gold Inc. | TSE:CG |
| IAMGOLD Corp | NYSE:IAG |
| NovaGold Resources Inc. | NYSEMKT:NG |
| Guyana Goldfields Inc. | TSE:GUY |
After climbing approximately 60% year-to-date in August 2016, the sentiment for gold turned. Gold prices slid on profit-taking and, in the autumn, gold prices fell further after Donald Trump won the U.S. presidential election. Wall Street was buoyed by Trump's pro-business platform, and believed that his proposed tax cuts and spending would kick-start the U.S. economy. Gold bullion was on a roller coaster ride in 2016. Gold was bullish in the first half of the year on concerns about the global economy and concerns about the U.S. Federal Reserve's strategy for raising its key lending rate. Gold also got a boost on the Brexit vote, weakening oil prices, and growing geopolitical tensions.
Gold is considered a great hedge against economic uncertainty. Soaring stock prices, a strong dollar, and growing optimism wreaked havoc on gold prices. Gold ended 2016 up just 8.5%, at $1151.70 per ounce.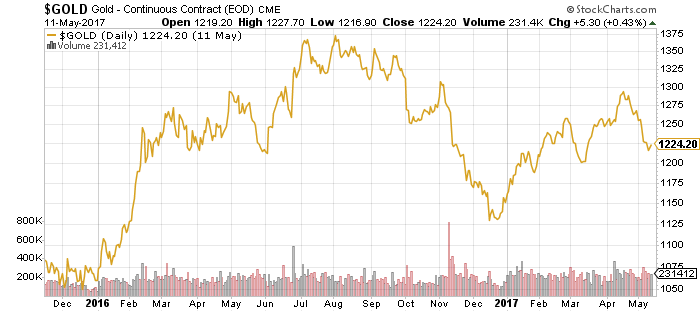 Chart courtesy of StockCharts.com
It's been a different story in 2017. Investors are still optimistic that President Trump can turn things around for the U.S. economy, but that euphoria has been tempered. There are growing concerns that Trump might not have an easy time at getting his tax cuts and spending policies passed. If Trump cannot get his pro-growth business strategies enacted, it would make his pledge of generating annual gross domestic product (GDP) growth of four percent virtually impossible.
The U.S. economy is not exactly running at full steam. In fact, the U.S. recovery is plodding along at its slowest pace since World War II. This is born out in the abysmal GDP growth. During Barack Obama's presidency, GDP growth never hit three percent. In 2016, the final full year of Obama's presidency, U.S. GDP was just 1.6%. First-quarter 2017 GDP was 0.7%, the weakest pace in three years.
In light of the weak U.S. economic indicators, possible stalemate in Washington, and simmering geopolitical tensions, investors are taking a shine to gold again. This has helped send gold prices considerably higher, and has been bullish for gold mining stocks. And not just intermediate and large-cap gold stocks. Junior mining stocks have also been benefiting from ongoing uncertainty about the U.S. economy and soaring stock valuations.
What Do Junior Mining Stocks Do?
Junior mining stocks are nothing like their larger-cap peers. Whereas intermediate and senior gold mining companies own producing gold mines, junior gold miners are in the exploratory phase and search for new deposits. Junior gold miners target properties that they believe have significant potential for finding large gold deposits.
Junior mining companies may be small, but they are a major source of precious metals for larger gold mining stocks. The best junior gold mining companies are run by management with a long history of finding huge gold and silver deposits. They also employ geologists, engineers, and geophysicists, and they decide which properties are worth pursuing. While gold majors are off producing gold, junior gold miners are doing the critical, early-stage, dirty work that the majors hope to maybe eventually acquire.
There are two different types of junior gold mining companies: green field and brown field. Green-field junior gold mining companies explore for gold in uncharted "green" territory, where deposits are not confirmed to exist. Brown-field exploration refers to areas that have proven deposits. As you can imagine, green-field junior mining gold companies need a lot more money for exploration.
In some cases, a junior gold mining company might purchase property in a prolific gold-producing region that is adjacent to an active gold mine. Lightening doesn't always strike twice, but sometimes a gold vein extends well beyond initial survey results.
In other cases, a junior gold mining company might choose its own path and look for gold in places where no one else is. Gold forms around volcanoes, so some junior gold miners search for land that contains the rim of a caldera.
Once a site is purchased (or leased), the junior exploration company will map the geological characteristic of the property and evaluate potential target areas. Once the areas are narrowed down, the junior gold company does additional, in-depth surveys, seismic maps, and gathers drill samples to pinpoint where to dig.
What to Look for in the Top Junior Mining Stocks
It's risky to invest in junior gold mining stocks. Most of the companies are small, sometimes only employing a handful of people. Moreover, it can take years, and a lot of money, to complete a field survey. As a result, junior mining stocks, which often trade for under one dollar, can be extremely volatile. If the drill bits only find dirt, that exploratory junior mining gold stock can go broke. So, it's important that investors know what to look for when considering a junior gold mining stock.
1. Location, Location, Location
If you have a high tolerance for risk, a green-field junior mining company might be for you. If not, though, investors should focus on junior gold mining companies that own or lease land that is near or around existing or former mines. Since another existing mine has already done the initial legwork, this is a low-risk way to find additional gold deposits.
2. Wealthy Friends
Junior gold mining companies are not in the business of producing gold. They generally don't own an operating mine; they are in the business of finding gold. As a result, they rely on venture capitalists to secure financing to fund operations.
Obviously, it's important to find junior mining companies with strong cash positions. It also helps if they have friends in high places. Look for junior gold mining companies with minority stakes held by senior producers. This is a good sign that the junior company has viable resources. Or, better yet, find a junior gold mining company before the seniors do.
In May 2017, Continental Gold Inc (TSE:CNL) shares jumped more than 30% when it was announced that Newmont Mining Corp (NYSE:NEM) agreed to purchase 37.38 million common shares, for a total investment of $109.0 million. At the same time, Continental Gold and RK Mine Finance Master Fund I Limited agreed to purchase 8.59 million common shares on a private placement basis, for a total investment of $25.0 million. (Source: "Continental Gold Announces Strategic Investment by Newmont Mining and Investment by RK Mine Finance," Continental Gold Inc, May 11,2017.)
3. Management
Most junior gold mining companies are small and own a few properties with one or two target areas. The best junior mining companies are helmed by a management team that has a proven history of finding gold, raising capital, and bringing mines into production.
4. Politics
Having a property next to a producing gold mine in a politically stable, prolific region in Canada, Mexico, Australia, and the U.S. is good. Finding a huge deposit of gold in a politically unstable area like Venezuela or the Congo, or a country like Russia that is not exactly known for upholding property rights, is not good. Countries like Venezuela and Bolivia have nationalized gold mines, putting operations in jeopardy and sending share prices plunging. It's important to find out where the junior gold mining company has its properties, and to ensure it's a politically stable environment.
Best Place to Find Junior Gold Mining Stocks
Different stock exchanges have different specialties. The NASDAQ is known for being an exchange with the biggest tech stocks. The Toronto Stock Exchange (TSX or TSE) is the global leader for mining stocks. The ninth-largest stock exchange in the world by market cap, the Toronto Stock Exchange and the TSX Venture Exchange (TSXV) are home to hundreds of mining companies. The TSXV is the best source for junior gold mining companies. In 2016, 57% of the global mining financings were done on the TSX and TSXV. (Source: "Global Leaders in Mining," Toronto Stock Exchange, last accessed May 12, 2017.)