U.S. Housing Market Could Burn; Caution Required for Investors
The U.S. housing market has been really hot lately, and with this happening, investors have been buying home builder stocks.
I can't stress this enough: don't get complacent. The housing market may not remain hot for too long, and home builder stocks may not be the best investments anymore. If you've made money from home builder stocks, great. But be very careful going forward. Your investment portfolio could get hurt.
Advertisement

Let's dig into the details a little bit.
These days, no matter where you look, there's one argument being thrown around left, right, and center that goes something like this: the U.S. housing market is going up because of low interest rates.
Yes, low interest rates have definitely contributed to soaring home prices. Mortgage rates have dropped and buyers have rushed to buy homes.
Look at the following chart. It plots the S&P/Case-Shiller U.S. National Home Price Index. It's one of the most commonly tracked home price measures.

(Source: "S&P/Case-Shiller U.S. National Home Price Index," Federal Reserve Bank of St. Louis, last accessed June 9, 2021.)
Over the past few months, we've really seen an acceleration in home prices. In March, home prices in the U.S. economy surged by 13.2%.
We've also seen new home sales surge. Look at the following chart. Since April 2020, there's been a huge uptick in sales. In January 2021, the annual pace of new home sales jumped by close to one million units.

(Source: "New One Family Houses Sold: United States," Federal Reserve Bank of St. Louis, last accessed June 9, 2021.)
As all this has happened, look at the performance of home builder stocks, tracked by the SPDR S&P Homebuilders ETF (NYSE:XHB). In the last year, home builder stocks have surged by more than 62%.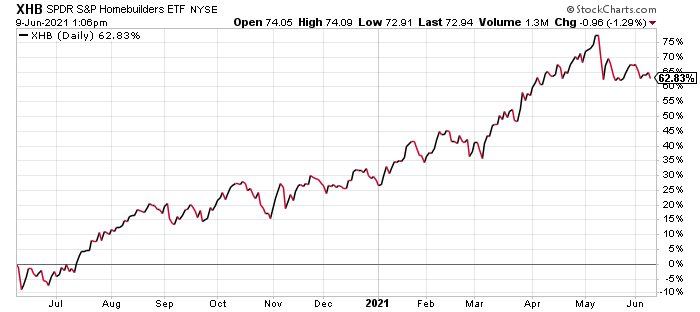 Chart courtesy of StockCharts.com
What's Next for the U.S. Housing Market?
Dear reader, there are a few things you really need to know.
First, home prices surging very quickly in a very short period isn't great, whatsoever. If you own a home, it may make you feel better. However, for those who want to enter the housing market, those who actually create liquidity in the U.S. housing market, it becomes very difficult. At a certain point, low interest rates can only help so much. If home prices continue to shoot higher, affordability goes down the drain.
Moreover, home builders make money when activity is increasing in the housing market and there are many buyers who can afford homes. We currently have tons of activity in the housing market, but buyers are struggling, and this could be a problem. Home builder stock performance may not remain as strong as it has been.
Lastly, higher home prices lead to higher mortgage balances. At the moment, incomes in the U.S. aren't really rising. Higher mortgage payments could be a cause for concern in the future. If homeowners in the U.S. are paying more to keep a home, will they spend money elsewhere? High home prices could impact the overall U.S. economy.
The U.S. housing market has done really well, no doubt about it. But the market could be entering a frothy stage, and that's not good. It could hurt your investment portfolio and the overall economy.