While the official figures don't show it, inflation is an increasing problem in the U.S. economy. It's a growing problem that may force the Federal Reserve to raise interest rates this coming December.
According to the official data, inflation remains low in the U.S. economy. The Bureau of Labor Statistics reports that the Consumer Price Index (CPI) increased 1.2% in the first nine months of this year (Source: "Consumer Price Index- All Urban Consumers," Bureau of Labor Statistics, last accessed October 20, 2016.)
Dear reader, take these figures with a grain of salt. If you go out and shop, you know inflation is running high. And inflation is about to go much higher. There's one big reason for this; I have harped on it over and over again in these pages. Simply put, there is too much money in the system. When there's too much money chasing the same amount of goods, prices increase.
The chart below is of the M2 money supply. This is the money in coins and currency, checking and savings accounts, money market securities, and mutual funds in the U.S. economy.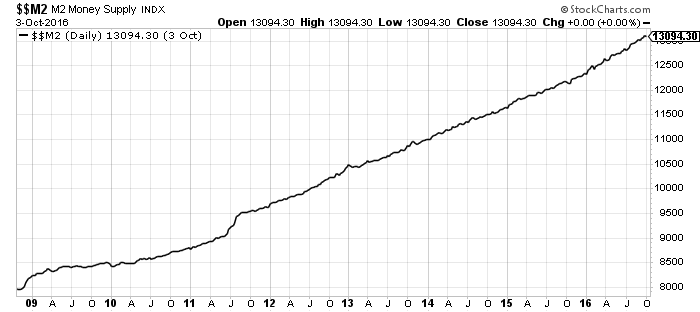 Chart courtesy of StockCharts.com
See how the money supply in the U.S. economy continues to increase? Since the Financial Crisis, the money supply has increased from $800.0 billion to $1.3 trillion.  
The chart above is a classic example of monetary inflation. It, sooner than later, could very well turn into price inflation.
Inflation, the Federal Reserve, and Gold
The chances of an interest rate increase by the Federal Reserve in December continue to mount daily. I expect it will be another quarter-point increase in the Federal Funds Rate. But what is more important is why the Fed is raising rates.
The U.S. economy is struggling to grow. Even the Federal Reserve isn't so optimistic. It expects growth to be dismal in 2016 and then be menial for the next three years. Economics 101 says interest rates are actually bad for the economy. Does the Fed want to slow the already dismal U.S. economy and cause a recession? Of course not. The Federal Reserve, I believe, will be raising interest rates in order to fight upcoming price inflation, especially in light of rising pressure on wages.
People think higher interest rates are "bad" for gold. This is a misconception. Higher rates, especially to fight inflation, are positive for gold bullion. This has created another great opportunity in the shares of quality gold mining companies.