Recession Could Be About to Slam the United States Economy
Whenever American consumers have pulled back on spending, we have seen an economic slowdown. This happened in 2008–2009 in the midst of the Great Recession, in 2001 after the 9/11 attacks, in 1991…and the list goes on.
I can't stress this enough: 70% of U.S. gross domestic product (GDP) is personal consumption. Sadly, as it stands, American consumers are struggling, and this suggests that a recession could be likely.
Today's stock market is not a good representation of what's going on with the U.S. economy. And the financial headlines aren't telling the real story.
Consider this: in the second quarter of 2017, there were 84,820 new foreclosures in the U.S. economy, which is up 2.39% from the second quarter of 2016. (Source: "Quarterly Report on Household Debt and Credit," Federal Reserve Bank of New York, last accessed September 12, 2017.)
While the media tells us the U.S. housing market is doing great, foreclosures are going up. How can that be?
But that's only one statistic. Bankruptcies in the U.S. economy are on the rise too. In the second quarter of 2017, there were 224,020 new consumer bankruptcies in the U.S., which is up 10.12% from the first quarter of 2017. (Source: Ibid.)
Adding to the concern, consumer debt in the U.S. is now at its highest level since 2008. In fact, since 2012, consumer debt has increased 12%.
The Federal Reserve is raising interest rates. As a result, other borrowing rates are increasing. We all know that higher interest rates hurt consumers' pockets because they will be paying more to service their debt.
The chart below shows consumer debt service payments as a percentage of disposable income.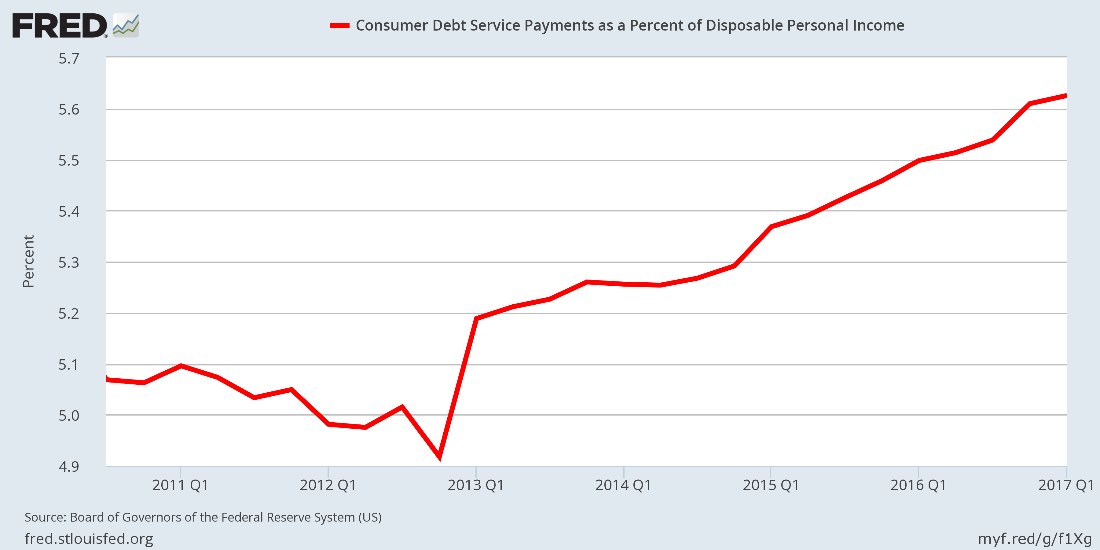 This chart is saying something important: interest rates just started to move higher and, already, consumers are paying a higher percentage of their income to service their debt. Imagine what happens two years from now, when the federal funds rate (FFR) is expected to be around three percent.
American consumers are struggling, and it's only going to get worse for them. That's why I am predicting a recession in the U.S. economy in the short months ahead.