Silver Prices May Fall in the Short Term, But Are Presenting a Great Opportunity for the Long Term
Silver has come under fire lately. Since the beginning of 2019, the price of the gray precious metal has declined by a little more than seven percent. Could it go lower?
You see, in the short term, noise rules the market. As it stands, if we just look at the charts, it's possible that silver prices will decline a little. Remember, the trend is your friend until it's broken.
Sadly, as it stands, the price of silver is trending lower. Pay close attention to the black line drawn on the chart below. The gray metal continues to make lower lows and lower highs.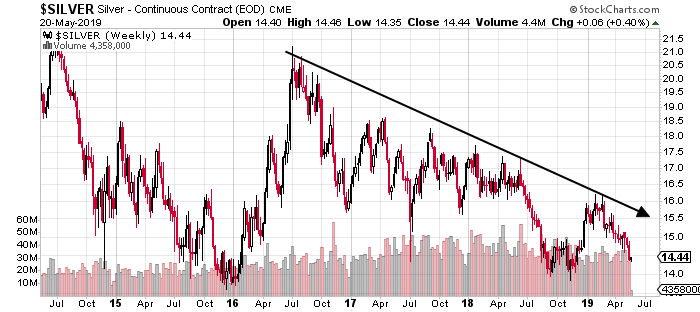 Chart courtesy of StockCharts.com
Going forward, the $14.00 level for silver could be really worth watching. In late 2017 and then again in late 2018, this price was well taken by investors. As soon as the price reached close to $14.00, we saw buyers jump in, with a decent move to the upside following.
If the price of silver breaks below that level now, we could see sellers come in. When a support level breaks ($14.00 has been a very strong support level), the situation is called a "breakdown." Usually, a decent amount of selling follows a breakdown.
Mind you, the next support level for silver isn't until around $10.00.
Keeping all this in mind, we could be in for a decline of about $4.44, or about 30%, considering the current price of $14.44.
Possible 121% Gain Ahead With Silver 
If you are a long-term investor, know that the downside for silver prices could be very small relative to how big the upside could be.
Silver is trading at a dirt-cheap valuation at $14.44 per ounce. If it drops to $10.00, the valuation will only get better.
Please look at another chart below; it plots the gold-to-silver ratio. A very powerful ratio, it essentially tells us how many ounces of silver it takes to buy an ounce of gold.  Whenever it is between 75 and 80, silver is considered undervalued, and whenever it's below 40, silver is considered overvalued.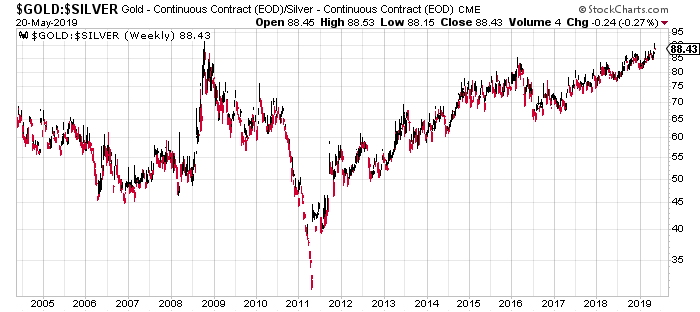 Chart courtesy of StockCharts.com
Currently, the gold-to-silver ratio stands well above 88. This is the highest level since late 2008, just before the price of silver was getting ready to skyrocket.
If we assume that gold prices don't move at all from the current price of $1,280 per ounce, in order for the gold-to-silver ratio to go to 40, silver prices would have to jump to $32.00. That's an increase of almost 122% from where the price currently trades.
Where to Look for Opportunity
If you are looking for the next big trade, don't ignore silver. The gray precious metal is currently presenting a great risk-to-reward ratio. And it's not just the gold-to-silver ratio saying that the price of silver is low; the fundamentals suggest the same.
With all this in mind, I believe that silver miners are presenting a great opportunity.
I can't stress this enough: pay close attention to silver mining stocks. Over the past few months, they have been beaten into the ground. If silver prices move to the upside, silver mining stocks could reward investors immensely.
Consider Hecla Mining Company (NYSE:HL), for example. It has over 191 million ounces of silver in its proven and probable reserves and a current market capitalization of around $705.0 million. This means that one ounce of silver reserves is being valued at just $3.69. And keep in mind that Hecla Mining has immense gold reserves and massive resources. (Source: "Reserves & Resources," Hecla Mining Company, last accessed May 21, 2019.)
Silver mining stocks are trading for pennies on the dollar.