U.S. Housing Indicators Show U.S. Economy Remains Sluggish
The numbers don't lie. Despite a roaring and insanely overvalued stock market and soaring investor confidence, the underlying message is that the U.S. economy continues to struggle. U.S. homebuilding fell more than expected in November and housing permits plunged. At the same time, U.S. homebuilders remain exceedingly upbeat. There is a serious disconnect here. And I think homebuilders may be a little blinded by the optimism about the Trump presidency.
U.S. homebuilding tanked in November, down an eye-watering 18.7% month-over-month to a seasonally adjusted rate of 1.09-million units. The revised October estimate came in at 1.34-million starts. On a year-over-year basis, U.S. housing starts fell 6.9%.
To put that into perspective, in October, housing starts soared 25.5% to a seasonally adjusted, nine-year high of 1.32-million starts. (Source: "New Residential Construction in November 2016," U.S. Census Bureau, December 16, 2016.)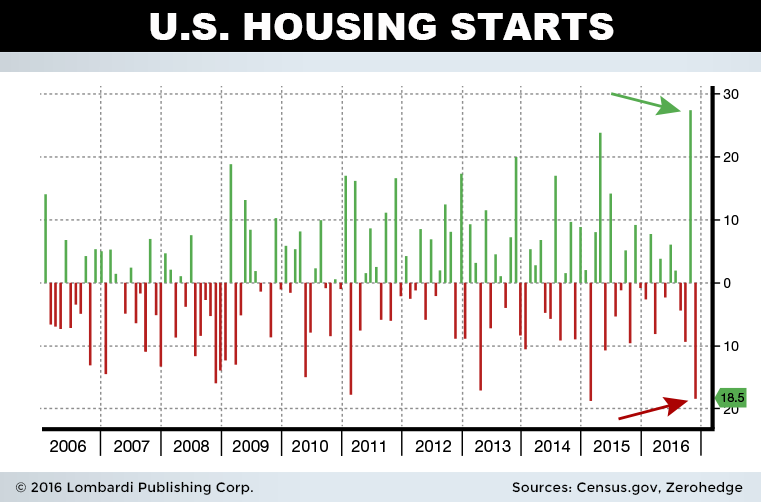 Meanwhile, building permits were also disappointing in November, down 4.7% month-over-month at a seasonally adjusted rate of 1.2-million units and down 6.6% year-over-year.
The underwhelming U.S. housing data comes a day after the National Association of Home Builders' confidence measure climbed in December to the highest level in more than 11 years. The Housing Market Index (HMI) home builder sentiment came in at 70 out of 100; 50 is the line between positive and negative sentiment. (Source: "Housing Market Index (HMI)," National Association of Home Builders, December 15, 2016.)
This represents an 11% increase month-over-month and 16.6% year-over-year. This euphoria about the spring housing market puts the Housing Market Index at its highest level since July 2005, which is right near the peak of the housing bubble.
Homebuilders are quite confident that Donald J. Trump's reduced regulation and taxes will be a boon for the housing industry. This is important since regulatory costs for homebuilding have increased by 29% over the last five years.
The big question is whether President-elect Trump's tax breaks will trickle down and boost sagging new home sales. If actions speak louder than words, homebuilders may not be quite as bullish in the New Year.
U.S. Housing Has a Huge Impact on GDP
The raft of new U.S. housing data confirms the U.S. economy remains fragile. And weak housing starts and permits point to further challenges ahead for the U.S. economy. That's because U.S. housing has a massive impact on the country's gross domestic product (GDP).
Housings combined contribution to GDP averages 15% to 18%. Residential investment (three percent to five percent of GDP) includes construction of new single-family and multi-family homes, residential remodeling, production of manufactured homes, and broker fees. Consumption spending on housing, which includes rents and utility payments, averages 12%–13% of GDP. (Source: "Housing's Contribution to Gross Domestic Product (GDP)," National Association of Home Builders, last accessed December 16, 2016.)
The contribution of housing to U.S. GDP doesn't include consumer purchases that go hand-in-hand with a new home, including furniture, appliances, renovations, furnishings, etc.
Thanks to subdued housing starts and permits, and increased household debt loads, barely-there wage growth, and a lack of well-paying jobs, the U.S. economy won't be nearly as robust as many expect. In fact, there is plenty of risk to the downside.
Despite all the optimism, the odds of the U.S. falling back into a technical recession in 2017 is not exactly remote.