Demand for gold bullion is strong, and I believe that demand will push gold prices to $2,000 an ounce. In fact, I think there's a gold rush going on that few are talking about.
Gold-Backed ETF Inflow Up
Year-to-date, inflows at SPDR Gold Trust (ETF) (NYSEARCA:GLD) have totaled $1.32 billion. In April alone, inflows at this gold-backed exchange-traded fund (ETF) were a staggering $871.08 million. (Source: "April ETF Inflows More Than Double From 2016," ETF.com, May 1, 2017.)
Gold Shorts Declining
Next, the professional gold shorts, those who are betting that gold prices will decline, are pulling back on their bets!
For the week ending January 3, 2017, there were 91,229 gold futures contracts shorted by managed money (hedge funds, mutual funds, and others). For the week ending May 23, 2017, this figure had dropped to 50,845 contracts. This represents a decline of 44% in short exposure. (Source: "Commitments of Traders," U.S. Commodity Futures Trading Commission, last accessed May 30, 2017.)
Each contract represents 100 ounces of gold. So, at the end of the most recent week for which data is available, institutional investors were short on 5.08 million ounces of gold. This is compared to 9.12 million ounces they were short on at the beginning of the year.
Gold Prices: What the Chart's Showing
Finally, please look at this chart of gold prices below, specifically at the three blue lines I have drawn on the chart.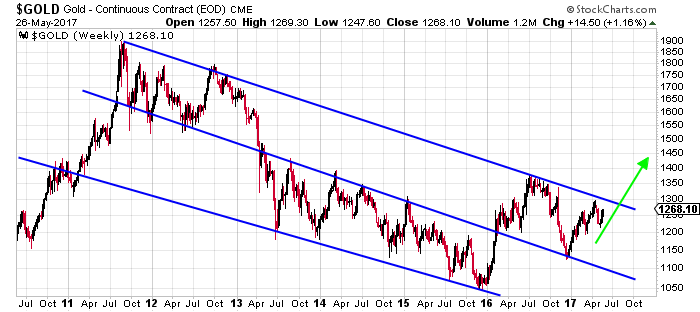 Chart courtesy of StockCharts.com
From the above chart, it's crystal clear that, since 2011, gold prices have been trading in a downward channel.
But, since October 2016, note how gold prices have bounced up every time they touched the mid-channel bar. This is very bullish, and I believe that a breakout above the top channel is now imminent for gold prices.
The bottom line on gold is that prices are gaining strength as demand is increasing for the metal. Technically, gold prices are in a firm uptrend.
Opportunity in Gold?
Dear reader; while the mainstream media is busy reporting on how key stock indices are shooting through the roof, there's an opportunity developing in gold that few seem to be talking about. Ignoring this could be a big mistake, as we could be seeing $2,000-an-ounce gold sooner than most think.
As gold prices move higher, gold mining companies could generate stellar returns. And that's why I believe that the depressed stock prices of senior and junior gold mining companies are presenting a stellar opportunity for investors right now.