The Gold Price Outlook 2017
What is the outlook for gold in 2017? After years of declines, all that glittered in the first half of 2016 was gold. But it was a different story in the second half of the year, with gold giving up much of its gains.
Where will gold prices go in 2017? Predicting the price of gold is never easy.
A new U.S. president entered the Oval Office. His policies, while embraced by Wall Street, were untested at the start. And Donald Trump's success rate in the first six months of his presidency have been unfulfilled, with no major legislation passed. Geopolitical tensions are fraught and the U.S. economy remains fragile, which are all good for gold prices.
At the same time, U.S. economic data is encouraging, stocks are at record levels, interest rates are up, and many believe that Trump's economic policies will ultimately be good for corporate America, which is bad for gold prices.
So again, the predictions for where gold prices will go in 2017 vary wildly.
In 2016, gold prices soared in the first half of the year on fears of a global recession and uncertainty surrounding the Brexit vote. Between January and July, gold prices advanced more than 23% to around $1,380.00 per ounce.
In the second half of the year, gold prices declined slightly on improving U.S. economic data, but cratered after Donald Trump won the election. Gold ended the year up roughly 8.5%. That's a good year for a commodity like gold, but it still ended the year on a serious down note.
Most analysts expect gold prices to climb around 13% in 2017, which would lift gold prices to a high of around $1,500. Looking ahead, though, there are a large number of factors that could propel gold prices significantly higher than that in 2017.
Investors Sought Safety in Gold in 2016; Will They in 2017?
Gold is a hedge against economic uncertainty, and there were more than enough reasons for investors to hedge against political and economic uncertainty in 2016 and protect their assets.
At the start of 2016, investors and central banks loaded up on gold as the markets started to tumble on fears of a global recession. Gold prices got another boost in June, when the U.K. voted to leave the European Union (EU).
Will investors turn to gold in 2017? Despite unbridled optimism about President Trump and rising consumer confidence, the world is an unpredictable place, and any number of events could send investors flocking back to gold in 2017.America's relationship with Russia and China is icy. The U.S. could enter a trade war with China and Russia could extend its reach into Ukraine. On top of that, North Korea now has an intercontinental ballistic missile that can reach Alaska. In response, President Trump said the U.S. is fully prepared to use "the full range of capabilities at our disposal against the growing threat from North Korea.
Ongoing issues in the Middle East and terrorist attacks could also send current gold bears scurrying back into gold.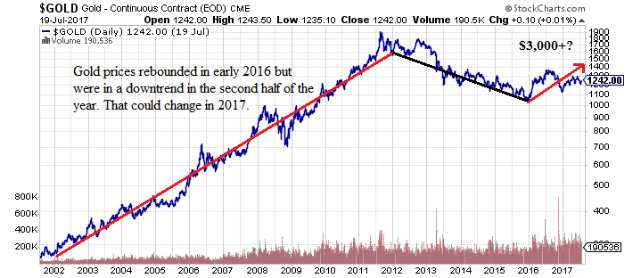 Chart courtesy of StockCharts.com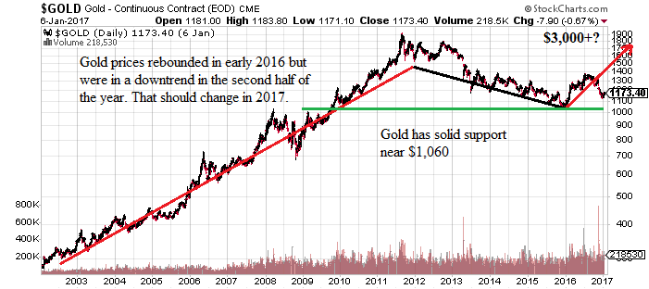 Chart courtesy of StockCharts.com
U.S. Economy Remains Weak
Investors flocked to gold to hedge against economic uncertainty in early 2016 on fears of global economic weakness and concerns that the American economy wouldn't be able to withstand the December 2015 interest rate hike.
Gold prices could trend significantly higher in late 2017 as investors get increasingly jittery over weaker-than-expected economic data, which will drive stock prices lower. This goes against the current prevailing wisdom on Wall Street. The Federal Reserve has been raising its rates and the Bank of Canada raised rates for the first time since 2010 in July. On top of that, the European Central Bank has indicated its willingness to tighten monetary policy.
As one would expect, this has been bad for gold.  Precious metal prices weaken when interest rates are on the rise, which also bolsters the U.S. dollar.
Despite the hawkish tone among western central banks, developed economies aren't as strong as everyone thinks.
The current so-called U.S. economic recovery began in 2009. But the recovery has been glacial. In fact, the U.S. economy is advancing at its slowest pace since World War II. During Obama's presidency, annual GDP growth averaged just two percent. In the 10 previous expansions, GDP grew on average 4.3%. In 2016, Obama's last year in office, U.S. GDP was just 1.6%.
That economic lethargy has carried into 2017. In the first quarter, U.S. GDP increased at a 0.7% annual rate. This was the weakest pace in three years, as consumer spending was essentially flat and businesses invested less in inventories.
The second quarter doesn't look promising either. Thanks to a wave of economic data, the New York Fed has reduced its GDP outlook for the second quarter to 1.9%, down from a high of 2.6% in April. The same thing is happening at the Atlanta Fed. It's forecasting second-quarter GDP to come in at 2.5%, down from a 4.3% call in May.
If history shows us one thing, it's that the Federal Reserve banks are consistently optimistic at the beginning of the quarter and less so by the end.
All of this puts a serious crimp in President Trump's promise to get U.S. GDP to an ongoing annual pace of three percent.
But while this is terrible news for the U.S. economy, for precious metal bulls, it's great news for gold.
A Strong U.S. Dollar?
A strong U.S. dollar is bad for gold. It generally means that the U.S. economy is doing well, which is not good news for a commodity that is seen as a hedge against economic uncertainty. Second, gold is denominated in U.S. dollars; the stronger the dollar, the more gold you can purchase, which leads to lower gold prices.
That's not what we're seeing right now. The U.S. dollar has been on a downward spiral since the start of 2017, losing eight percent of its value against a basket of its peers.
All of this has happened at a time when the Federal Reserve is raising rates and saying the U.S. economy has proven to be remarkably resilient. (Source: "Federal Reserve Press Release," Board of Governors of the Federal Reserve System, December 14, 2016.)
In a so-called perfect world, higher rates would mean a stronger U.S. dollar and investors turning their backs on gold. But this is not how it has gone down historically. The Federal Reserve has introduced five major rate increases during recovering, and each time, it results in a lower dollar.
History is repeating itself. This too bodes well for gold in the second half of 2017 and 2018.
President Trump's Economic Action Plan
With the U.S. economy already fragile, it remains to be seen what effect Trump's fiscal plan will ultimately have. Despite an initial wave of optimism, it's not looking good.
Trump's new economic action plan, affectionately referred to as "MAGAnomics" ("Make America Great Again") is to get the U.S. back to three percent economic growth.
To get there, the Republican president will cut taxes, roll back regulation, invest heavily in infrastructure, implement welfare reforms, and renegotiate trade deals like the North American Free Trade Agreement NAFTA.
Despite these grand plans, the U.S. economy is on a similar trajectory as it was under the Obama administration. Wage growth is anemic, GDP growth is underwhelming, and overall economic data is running in step with what we've seen in the post-recession period.  
Even the once overly optimistic International Monetary Fund (IMF) has downgraded its outlook for the U.S. economy. It has removed the likelihood that President Trump's proposed tax plan and infrastructure spending will spur U.S. economic growth.
It now sees U.S. growth for 2017 coming in at 2.1%, down from the fund's April forecast of 2.3%. It also cut its forecast for U.S. GDP in 2018 to 2.1% from 2.5%. Weak economic growth and rising interest rates could hit the already-fragile U.S. economy hard and send gold prices higher in 2017 and 2018. (Source: "2017 Article IV Consultation with the United States of America – Concluding Statement of the IMF Mission," International Monetary Fund, June 27, 2017.)
U.S. Stock Market Significantly Overvalued
Nothing sends investors into the safe arms of gold like a stock market correction. It happened most recently in January 2016; stocks tanked and precious metals like gold and silver soared.
Right now, though, gold prices are being held down as the stock market continues to hit record highs in the U.S., providing investors with a better return on their investments. But the risk of a serious correction or stock market crash means investors will want turn their attention back to gold.

U.S. stocks are so overvalued right now that they are poised to crash on a  wave of negative economic news, such as falling earnings and revenue and slumping GDP.
First, stocks are overvalued because the Fed introduced years of artificially low interest rates through its quantitative easing experiment. By lowering interest rates to zero, the Fed effectively removed "income" from fixed income investments like bonds, certificates of deposit, and Treasuries. Income-starved investors and retirees hoping to live on the income from these safe investments were forced to put their money in riskier investments like the stock market.
The bull market is well into its its ninth year, making it the second-longest on record. Unfortunately, the S&P 500, the Dow Jones Industrial Average, the New York Stock Exchange, and the NASDAQ are all at record levels, not because of strong earnings and revenue growth, but out of desperation. There's nowhere else for investors to park their money. Valuations are completely out of whack.
According to the Case-Shiller cyclically adjusted price-to-earnings (CAPE) ratio, which currently stands at 30.28 times average earnings, stocks are overvalued by 87.5%. While a CAPE ratio of 30.28 does not mean stocks are going to experience a correction tomorrow, it does mean they will eventually come crashing down.
The ratio has only been higher once, in 2000. We all know how the dotcom bubble ended. For interest sake, the CAPE ratio was at today's level in 1929, right before "Black Tuesday."
Stocks have never been this overvalued and not crashed.  (Source: "Online Data Robert Shiller," Yale University, last accessed July 20, 2017.)
The market cap to GDP ratio also suggests that stocks are significantly overvalued. This ratio compares the total price of all publicly traded companies to GDP; it is also referred to as the "Warren Buffett indicator," since he calls it the single best measure of valuations.
A reading of 100% suggests U.S. stocks are fairly valued. The higher the ratio over 100%, the more overvalued the stock market. The market-cap-to-GDP ratio is currently at 128.9%.
The Warren Buffett Indicator has only been higher twice since 1950. In 1999, it came in at 153.6%, and in late 2015, it was at 129.7%. It was only at 108% before the 2008 financial crisis.
A stock market crash, even a correction, will send investors flocking back into precious metals and send gold prices soaring.
Gold Price Predictions 2017
Right now though, thanks to the growing optimism, gold is out of favor. Chances are good that the hope and optimism around Trump will remain for the first half of 2017; it might be a different story in the second half of the year and 2018.
Currently trading near $1,242 per ounce, gold is trading in an attractive range and could break past $1,500 by the end of the year as economic and political situations unfold.