Two Indicators Painting Dire Outlook for Global Economy
The global economy seems to be taking a wrong turn, and things may not end well. In fact, it wouldn't be wrong to say that the world could be on the verge of an economic slowdown.
The economic data are pretty loud and clear that global growth could be stalling.
Global Manufacturing Subdued
For example, look at the J.P.Morgan Global Manufacturing Purchasing Manufacturers' Index (PMI). This indicator measures the global manufacturing situation. If manufacturing is slowing globally, it's a sign that the global economy could be slowing.
How to read this index? The magic number on the PMI is 50. If the reading is above 50, it means global manufacturing is growing. If it's below 50, it indicates that global manufacturing is slowing down.
In December, the PMI came in at 50.1, a two-month low. A few months ago, this index was actually below 50. (Source: "J.P.Morgan Global Manufacturing PMI," IHS Markit, January 2, 2020.)
Olya Borichevska, of the Global Economic Research department at JPMorgan Chase & Co. (NYSE:JPM), said this: "[In] level terms, the December PMI still suggest a weak pace of growth in global output. The trend in new export orders will need to stage a revival if the upturn is to gather pace at the start of the new decade." (Source: Ibid.)
Putting all of this in simple words, global manufacturing is anemic at the very best. Obviously, this is not good news for the world economy.
Global Demand Plummeting
If this wasn't enough to convince you, look at the chart below. It plots the Baltic Dry Index (BDI) and tells us a very scary tale about global growth.
What is BDI? At its core, this index tracks shipping rates globally. The direction of the index essentially tells us how global demand is looking. If BDI surges, it's a sign that there's growth ahead. If BDI tumbles, it means a slowdown could be ahead.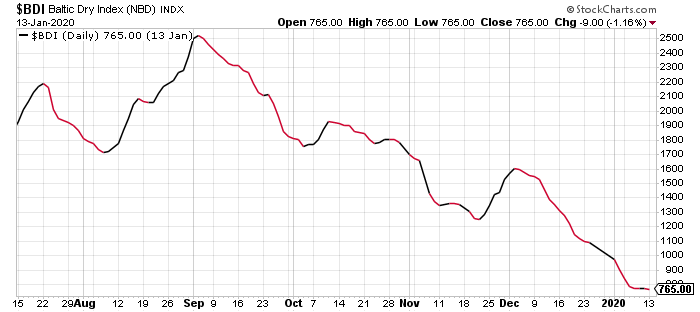 Chart courtesy of StockCharts.com
Since September 2019, we have seen a massive decline in the BDI. In September, it was around 2,500. Now it's at 765, representing a decline of almost 70%.
This global trade index says, "trouble ahead for the global economy."
Investors Beware: Global Slowdown Affects You Too
Dear reader, if you listen to the mainstream financial press, you will be convinced that there's nothing wrong with the market and everything is a "buy."
But look at the economic data yourself. The two indicators mentioned above are not the only data sets saying global growth is taking a turn. Just look at the data from major economies around the world and you will see that they are slowing down too.
If major economies slow down, smaller economies will follow in a similar direction.
Now, I know one could be thinking, "Why should I care about global growth? The U.S. economy is doing fine and stocks are doing great. I don't need to worry."
Here's the problem: if the global economy slows down, the U.S. economy slows down as well. The U.S. is not an isolated nation. It's highly dependent on what happens in the global economy.
As for investors, keep this in mind: a large number of companies that trade on the stock market do business outside the United States. If the global economy slows, those companies' revenues and earnings could be on the line. Ultimately, their stock prices could fall a lot.