George Soros's Opinions on President Trump Should Not Surprise You
George Soros's opinions on President Trump might range from bad to worse. It's no surprise, therefore, that George Soros's outlook on President Trump is unfavorable. This may not always have been the case. It's difficult to believe now, but there was an important Trump Soros connection not so long ago.
George Soros, the Hungarian born financier and philanthropist, may have lent Trump $160.0 million. (Source: "Big names back Trump tower," The Chicago Tribune, October 28, 2004.) This loan among billionaires doesn't necessarily prove a friendship between Soros and Trump. It does show, however, that the two have done business together.
On a similar note, Trump has hinted having financed the campaigns of many New York State Democrats including Senator Schumer and Senator Hillary Clinton. Still, in business, when two tycoons see a mutual benefit, it's not unusual to put aside personal differences to make a handsome profit.
Trump needed the funds, but Soros wasn't acting out of friendship. His loan is said to be of the mezzanine variety. It costs more to repay than typical construction loans. After all Trump's Chicago Tower promised to be a big winner when announced. It was, and remains, one of the biggest buildings in America.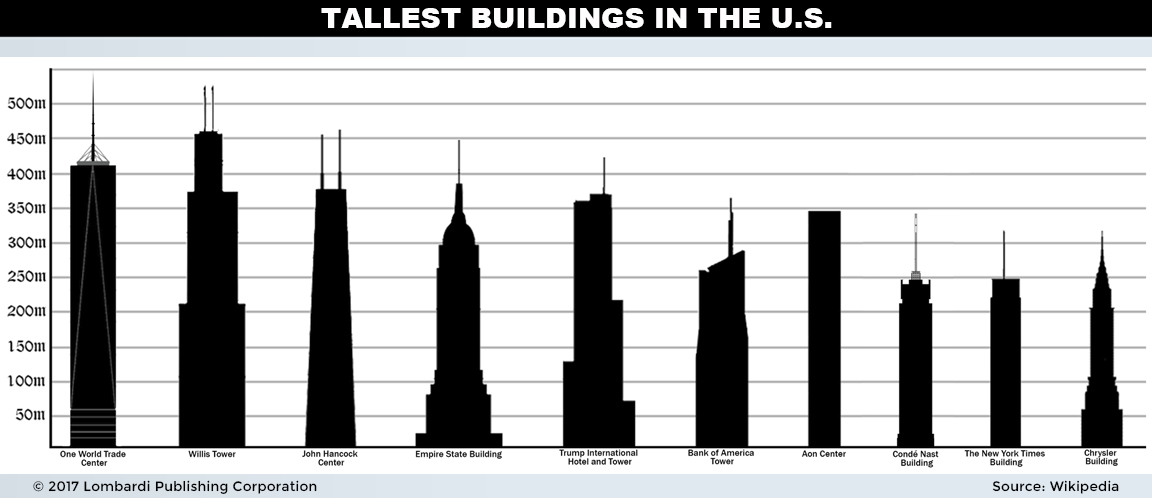 Table of Tallest Buildings in U.S. 
| | | | | | |
| --- | --- | --- | --- | --- | --- |
| Rank | Name | Location | Height in Ft. (mt.) | No. of Floors | Year Completed |
| 1 | One World Trade Center | New York City | 1,776 (541) | 104 | 2014 |
| 2 | Willis Tower | Chicago | 1,451 (443) | 108 | 1974 |
| 3 | 432 Park Avenue | New York City | 1,396 (426) | 88 | 2014 |
| 4 | Trump International Hotel and Tower | Chicago | 1,389 (423) | 98 | 2009 |
| 5 | Empire State Building | New York City | 1,250 (381) | 102 | 1931 |
| 6 | Bank of America Tower | New York City | 1,200 (366) | 55 | 2009 |
| 7 | Aon Center | Chicago | 1,136 (346) | 83 | 1973 |
| 8 | John Hancock Center | Chicago | 1,127 (344) | 100 | 1969 |
| 9 | Comcast Technology Center | Philadelphia | 1,121 (342) | 60 | 2018 |
| 10 | Wilshire Grand Center | Los Angeles | 1,099 (335) | 73 | 2017 |
So, it seems fair to say that Soros trusted—or at least knew how to exploit—Trump the builder. Trump the President, on the other hand, has proven to be a conundrum for Soros. The billionaire financier has likened the Trump presidency to a dictatorship. (Source: "George Soros calls Trump a 'would-be dictator' who 'is going to fail'," CNBC, January 17, 2017.)
In no uncertain terms, Soros believes that President Trump will fail because his views contradict themselves. Sometimes Soros makes correct predictions. Evidently, he must have gotten some of them very right indeed, or he would not have become a billionaire. But, so far, Soros's opinions on President Trump have been wrong, at least as far as investing decisions are concerned.
Trump Is Soros's Obsession
Indeed, Trump may end up becoming an obsession for the Hungarian-American financier. At this point, Soros is out for revenge. He has missed all his predictions on how the markets would react to Trump's election. He has also lost a rather big chunk of his family's wealth in the process.
George Soros has lost nearly a billion dollars. He bet short; instead, the markets rallied after the election. Except for a few dips, they have marched along in a bullish course. Indeed, it must not be easy to be Soros these days. Can you imagine the financier and self-styled philanthropist's face as he was forced to watch, helplessly, Trump taking the Oath of Office?
Capturing that kind of expression is the stuff that makes for Oscar wins. Soros was a loyal supporter of defeated Democratic candidate Hillary Clinton. But, for all of the billions he has made and lost, the 87-year-old Soros was not wise enough to accept the result of a democratically held vote and move on.
Given that Soros's economic prediction about Trump hasn't come true, for the time being, the financier has pulled political stunts. The first big move didn't waste time. Soros may have been forced to eat crow for breakfast on the morning of January 20, 2017 as Trump was being sworn-in. But, he didn't wait long to exact "revenge."
After all, he donated $20.0 million to the Democratic Party. It seems organizations linked to George Soros were among the main sponsors of the Women's March that took place the very day after the Inauguration. Given Soros's globalist pretensions, it was a global affair. The marches took place anywhere from Washington D.C. to New York, Paris, and London. The marches were said to be non-partisan. But were they?
Soros funded, or had financial ties with, at least 56 Women's March groups. These include such hefty names as Planned Parenthood, which opposes Trump's anti-abortion policies, and the National Resource Defense Council, which opposes Trump's environmental policies. (Source: "Billionaire George Soros has ties to more than 50 'partners' of the Women's March on Washington," The New York Times, January 20, 2017.)
Soros was also connected to other more political organizations behind the demonstration, presented as a defense of women's rights. These include MoveOn.org, which unabashedly backed Clinton during the campaign, and the Reverend Al Sharpton-founded National Action Network (NAN). So much for non-partisan: Valerie Jarrett, an Obama advisor and insider since the Chicago days, has often praised NAN.
Other associations at the event that could be placed on Soros's payroll included the American Civil Liberties Union, the Center for Constitutional Rights, Amnesty International, and Human Rights Watch. A Who's Who of international liberalism. Soros wasn't always so political. There might have been a time when Soros and Trump could almost have been friends.
Soros and Trump Have Disrespected the EU—But in Different Ways
Trump made it clear during the campaign that he is skeptical about the future of the European Union. His choice of ambassador to Brussels, the EU "capital" evaporates any doubt. The ambassador nominee Ted Malloch—there's already opposition to his appointment in Europe—has written extensively about the flaws of the EU.
Malloch has famously quipped that he helped bring down the Soviet Union. He has suggested that there's another "Union that needs a little taming." (Source: "Donald Trump's likely EU ambassador Ted Malloch wants to tame the bloc 'like he brought down Soviet Union'," The Independent, January 27, 2017.)
George Soros has scorned the European Union in different, but no less cynical ways. On 16 September 1992, so-called Black Wednesday, Soros made his big splash on the global scene. He became famous when he sold pounds, about $10.0 billion's worth, to take advantage of the Bank of England's reluctance to increase its interest rates to match other countries in the then European Monetary System (EMS).
The U.K. was forced to abandon the EMS and devalue the pound. In the process, Soros and co earned a "Trumpesque" sum of $1.1 billion. Since then Soros became known as the man who broke the Bank of England. One of the people who shared in Soros's Pound Sterling success was one Stanley Druckenmiller.
Druckenmiller left Soros's group in 2000. That was a big loss for Soros. Druckenmiller did not allow his investment decisions to be clouded by politics. Or rather, he picked on the basis of the candidate he thought would win, rather than against the candidate he hated. Druckenmiller gave $3.0 million to the Republicans. He took the opposite strategy to Soros.
Rather than going short on the market, as did his former partner Soros, Druckenmiller went long. He also predicted an appreciation, rather than a depreciation, of the dollar. He made the right choice, evidently, given that the Dow Jones has gained over one thousand points since the 2016 presidential vote.
Druckenmiller's firm closed 2016 with a 10% gain. Druckenmiller was also active in terms of campaign finance, but on the opposite side: donated around $3.5 million to Republican candidates. At this point, there are questions about Soros's stock market predictions.
Is he still capable of making the kind of cold-headed calculations based on reality rather than the reality you want to believe? The U.S. economic outlook for 2017 is complex and the markets seem either oblivious or blind to this for now.
Indeed, George Soros's portfolio itself has suffered a major blow. But it does not remain immune from more troubles. It was not long ago that Soros came out of "retirement" to start trading again. He has retaken control of his Soros Fund Management, which manages a family wealth of $30.0 billion.
He has already lost a billion of that sum by taking up a bearish position before the presidential vote. He saw the markets as taking a dissatisfied view about the prospect of a Trump victory. But that kind of opinion of Trump could hurt the Trump Portfolio further. It's difficult to trust Soros—that is, for his financial acumen—now. He could act irrationally having already miscalculated.
Soros's Portfolio Has Taken a Hit
It's possible that the 86-year old Soros may have stopped the hemorrhage of his portfolio. He may have let go of his bearish positions. So far, the score is 2:0 in Trump's favor. Trump has become Soros's darkest obsession. The stock market outlook for 2017 is uncertain at best. The rally may continue, but there are many dark clouds on the horizon.
Soros's personal dislike of Trump hampered his ability to read the economy and the markets in the long term. At the recent Davos meeting last January, Soros admitted that he simply did not expect Trump to win, even as he insisted on likening the new President as a "dictator." Now, Soros must revise his strategy.
Still, Soros insists that Trump will fail because the new president has "contradictory" ideas. Too many people in his entourage have too many different interests. It's true that Soros makes some valid macroeconomic points. Soros shares the view of many analysts, that Trump is leading the U.S. straight into another trade war with China.
Soros has also criticized Trump for having launched an internal political battle, turning America's back on open society. But, Soros, himself has advocated for policies that bordered on a new Cold War with Russia during the G.W. Bush and, especially, the Obama White House. Thus, Soros should look again at Trump's international policies. He might yet find something to like.