A Financial Crisis in China Could Send Waves of Uncertainty Through the Globe
The Chinese economy should be watched closely. There could be a financial crisis brewing in that country, and it could cause a lot of trouble globally for investors.
Over the past few years, there's been rapid debt growth in the second-biggest economy in the world, be it consumer or business debt.
A rapid increase in credit is usually followed by some sort of financial crisis. This is because a lot of capital misallocation happens at times of fast credit growth.
To give you some perspective, in the second quarter of 2006, the Chinese household-debt-to-gross-domestic-product (GDP) ratio was just 10.8%. Put simply, if China's GDP was $1.00, consumer debt was $0.108. (Source: "China Households Debt To Gdp," Trading Economics, last accessed June 8, 2018.)
In the fourth quarter of 2017, this ratio reached an all-time high of 48.4%. That's an increase of 348% in a matter of a few years.
Even the regulators in the country are warning about elevated levels of consumer debt in the country.
"Currently, people aren't highly alert to the problem that individual and household loans for home purchases and investment have been growing at a rapid rate," said Guo Shuqing, chairman of the China Banking Regulatory Commission. "It's very dangerous." (Source: "Watchdog warns of consumer debt," China Daily, March 10, 2018.)
As for business debt, we see an alarming number of credit risk warnings. This is when bond trading could be suspended or principal or interest payment could be on the line.
According to Rhodium Group, LLC, in the first quarter of 2016, there were just 33 credit risk warnings. In the second quarter of 2018, there were 454 credit risk warnings. Simple math: in a matter of a couple of years, credit risk warnings have increased over 1,200%. (Source: "Fear the China Put Nobody's Talking About," Bloomberg, June 6, 2018.)
What Would a Financial Crisis Mean for U.S. Investors?
Investors often ignore the Chinese economy. This is mainly because the mainstream says that what's happening in China isn't anyone's problem.
But it is. If there's a financial crisis in the Chinese economy, we could see a financial crisis throughout the global economy. And the U.S. economy and financial sector won't be saved from it, either.
Don't just take my word for it; even countries like Australia are concerned.
"Perhaps the single biggest risk to the Chinese economy at the moment lies in the financial sector and the big run-up in debt there over the past decade," said Philip Lowe, governor of the Reserve Bank of Australia. (Source: "Chinese debt a major risk to Australia, says RBA governor Philip Lowe," The Sydney Morning Herald, May 23, 2018.)
Lowe added, "Among the largest economic risks that Australia faces is something going wrong in China."
As for the U.S., remember a lot of American companies have a presence in China. A financial crisis in the Chinese economy could hurt their revenue and profitability as well.
If you still don't think what's happening in China matters, consider this chart of the S&P 500 from 2015: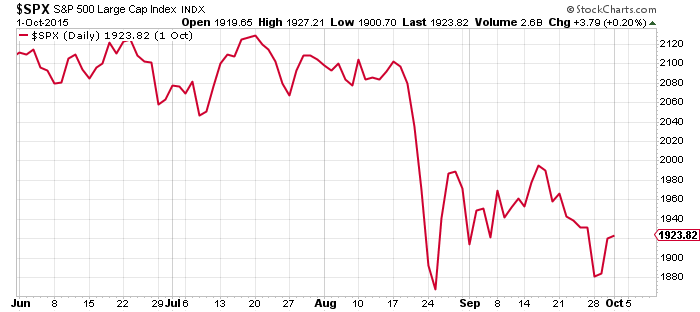 Chart courtesy of StockCharts.com
Between August and October of 2015, the stock markets in China were witnessing a rigorous sell-off. As a result of that, the S&P 500 and other major indices dropped over 10% in a short time frame.
You be the judge of what happens in case there's a financial crisis in China, but I'm of the belief that won't end well.