Falling Value of U.S. Dollar an Omen for Economy & Stocks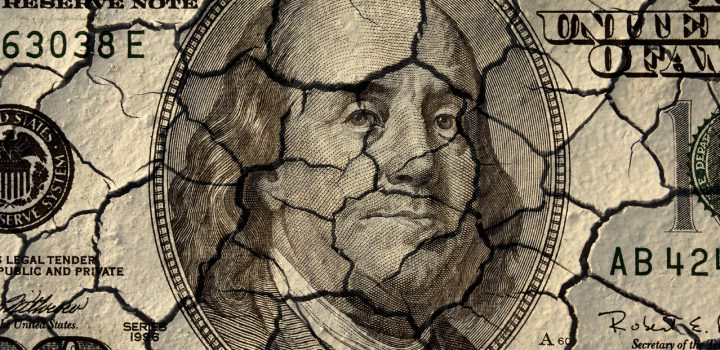 When it comes to currencies, economics suggest that, when interest rates move higher, the value of the currency appreciates relative to other currencies. This has not been the case with the U.S. dollar.
Dollar Actually Falling in Value
While the U.S. Federal Reserve has raised interest rates three times since December 2016, the U.S. dollar has fallen in value against other major world currencies, as evidenced by this chart of the dollar index.
Chart courtesy of StockCharts.com
As you can see from the chart, the Greenback has been declining in value against other world currencies. The decline of seven percent in the value of the Greenback in just over six months is a big deal.
What's Next for the Greenback?
Unfortunately, already one of the worst-performing currencies among major global currencies this year, the U.S. dollar could have a lot further to fall.
Look at the blue line drawn on the chart. It's the 200-day moving average of the U.S. dollar index. The U.S. dollar is currently trading below the moving average. This suggests that the long-term trend for the Greenback is downward.
Three Reasons You Should Be Worried
Why does it matter if the U.S. dollar falls in value against other major currencies? Three reasons:
The profitability of American companies with operations outside of the U.S. declines as the dollar falls in value. That's because American companies' foreign currency sales are converted to U.S. dollars on their income statements. A weak U.S. dollar means weak sales, which has an impact on profitability. About half of the S&P 500 companies get sales from outside the U.S.
American consumers are going to pay higher prices as the dollar declines in value because the U.S. is a major importer of goods made elsewhere.
The U.S. dollar still remains a dominant currency when it comes to global trade. According to SWIFT, almost 40% of all global trade last October was being done in U.S. dollars. (Source: "Euro surpasses RMB in traditional trade finance," SWIFT, November 23, 2016.).
The chart below shows that the U.S. imported nearly $2.7 trillion worth of goods and services in 2016.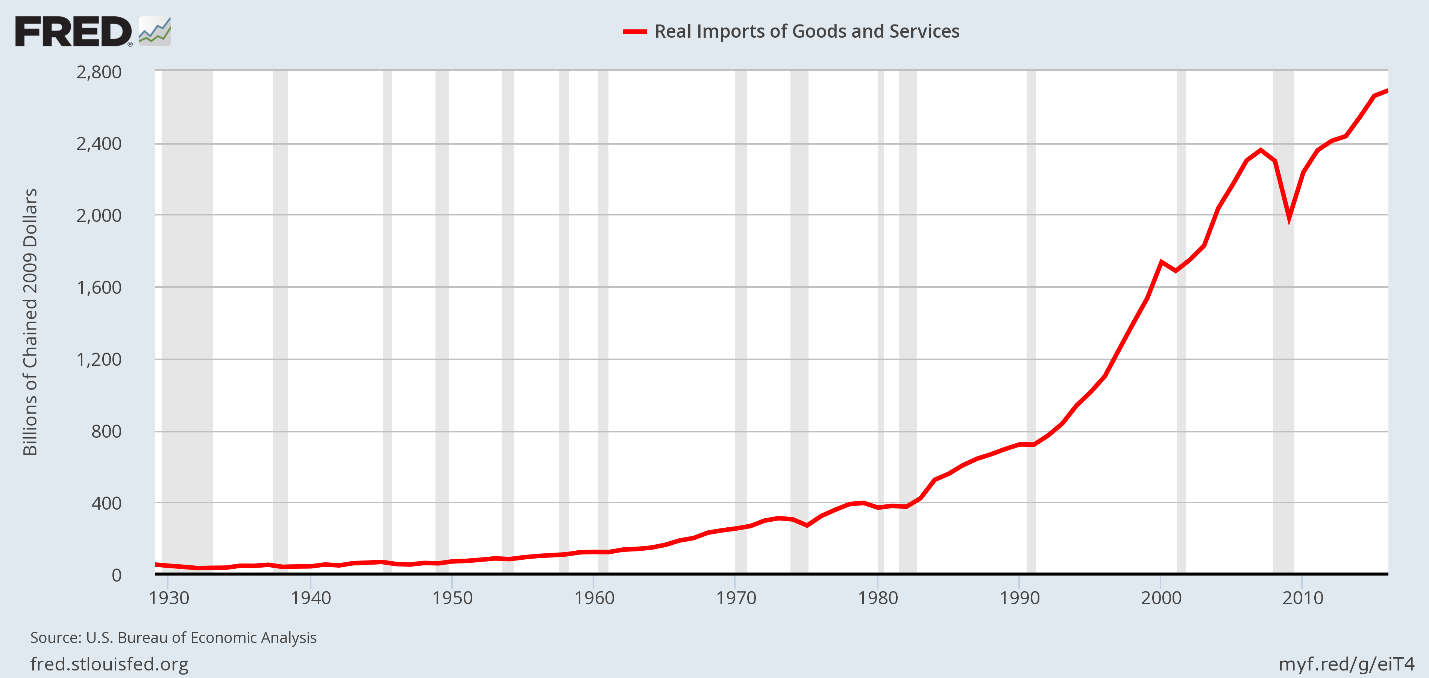 (Source: "Real Imports of Goods and Services," Federal
Reserve Bank of St. Louis, last accessed July 6, 2017.)
Fluctuations in the value of the U.S. dollar could cause businesses to rethink what currency they accept payment in for their goods, and the Greenback could lose its dominance because of it. This will put even more downward pressure on the U.S. dollar.
American Currency's Downward Spiral
Overall, investors should be alarmed by the continued decline in the value of the U.S. dollar against other major currencies. A falling Greenback is not good for our economy or our stock markets.