Price of Oil Tumbles 45% on "Good" News
Have you noticed the recent decline in oil prices? In early 2022, a barrel of West Texas Intermediate (WTI) crude oil was about $130.00, but now it hovers around $71.00. That represents a significant drop of more than 45% in just over a year.
What does the falling price of oil indicate? It says a global recession could be fast approaching.
Advertisement

There are actually several factors at play that could send oil prices soaring, yet we've been seeing severe selling in the oil market. Oddly, the good news for the oil industry hasn't been playing out for investors.
For instance, the Organization of the Petroleum Exporting Countries (OPEC) and certain other oil-producing countries (collectively referred to as OPEC+) recently made an unexpected announcement that they would be cutting their oil production by almost 1.2 million barrels per day. (Source: "OPEC+ Announces Surprise Oil Output Cuts," Reuters, April 2, 2023.)
This wasn't the first oil-production cut announcement by that group of oil producers. In total, OPEC+ has announced production cuts of almost 3.7 million barrels per day. This represents about 3.7% of the global oil demand.
Following the initial news of the production cut, oil prices jumped from about $75.00 to $80.00 per barrel overnight. But then those gains faded away.
The announcement of oil production cuts came at a time when there was a lot of noise about the Chinese economy opening up again after having harsh pandemic-related lockdowns in major cities. Energy companies hope that, as China's economy continues to reopen, more oil will be needed. Sadly, the oil market hasn't been buying into this hope.
Plus, the ongoing Russia-Ukraine conflict and the many sanctions against Russia have created pressure on the oil market. Russia is one of the biggest oil producers, but under the sanctions, it can't sell its oil as freely as before. This is perceived as a constraint on the global oil supply and should keep oil prices going higher.
Furthermore, although there's pessimism surrounding the major economies due to central banks raising interest rates, economic growth rates have yet to decline. This should also contribute to a rise in oil prices.
In simple words, nothing is really working in the oil market lately, and even good news is being considered as bad news.
How Low Could Oil Prices Go?
From a technical-analysis perspective, oil prices could be setting up to disappoint bigtime. Just look at the chart below.
First of all, the trend is pointing downward. The price of oil continues to make consecutive lower lows and lower highs. This is confirmed by the 50-day and 200-day moving averages.
Moreover, oil prices have been finding a lot of resistance around the 200-day moving average since September 2022. Since the price broke below this moving average in September, each attempt at crossing above that level has been met with rigorous selling. This has happened twice in the past year.
Oil prices are currently at a strong support level for now. However, if that breaks, the next support level isn't until around $65.00. Below that is $60.00. And, if prices break below $60.00, we could see them drop as low as $40.00.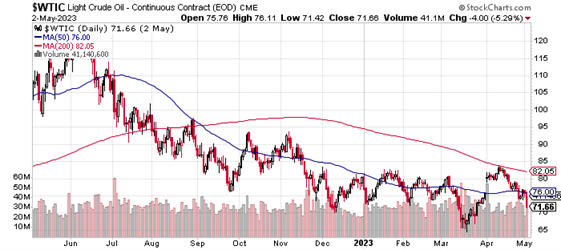 Chart courtesy of Stockcharts.com
Over the past year, oil stocks have performed really well compared to oil prices, as the below chart shows.
As the price of oil tumbled by about 30%, the Energy Select Sector SPDR Fund (NYSE:XLE), which tracks oil stocks, increased by seven percent. This is strange, since oil prices and oil stock prices tend to be correlated.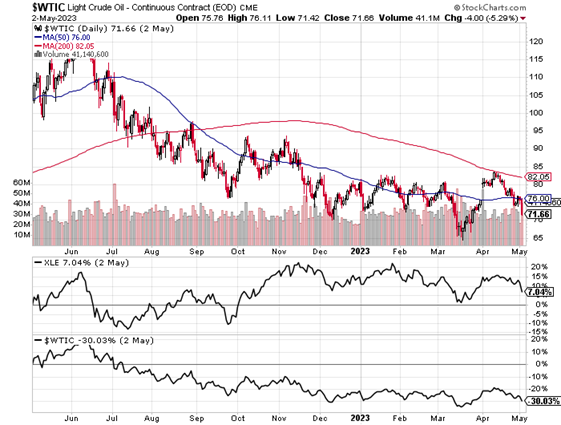 Chart courtesy of Stockcharts.com
Oil Price Trend Hints at Global Recession
Dear reader, what does all the above mean for investors? It calls for caution.
Keep in mind that oil is a growth commodity. This means it moves up in value when the global economy is improving and it drops in value when the global economy isn't doing so well.
As such, I can't help but come to the conclusion that the global economy is on the cusp of a recession. The fact that oil prices continue to fall could be a sign that the economy's future will be worse than what economists and major investment houses currently expect.
This is not good. If a global recession is brewing, will central banks resort to lowering interest rates and printing money once again?
Will oil stock prices continue to go higher as oil prices plunge? Or will oil stock prices drop along with the price of oil?